UP JMA gives back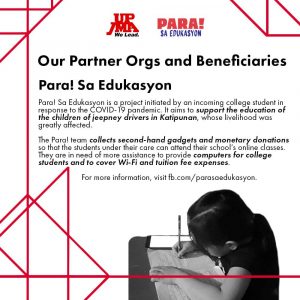 (Oct. 12)—The UP Junior Marketing Association (JMA) launched on Sept. 2 "IsKalinga: Pagtulong sa Panahon ng Pandemya" (IsKalinga).
IsKalinga is an online campaign that aims to "shed light on the present-day situation of the university's maninindas, jeepney drivers, and support staff members through our online initiatives" and raise awareness on various ways on how to help them.
The campaign was organized in partnership with Lingkod at Ugnayan ng Pangangailangan – Linkup,
Samahang Manininda Sa U.P. Campus, Inc – SMUPC and the UP Industrial Engineering Club (UP IE Club).
---
UP Variates launches donation drive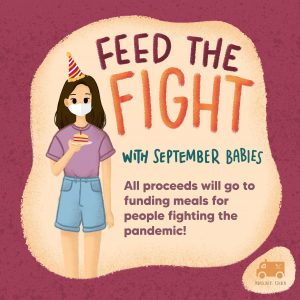 (SEPT. 28)—As part of its 31st Anniversary celebration, the UP Variates (UPV) launched a donation drive on Sept. 23 in support of the Frontliners' Kitchen (FK) initiative.
UPV is a socio-academic organization based at the UP School of Statistics.
FK aims to provide frontliners nutritious meals, relief packs and PPEs amidst the COVID-19 pandemic.  It is an initiative of a group of college students Jeanill Migraso spearheaded.
Presently, FK already reached out to hospitals, groceries and institutions in Quezon City, Mandaluyong, Muntinlupa, Makati, Manila, Zambales, Laguna, and Cebu. To know more about the FK project, visit the Facebook page at https://www.facebook.com/frontlinerskitchen.
---
#ProjectAmbagan 2 aids more distance learning students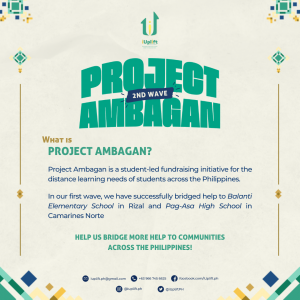 (SEP. 23)—#ProjectAmbagan is now on its second wave and among its beneficiaries are the Tagbanua and Batak communities in Palawan.
#ProjectAmbagan is an initiative of iUplift, a coalition of student organizations. The project was launched in June and raises funds to respond to the distance learning needs of Filipino students across the country.
Donations will buy distance learning tools such as smartphones, printers and photocopying machines to produce learning modules that students will take home, backpacks and school supplies.
---
UP JFA's Project Sukli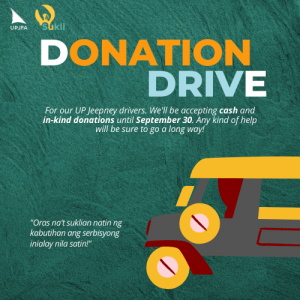 (SEPT. 23)—After its successful fundraising event in August, the UP Junior Finance Association (UP-JFA) re-launched the donation drive "Project Sukli" this September to help the UP-Philcoa jeepney drivers gravely affected by the COVID-19 pandemic.
In its Sept. 6 Facebook page post, UP-JFA said funds raised for Project Sukli will be used to buy relief packs for the beneficiaries comprising rice, canned goods and other essentials per pack.
The student organization's initial goal was to raise P10,000 to help the first batch of beneficiaries. The excess cash raised will be used to help other areas where there are UP jeepney drivers.
JFA will accept donations until Sept. 30.
---
CAL-SC's launches Kasama Ka Kaeskuwela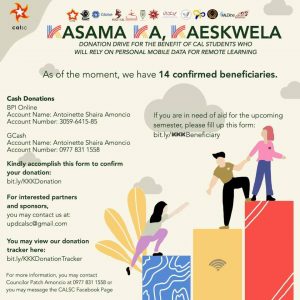 (SEPT. 3)—The UP College of Arts and Letters Student Council (UP CAL-SC) recently launched a donation drive for UP Diliman (UPD) students in need of a stable internet access for remote learning.
"Kasama Ka Kaeskuwela" (KKK) was launched on Aug.31 to primarily aid CAL students who only rely on personal mobile data for remote learning when UP System classes begin on Sept. 10.
The recent consultation with students the CAL-SC showed that more than 50 percent of the respondents "do not have stable internet access at their current residence and are unsure if they can continue with online activities until the end of each semester."
As of Sept. 1, KKK has 14 confirmed beneficiaries.
Donors may donate cash through deposit or online bank transfer to Antoinette Shaira Amoncio (BPI: 3059-6415-85 | GCash: 0977 831 1558).
---
CUP-it bisig for Addition Hills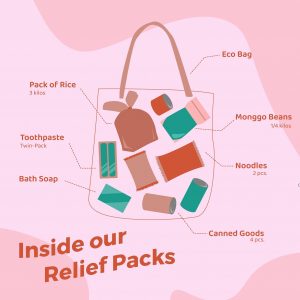 (AUG. 27)—A donation drive for the benefit of Barangay Addition Hills in Mandaluyong City was recently launched by Cheer UP Pinoy (CUP), a nationwide service event of the student organization UP Academic League of Chemical Engineering Students (UP ALCHEMES).
"CUP-it Bisig 2020" (CUP-it Bisig), launched on Aug. 12, aims to help Brgy. Addition Hills residents who were gravely affected by the fire incident in the barangay and the COVID-19 pandemic.
According to CUP's Facebook page post, they plan to distribute relief packs on the first week of September to families who were also left homeless amid the COVID-19 pandemic after a fire incident broke in Correctional Road and Block 30, Brgy. Addition Hills last Jun. 6. From the reported 200 families who survived the fire, a significant number are currently living in tents in the temporary evacuation center at the Nueve De Pebrero Elementary School.
---
Donations for education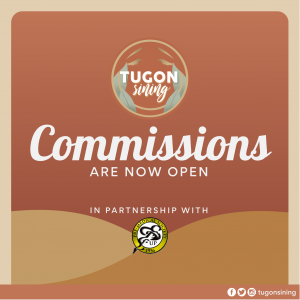 (AUG. 20)—A donation drive was recently launched for UP students struggling to cope with remote learning during this COVID-19 pandemic.
In solidarity with the education sector, the UP Pre-Medical Society (UPPMS) launched "SULONG: Donations for Education" (SULONG) last Jul. 15.
The UP College of Science student organization UPPMS in their Facebook page post said the campaign aims to enable UP students in dire need of devices and a stable internet connection "for online learning and other alternative learning experience."
---
R4E-UPD's #TulongIsko
(AUG. 20)—The campaign #TulongIsko to help UP Diliman (UPD) students transition to UP's proposed remote learning is still accepting donations!
Launched on Jul. 26, the #TulongIsko donation drive aims to aid underprivileged UPD students in transitioning to the proposed remote learning for the UP System.
It is a project of the Rise for Education Alliance-UP Diliman (R4E-UPD), a student organization established in 2014 as part of the nationwide and multi-sectoral alliance Rise for Education Alliance.  The project was organized in coordination with the Office of the Vice Chancellor for Student Affairs (OVCSA).
---
SiM opens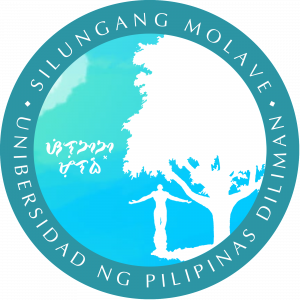 (AUG. 18)—Silungang Molave (SiM), a new Community Isolation Unit for UP Diliman (UPD), held a soft launch on Aug. 15, 9 a.m. at the Molave Residence Hall .
The newly-renovated Molave Residence Hall is in an acceptable distance from the various communities inside UPD, including Barangay UP Campus.
To ensure public safety, the Office of the Vice Chancellor for Community Affairs diverted vehicular traffic away from the section of Magsaysay Avenue infront of SiM so that only authorized persons will have to pass there.
---
UP ALYANSA's Project ALMUSAL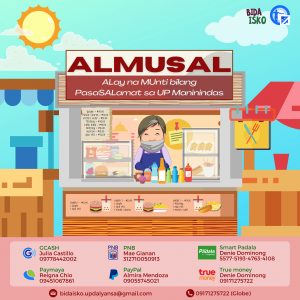 (AUG. 11)—The student organization UP Alyansa ng mga Mag-aaral para sa Panlipunang Katwiran at Kaunlaran (UP ALYANSA), in partnership with the Samahan ng UP Maninindas (UP Maninindas), launched their fundraising project, "Project ALMUSAL: ALay na MUnti bilang pasaSALamat sa UP Maninindas" (Project ALMUSAL), on Aug. 10.
Project ALMUSAL is a freshman-initiated project under UP ALYANSA's 3-week leadership program, "Bida Isko 2020" which aims to raise funds to help the UP maninindas from the 64 kiosks of the UPD campus who were gravely affected by the pandemic.
---
Constitutional Assessment in the Time of a Pandemic
The International IDEA and the UP CIDS Program on Social and Political Change present a new discussion paper titled "Constitutional Performance Assessment in the Time of a Pandemic: The 1987 Constitution and the Philippines' COVID-19 Response." Building off the "Constitutional Performance Assessment of the 1987 Philippine Constitution" project, this paper examines key constitutional issues to watch out for as the Philippines responds to COVID-19, including electoral institutions, legislative–executive relations, judiciary, accountability institutions, local governments, rights, security, economy and labor, and citizenship and equality.
➡️ Read and download the #COVID19#ConstitutionalPerformanceAssessment in time for today's #SONA2020 for free at https://www.idea.int/publications/catalogue/constitutional-performance-assessment-time-pandemic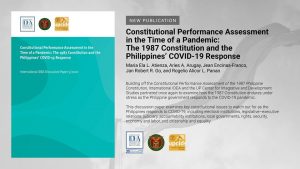 ---
CRV artists' online exhibit for a cause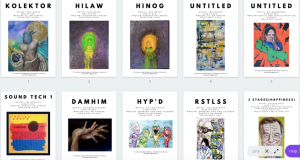 (JULY 14)—UPD COVID-19 Response Volunteer (CRV), in partnership with various artists, organized an online exhibit and fundraising project called "Art Works" to help various sectors and communities in UPD affected by the COVID-19 pandemic.
CRV officially launched the Art Works project to their Facebook page on May 21 and started showcasing works done by volunteer artists on May 26.
---
UP TRAINS to fight COVID-19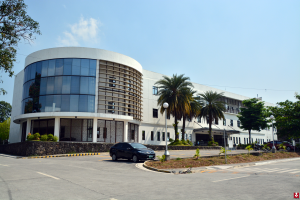 (JUL. 11)—Experts believe that to fight COVID-19, the country needs to increase its testing capacity.
To address this, a 2-part online lecture series dubbed as the UP TRAINS Projects (UP TRAINS) was recently designed by experts from the National Institutes of Health in UP Manila and the National Institute of Molecular Biology and Biotechnology in UP Diliman in collaboration with the Philippine Genome Center in UP Diliman, Visayas and Mindanao.
UP TRAINS is a training assistance program that seeks to augment the number of laboratories capable of performing RT-PCR based testing for COVID-19.  Composed of two online courses held on a weekly basis, the program began on Jun. 9 and will run for six months.
---
SfS launches bayanihan drive for UP students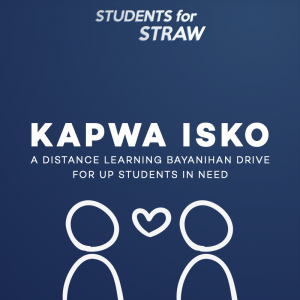 (JULY 10)—Students for STRAW (SfS) recently launched their latest project, "Kapwa Isko: A Distance Learning Bayanihan Drive for UP Students in Need" (Kapwa Isko).
SfS is a coalition of student volunteers whose goal is to advocate the rights and welfare of their fellow students and "seeks to enact policies and create programs for positive change."
SfS's Facebook post notes that as the University shifted to remote learning set-up, the Kapwa Isko project, launched on Jun. 30, aims to provide assistance to their fellow Iskolar ng Bayan "by providing laptops, smartphones, tablets and load assistance to bridge the distance."
---
UP BadAss sells face masks for IPs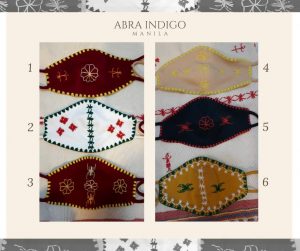 (JULY 1)—The UP Badminton Association in Diliman (UP BADASS), in coordination with Abra Indigo-Manila, is selling hand-embroidered face masks by the Itneg community in Abra to raise funds for the indigenous peoples (IPs) community in Namarabar, Peñarrubia, Abra.
UP BADASS is an organization founded in 2015 by badminton enthusiasts and hobbyists in UP Diliman.
Meanwhile, Abra Indigo Manila is a clothing brand that is an extension of School of Living Traditions  Itneg Abra and Namarabar Indigo Natural Dye Producers Co.
---
Bagong Kamalayan
Sa ating laban sa COVID-19, ang susi sa mas mabuting kalusugan ng Bayan ay ang pagkakaroon ng Bagong Kamalayan.
Alamin ang tungkol sa bagong sistemang ito upang magpatuloy ang paglaban ng "frontliners" at mapangalagaan ang kalusugan ng lahat.
---
OVCA thanks Kanlungang Palma benefactors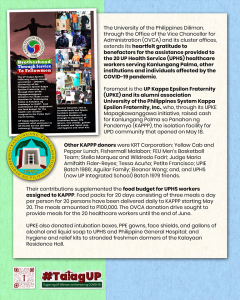 ---
Student org aids families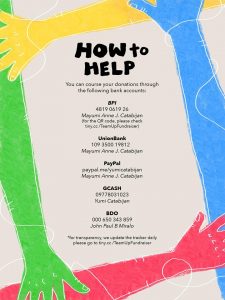 (MAY 28)—The UP Society of Industrial Designers (UPSIDE) students and alumni recently raised funds to help families affected by the enhanced community quarantine (ECQ).
A socio-academic university-wide organization based at the College of Fine Arts (CFA), UPSIDE launched the cash donation drive Project TeamUp (TeamUp) on Apr. 12 to provide monetary aid to seven beneficiaries.
The beneficiaries were the families of Mark Joseph Selidio, Junebert Jose M. Cantila Jr., Job V. Constantino, Barbie Beroncal, Margie Estabaya, Ernesto "Mang Nestor" de Leon, and Nolita "Ate Ganda" Eala.
---
Productive, creative and helpful UPD under MECQ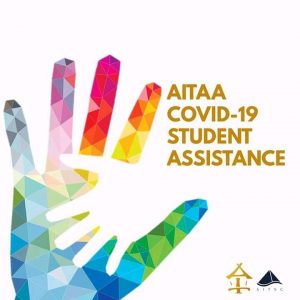 (MAY 26)—Amid the gradual reopening of commerce, a modicum of mobility among citizens had been observed in the last week, as Metro Manila came to life under the modified enhanced community quarantine (MECQ). Anticipating the challenges of a more relaxed MECQ, UP Diliman (UPD) continued its efforts to assist its various publics.
Donation drives. COPE UP raised P63,170.70 as of May 6. The funds were used to purchase personal protective equipment, meal packs and sanitizing products for National Center for Mental Health frontliners.
---
UPD continues to help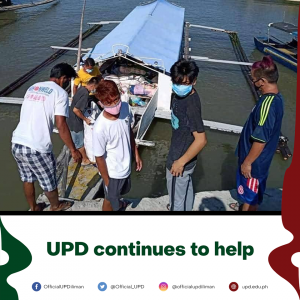 (MAY 19)—As some areas transitioned from enhanced community quarantine (ECQ) to modified ECQ or General Community Quarantine, UP Diliman (UPD) continues to share its expertise and help those who were greatly affected by the COVID-19 pandemic, living up to its mandate as a public service university.
Here is an update on the initiatives or projects of various UPD units, student organizations and an alumni group.
Face shield production. As of Apr. 27, UPD College of Engineering's "3D Printing Solutions for our Frontliners" has produced 2,375 face shield frames using 17 3D printers, assembled 1,854 complete face shields and distributed 1,654 of these to 31 hospitals in Metro Manila, Baguio, Pangasinan, Laguna, Batangas and Cavite.
---
Music for a cause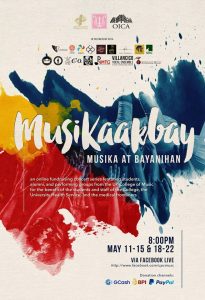 (MAY 19)—A new line-up of homegrown talents from the UP College of Music (CMu) performed via Facebook Live this May 18 at 7 p.m. at "MusiKaakbay: Musika at Bayanihan" (MusiKaakbay).
"MusiKaakbay: Musika at Bayanihan" (MusiKaakbay), an online fundraising concert series for the benefit of CMu students and staff, the University Health Service and medical frontliners, was launched on May 10 via the CMu Student Council (CMuSC) Facebook page.
A CMuSC project, the concert series showcases online performances of CMu students, alumni and performing groups.  For its pilot episode, the concert featured Bianca Lopez-Aguila of the Philippine Madrigal Singers.
---
Kanlungang Palma now open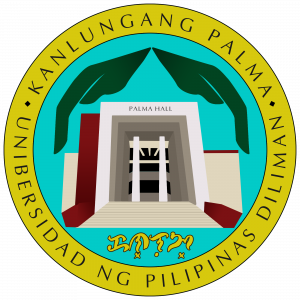 (MAY 18)—Kanlungang Palma sa Panahon ng Pandemya (KaPPP) or Kanlungang Palma, the community isolation unit for the UP Diliman (UPD) community, is now open following the Department of Health's (DOH) approval after passing its second DOH inspection on May 13.
KaPPP will be a temporary isolation unit to suspect and probable COVID-19 cases with mild symptoms and those who cannot be quarantined at home, while waiting for the results of their swab tests. Only one patient can be accommodated per room; thus, the facility can only admit 26 patients at most, a far cry from what was initially envisioned to be a 50-bed isolation unit.
---
UPD issues post-quarantine guidelines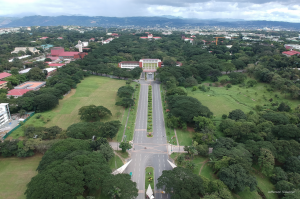 (MAY 15)—To say that the first six weeks after the Enhanced Community Quarantine is lifted will be crucial for UP Diliman (UPD) is an understatement.  To protect the health and safety of UPD personnel, the administration has issued guidelines for the gradual and careful return to work once the modified ECQ is lifted.
Known as the post-ECQ period (post-ECQ), for these six weeks when a General Community Quarantine is declared over Metro Manila, UPD will default to work-from-home (WFH) arrangements for essential and priority work.
---
Statement of the UP Diliman-College of Human Kinetics on the Importance of Physical Education in the overall Development of the Filipino Children and Adolescents during the time of Pandemic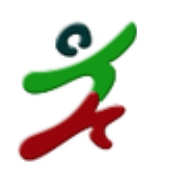 In response to a regressive statement by Senator Win Gatchalian, aired on GMA News on May 9, 2020, to temporarily remove PE and Home Economics and prioritize basic subjects like Math and English once school classes resume in August. He said, "Bawasan muna natin ang subjects na ituturo, for example, tanggalin na muna natin ang PE o Home Economics. Ituro natin ang pinakamahalaga, Math, Science, English at Reading".
---
Strengthen, not Remove: UP Diliman-College of Home Economics Response to the Statement of Senator Sherwin Gatchalian on the Temporary Removal of Home Economics in Schools, GMA News, 09 May 2020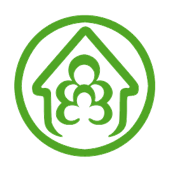 The University of the Philippines – College of Home Economics strongly disputes the statement of Senator Sherwin Gatchalian, Chairman of the Senate Committee on Basic Education, Arts and Culture, to provisionally remove Home Economics (HE) and focus on "key subjects" like Math, Science, Reading, and English; when school begins in August. HE is an equally essential subject because it teaches life skills that are beneficial to individuals, families, and the larger community, which now more than ever, is necessary due to the challenges brought about by the pandemic and community quarantine.
---
OVCPD thanks donors for reaching out to stranded construction workers in UPD
---
STAT: Finding solutions for COVID-19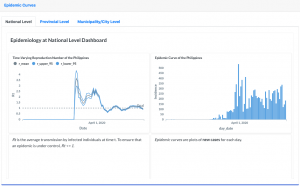 (MAY 12)—Like most UP Diliman units, the UP School of Statistics (STAT) has projects addressing the challenges of the COVID-19 crisis.
Foremost is the Schools' involvement in the UP Resilience Institute and the UP System's UP COVID-19 Pandemic Response Team.
Outbreak threshold statistics. Prof. Peter Julian Cayton, PhD and instructor Jan Gil Sarmiento provided relevant monitoring statistics on the pandemic for the UP COVID-19 Pandemic Response Team's outbreak threshold methodology.  Using the number of active cases and the estimated threshold of an outbreak, they designed a recommendation rubric for the appropriate quarantine policy for a specific provincial or local government unit.
---
Air Quality post-ECQ: the 'new normal'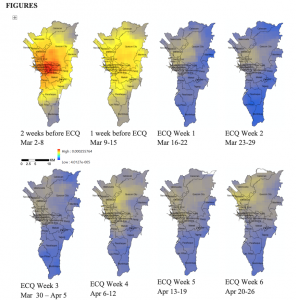 (May 1)—The draconic move to quarantine Metro Manila is causing its residents much inconvenience and anxiety. At the same time, however, they are benefitting from cleaner air brought by the controlled mobility as a consequence of the enhanced community quarantine (ECQ).
Experts from the College of Science and College of Engineering of the University of the Philippines Diliman combined ground-, satellite- and modeling-based approaches to visualize the extent of changes in air quality before the ECQ and while on lockdown.
Prof. Roseanne V. Ramos of the Department of Geodetic Engineering mapped the weekly average NO2 from emissions of cars, trucks, buses, power plants and off-road equipment.
---
#TatagUP: resilience, survival and response post-ECQ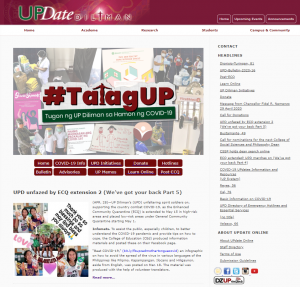 Today, May 1, the government modifies the restrictions it has imposed over the last eight weeks as a consequence of the COVID-19 pandemic: drastic restrictions will be eased in areas under General Community Quarantine. High risk areas under the Enhanced Community Quarantine (ECQ) will know their fate on May 15.
As the nation looks forward to a post-pandemic scenario, UP Diliman (UPD) is easing the transition to post-ECQ.
#KapitDiliman is now #TatagUP: Tugon ng UP Diliman sa Hamon ng COVID-19 (https://upd.edu.ph/tatagup/). The change in the portal's name reflects UPD's new and forward-looking directions in meeting the unique challenges posed by the lifting of severe quarantine measures while flattening the curve at the same time.
The title is a play on "Tatak UP" and embodies the University's resilience, survival and response.
The renamed portal will assist all UPD faculty, staff, students, residents, manininda, stall operators and jeepney drivers, among others, providing information on UPD's new and revised policies and norms.
With its three-pronged mandate as a teaching, research and public service university, UP Diliman will march into the future with honor, excellence and solidarity.
Laban, UP Diliman! Laban, Pilipinas!
---
UPD unfazed by ECQ extension 2
(We've got your back Part 5)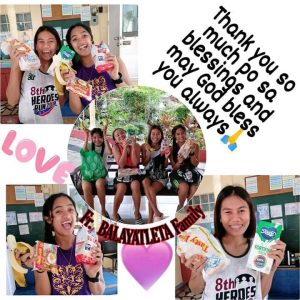 (APR. 28)—UP Diliman's (UPD) unfaltering spirit soldiers on, supporting the country combat COVID-19, as the Enhanced Community Quarantine (ECQ) is extended to May 15 in high-risk areas and placed low-risk areas under General Community Quarantine starting May 1.
Infomats. To assist the public, especially children, to better understand the COVID-19 pandemic and provide tips on how to cope, the College of Education (CEd) produced information materials and posted these on their Facebook page.
"Beat COVID-19," (bit.ly/fbupcedmothertonguecovid) an infographic on how to avoid the spread of the virus in various languages of the Philippines like Filipino, Kapampangan, Ilocano and Hiligaynon, aside from English, was posted on Mar. 18. The material was produced with the help of volunteer translators.
---
ECQ extended! UPD marches on
(We've got your back Part 4)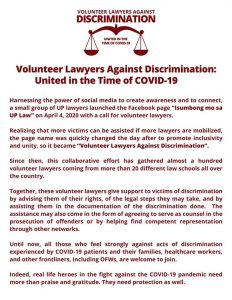 (APR. 17) – News of the extension of the Enhanced Community Quarantine (ECQ) until Apr. 30 has drawn mixed emotions from most people in the country.  For UP Diliman (UPD) and its stakeholders, this meant intensely keeping its drive to assist the community, frontliners and the general public.
Assistance. The UP Law Center Institute of Human Rights posted on its Facebook page (https://www.facebook.com/upinstituteofhumanrights/) the "Q&A Bayanihan To Heal as One Act" to better inform the public about RA11469 and on the COVID-19 Emergency Powers on Mar. 24.  The Q&A was in English and Filipino and in the succeeding days, in other Philippine languages like Bisaya, Waray and Hiligaynon.
---
Push on, UP – KapitDiliman!
(We've got your back! Part 3)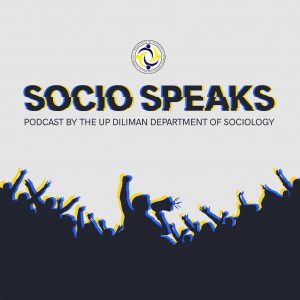 (APR. 8) – Life in UP Diliman (UPD) and all over the world may now be forever changed by the onslaught of COVID-19, but the spirit of UPD remains resilient in spite of the odds.
As it braces for the extended enhanced community quarantine (ECQ), UPD continues to provide comfort and assurance to its stakeholders and the nation through its various outreach programs and initiatives.
Research and the new media. Information dissemination materials related to COVID-19 have now been translated into 65 Philippine languages, dialects and sociolects (a dialect by a social class) by #LanguageWarriorsPH.An initiative of the Department of Linguistics, the project aims to make it easier for Filipinos to better understand COVID-19.
---
The fight goes on: KapitDiliman!
(We've got your back! Part 2)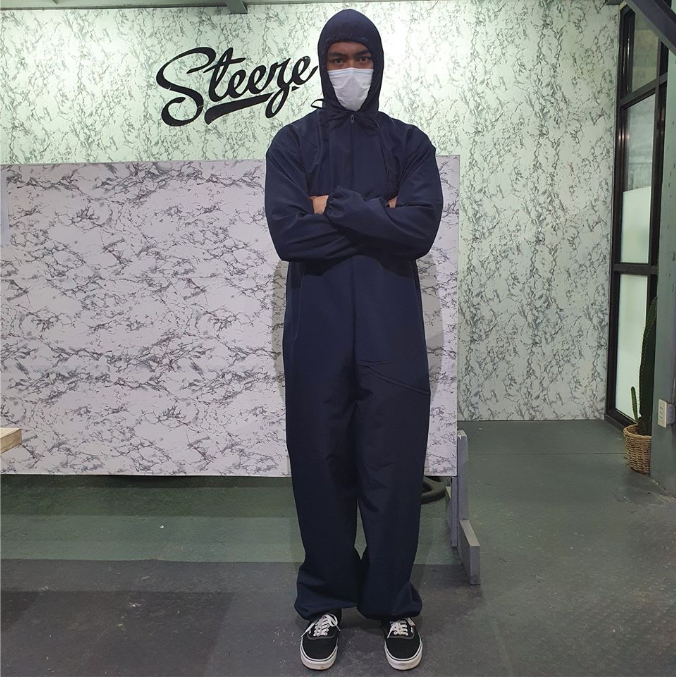 (APR. 1) — It has been more than 15 days since the national government placed the entire Luzon under enhanced community quarantine (ECQ) in an effort to "flatten the curve" of COVID-19.  At the home front, support for KapitDiliman!—the University's response to the challenges brought by the virus—has intensified as more units, organizations, groups and individuals generously shared their time, effort and resources.
Innovations: PPEs. To help the medical frontliners, individuals banded together to fabricate gears and personal protective equipment (PPE) and even develop a drink to fortify the frontliners.
---
KapitDiliman! We've got your back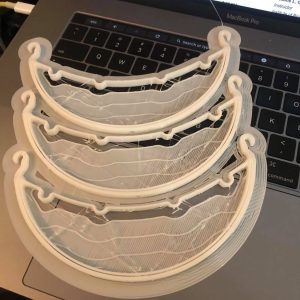 (MAR. 27) — Heeding UP Diliman Chancellor Fidel R. Nemenzo's call to "continue to look out for each other," members of the UPD community—faculty, administrative staff and REPS, students and campus residents mobilized campaigns to help each as others shared their expertise to address the urgent challenges posed by COVID-19 in the country.
Like linked arms in the fight against the virus and compelled by the urgent need to serve the people, the initiatives gave birth to UPD's battle cry: KapitDiliman!
Rising to the occasion.  Experts from different units volunteered their specializations in the fight against COVID-19.