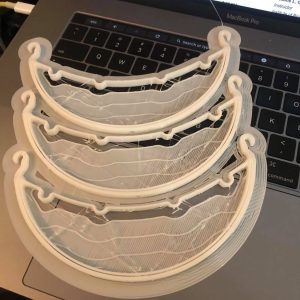 (MAR. 27) — Heeding UP Diliman Chancellor Fidel R. Nemenzo's call to "continue to look out for each other," members of the UPD community—faculty, administrative staff and REPS, students and campus residents mobilized campaigns to help each as others shared their expertise to address the urgent challenges posed by COVID-19 in the country.
Like linked arms in the fight against the virus and compelled by the urgent need to serve the people, the initiatives gave birth to UPD's battle cry: KapitDiliman!
Rising to the occasion.  Experts from different units volunteered their specializations in the fight against COVID-19.
The College of Engineering (COE) formed a COVID-19 Response Team with the aim of providing engineering solutions to the country's critical needs.
The College has requested all its departments, including associated government-funded projects, to lend their 3D printers. Pooling its resources, the College is currently producing face shield frames for medical frontliners.  These will be installed in the Electrical and Electronics Engineering Institute (EEEI) building and run by an able production crew led by Prof. Gerald Jo G. Denoga and Dr. Michael Pedrasa, Asst. Prof. Mario Carreon and Erik Lacson of Meta-Tech Lab.  COE Dean Ferdinand G. Manegdeg heads the project whose members include professors Carl Michael F. Odulio, Florencio C. Ballesteos Jr., Juvy A. Balbarona, Manolo G. Mena, Eligia D. Clemente and Eden May B. dela Peña.
The college has also come up with several projects that will address current and future needs in case of another pandemic.
Another team in the College is working in collaboration with experts Robert Dizon of the Department of Science and Technology and Dr. Joel M. Santiaguel of the Philippine General Hospital (PGH) to develop a prototype adult ventilator that is quick to produce and is a cost-effective alternative to commercially available ones.  Department of Mechanical Engineering professors Paul Rogers, Manuel Hernandez Jr., Edwin N. Quiros and Odulio comprise the team.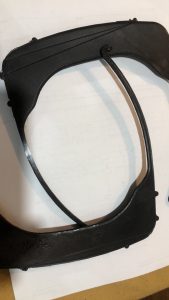 An effective movement tracker for registered Persons Under Investigation in a community is being developed by a team of Geodetic Engineering professors led by Ariel Blanco and members Rosalie B. Reyes, Czar Jakiri Sarmiento, Roseanne V. Ramos, Ransie Joy Apura and Edgardo Macatulad, in coordination with the Department of Transportation and private telecommunication companies.
Meanwhile, a team from the Department of Mining, Metallurgical and Materials Engineering is developing a mobile plasma treatment apparatus to disinfect building surfaces like hospital walls, emergency rooms, walkways, personal protective equipment and health utilities like air filters and office equipment.The team is composed of professors Magdaleno Vasquez Jr., Katrina Lois Taaca and Eduardo Magdaluyo.
The project is in coordination with the UP Manila College of Medicine and the UP PGH.
Another project aims to fabricate a prototype cleaning chamber based on ultraviolet (UV-C) light exposure that can disinfect used personal protective equipment (PPE), that can be safely be re-issued and reused by medical personnel. The team is composed of Ballesteros and Clemente with Manegdeg and professors Annaliza Rollon and Louernie de Sales-Papa of the Department of Environmental Engineering.
All the projects have been launched, with work now ongoing at the various departments and all safety precautions being conducted.
The projects were launched using initial donations from COE alumni and the public, but to see them to completion more is needed. The college is currently accepting donations through Dela Peña at ebdelapena@up.edu.ph.
At the College of Science (CS), the National Institute of Molecular Biology and Biotechnology (NIMBB), through Dr. Rey Garcia and the Natural Sciences Research Institute through Dr. Corazon de Ungria, lent their qPCR machines to satellite testing centers.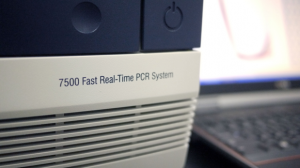 qPCR machines are needed for test kits currently used by the Research Institute for Tropical Medicine.  Scientists from the Institute of Biology (IB) and NIMBB will also be deployed to the testing centers since they have been requested by the public and private sectors to augment personnel performing the tests.
CS is also currently in the thick of producing PPEs using the college's 3D printers.  CS Dean Giovanni Tapang is currently printing disposable face shields to be donated to public hospitals.  In an interview, the Dean is developing a mechanism to make the printing of disposable face shields faster.  According to the Dean, 3D masks were recently given to the UP PGH.
Tapang said the collection and eventual release of the 3D masks were in coordination with UP College of Medicine Dean Charlotte Chiong.  The collection from other UP Diliman units that fabricated the 3D masks (COE and College of Fine Arts) was centralized at the CS Library.
Meanwhile, CS Associate Dean for Student, Alumni and Public Affairs Lillian Rodriguez said the Institute of Mathematics (IM) is presently working on modeling how disease is transmitted.
According to her, IM professor Aurelio de los Reyes said, "The Modeling and Applications group of the IM is currently working on modeling and applying optimal control theory.  Estimation of basic reproduction number (R0) and flattening the curve through different interventions are simulated."
Rodriguez also said Modeling of Disease Transmission is also being done by the National Institute of Physics (NIP) faculty through Dr. Johnrob Bantang together with NIP students.
CS has also donated supplies comprising surgical masks, gloves, disinfectants (alcohol and bleach) to public hospitals.  The first batch went to the UP Health Service, the second to the PGH, and a third which will either go to PGH or the Research Institute for Tropical Medicine.  Dr. Gisela Concepcion also donated Naso-Oral sprays to PGH.
Meanwhile, IC professors Allan Yago and Emily Castriones were tapped by the Quezon City government for advice on disinfection and cleansing strategies.
Rodriguez said all their efforts were done because of their mandate as UP scientists to make science serve the people.
The UP Department of Linguistics is making it easier for Filipinos to better understand COVID-19 through its Language Warriors.
According to the department, Language Warriors is a group that aims to "connect community translators and language warriors across the Philippines who are currently working on the translation of materials relating to COVID-19."
Language Warriors PH is set to launch today Mar. 27.
Meanwhile, Asst. Prof. Eilene Antoinette G. Narvaez of the College of Arts and Letters Departamento ng Filipino at Panitikan ng Pilipinas has translated into Filipino terms related to COVID-19, so  the Filipino general public can better understand what the virus and the current pandemic are all about.  The compendium is aptly titled "TerminolohiyaKaugnay ng COVID-19."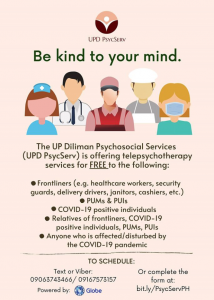 The UP Department of Psychology offers their expertise in keeping the people healthy, especially the frontliners' mental well-being.  The Department collaborated with PsycServ to give psychotherapy services to healthcare workers through the internet.
Donations, students and the alumni.The UPD student-body was also deep in the heart of volunteerism and selfless-giving.  Those who were able to volunteer did so with aplomb.  Even if some of them were recipients of donations themselves, the UPD students, led by the University Student Council (USC) and the Office of the Student Regent, mobilized USC #IskoOps, a campaign to solicit funds for student dormers on campus, along with the drivers, manininda, security guards and residents who were deeply affected by the government's Enhanced Community Quarantine.
Information on how to donate money is still at bit.ly/IskoOpsCOVID19.
College student councils also joined the campaign, some even putting up fund drives in support of their colleges' non-UP personnel who were financially affected by the community quarantine.
The UP Asian Institute of Tourism Student Council's donation drive raised P12,000 in support of the USC #IskoOps.
The UP Business Administration Council launched the BAC CARES in support of theVirata School of Business non-UP staff and their families. The  cash donation drive  aims to raise P156,000 by Mar. 27.  As of this writing the BAC CARES has solicited P108,194.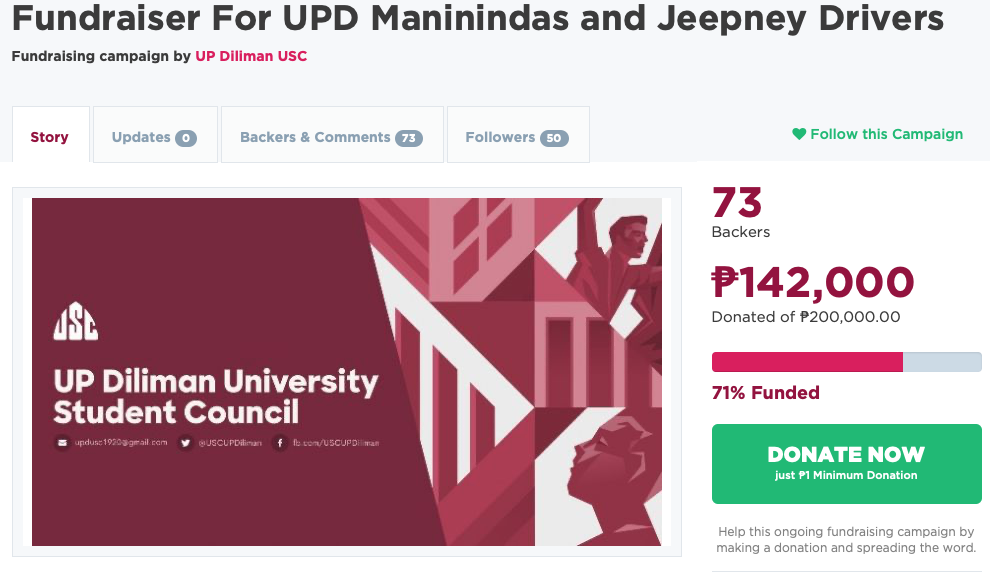 UPD alumni were as generous in these trying times.  The UP Engineering and Research Development Foundation Inc. donated P20,000 and the UP Barkada (Barkadahan ng mga UP Fratment gave P50,000 to the UPD Trust Fund.
The money will be used by the University Food Service to provide food and provisions to engineering students stranded on campus.  Meanwhile, the UP Alumni Engineers donated to the University Student Council donation drive.
College of Architecture alumna Shamcey Supsup-Lee, in her capacity as the Miss Universe Philippines (MUP) national director, and husband Lloyd Ty-Lee delivered meals to UP Diliman students under enhanced community quarantine on campus.  According to the Miss Universe Facebook Page, Supsup-Lee spearheaded the drive through Pedro and Coi's Byaheng Busog Project.
Information Education Campaign.Several units posted Information Education Campaign materials (IECs) to help educate and assist the public on COVID-19.concerns.
The School of Labor and Industrial Relations (SOLAIR) had announcements and postings on their social media as well as SOLAIR on AIR, the school's radio program at DZUP. The program discussed the latest concerns on COVID-19 like updates on travel and deployment ban, precautionary measures to follow, and advisories from the Department of Labor and Employment regarding hazard pay, adjustment measures program (e.g. work from home arrangements) and use of leave of absence, among others.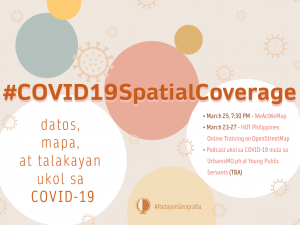 National College of Public Administration and Governance professor Noriel Christopher Tiglao developed an NCR Quarantine Checkpoint Map and was linked to Google Traffic Map on March 15.  The site, safetravel.ph, where it can also be accessed is currently being updated. Tiglao is a civil engineer by profession and had been doing transportation research with the National Center for Transportation Studies.
The UPD Department of Geography launched the information campaign #COVID19 Spatial Coverage: Sapanahon ng COVID-19.  The campaign aims to gather information and data on COVID-19, among others.
The UP School of Economics Student Council posted infographics on precautionary tips and information regarding the COVID-19.
Arms linked together, UPD continues to urge everyone: KapitDiliman!