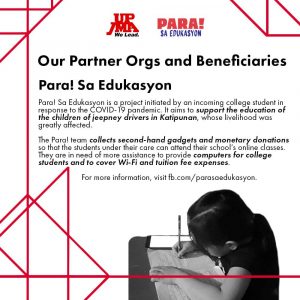 (Oct. 12)—The UP Junior Marketing Association (JMA) launched on Sept. 2 "IsKalinga: Pagtulong sa Panahon ng Pandemya" (IsKalinga).
IsKalinga is an online campaign that aims to "shed light on the present-day situation of the university's maninindas, jeepney drivers, and support staff members through our online initiatives" and raise awareness on various ways on how to help them.
The campaign was organized in partnership with Lingkod at Ugnayan ng Pangangailangan – Linkup,
Samahang Manininda Sa U.P. Campus, Inc – SMUPC and the UP Industrial Engineering Club (UP IE Club).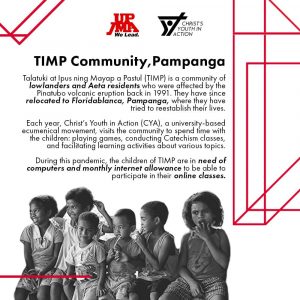 The IsKalinga's online initiatives are IsKaalaman (infographic series), Kasalukuyan (video series), and IsKarunungan (webinar).
JMA presented its first release of infographics for IsKaalaman on Sept. 5 in support of LinkUP's donation drive "Para Po!" extending help to 255 UPD jeepney drivers and their families.
Donors may donate cash through online or bank deposits to Abram Manahan (PayMaya: 0905 479 6234), Gerardo Estebanlar (GCash 0917 898 9179 | BPI: 001 973 9818) or Rafael Andres Manuel A. Maceda (BDO: 0043 6014 7794).
Donations in-kind may be delivered to 20 Calle Victoria, Brgy. Batasan Hills, Quezon City.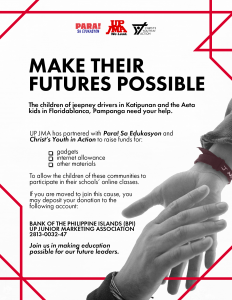 For more details and updates, visit JMA's Facebook page at https://www.facebook.com/officialUPJMA.
Meanwhile, the JMA-organized donation drive to support the education of the children of Katipunan jeepney drivers and the Aeta children in Floridablanca, Pampanga received on Oct. 3 a total cash donation of P159, 369.
Aside from the children of Katipunan jeepney drivers, the donation will go to the TIMP (Talatuki at Ipusning Mayap) Community in Pampanga.
JMA organized the initiative and launched it on Aug. 31 in partnership with Para! Sa Edukasyon and Christ's Youth in Action-UP Diliman.
According to JMA's Facebook post, the donation drive aims to provide the children with gadgets, internet allowance, books, and other materials that will allow them to participate in their schools' online classes.