(APR. 8) – Life in UP Diliman (UPD) and all over the world may now be forever changed by the onslaught of COVID-19, but the spirit of UPD remains resilient in spite of the odds.
As it braces for the extended enhanced community quarantine (ECQ), UPD continues to provide comfort and assurance to its stakeholders and the nation through its various outreach programs and initiatives.
Research and the new media. Information dissemination materials related to COVID-19 have now been translated into 65 Philippine languages, dialects and sociolects (a dialect by a social class) by #LanguageWarriorsPH.An initiative of the Department of Linguistics, the project aims to make it easier for Filipinos to better understand COVID-19.
The top languages with the most number of materials are: BikolSentral (105), Tagalog (41), Hiligaynon (27), Maguindanaon (21), Ilocano (19), Cebuano (17), Kapampangan (15), Ibanag (14), Akeanon (14), Waray (11) and Surigaonon (11).
Many of the materials focused on physical health. For more of the report, click here.  To reach Language Warriors PH, email lingg@kssp.upd.edu.ph.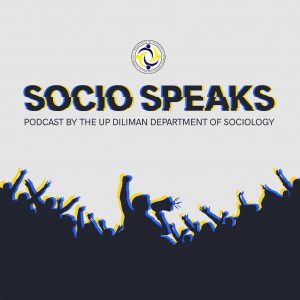 "Socio Speaks: Unmasking Society's Virulent Strains," a podcast to "sociologically analyze various coping strategies with the COVID-19 pandemic" was aired by the Department of Sociology on Apr. 6. Harnessing the capabilities of the new media, the podcast sought to reach a wider audience and featured the first partnership of the Department's faculty, alumni and students.
The first episode of the podcast Socio Speaks is now available on Anchor and Spotify.
Donation drive. UP Sandiwa, the official organization of UP Diliman students from the province of Tarlac, has an ongoing cash donation drive forTarlaqueño health workers.
The cash will be used to buy personal protective equipment (PPE) such as N95 or surgical masks, faceshields, goggles, surgical gloves, hospital gown or coverall, head and boot covers.
Sandiwa delivered the first batch of donations comprising PPE, alcohol and vitamin C to six hospitals in Tarlac, namely: Tarlac Provincial Hospital, Moncada District Hospital, Lapaz District Hospital, Camiling District Hospital, Concepcion District Hospital, and Paniqui General Hospitalon Mar. 25.
On Apr. 5, the student organization had already collected P375,827.70.
Donors may donate through deposits or online bank transfers to Patricia Lourdes Viray (BDO – 0048 5025 4783), Aliana Grace Gimena(BPI – 3089218534), Lizette Frances Cruz (China Bank -100302443836; PNB–202910051251), Maricar B. Abad (DBP – 00000 9471 3; Metrobank-4113411191517), Monica Tipton (GCash and Paymaya – 09178403628), Red C Sajonia(Landbank – 3077 1166 55), and Krystele Ann Manzano (Security Bank – 0511767179449).
Donors are requested to send proof of donation through the UP Sandiwa Facebook Page or email at upsandiwa2@gmail.com.
The UP Subol Society (Subol), a university-based organization ofstudents from the province of Pangasinan, is pooling cash and donations in kind to help frontliners in Pangasinan and the following hospitals: Pangasinan Provincial Hospital, Rural Health Unit-Balungao, The Medical City Pangasinan, Region 1 Medical Center, and Ramirez Bautista Memorial Hospital.
Donations in kind may consist of the following: acetate sheets, filaments or clean transparent plastic bottles, double-sided tapes and insulation foam (to be used for making faceshields); PPE such as hospital gowns, surgical masks or N95 masks, hairnet, foot cover, surgical gloves and faceshields; hospital supplies and vitamins; alcohol or disinfectant; video/disposable laryngoscope; and food and beverages.
For more information on how to donate, visit Subol's Facebook page or click here and refer to the pictures attached.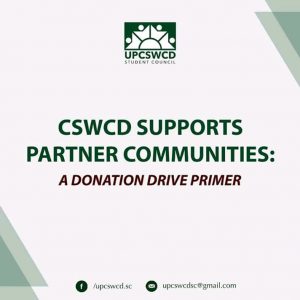 The College of Social Work and Community Development (CSWCD) Student Council posted a donation drive primerlisting 10 fundraisers under the College's Field Instruction Program (FIP) on its Facebook page on Apr. 5.
The campaigns are in support of CSWCD's partner communities whose sources of livelihood have been affected by limited mobility due to the ECQ.  There is also a donation drive for a community kitchen on campus.
In partnership with Kabataan para saTribung Pilipino (Katribu), FIP students aim to help the LumadBakwit (evacuees) Schoolon campus.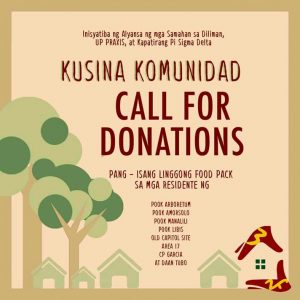 KusinaKomunidad is a joint initiative of Alyansa ng mgaSamahansaDiliman, UP Praxis and Pi Sigma Delta that aims to provide one-week food packs to campus residents of Pook Arboretum, PookAmorsolo, PookManalili, PookLibis, Old Capitol Site, Area 17, CP Garcia and DaanTubo.
Through KapitBagani, around 800 urban poor families in SitioLibis, Barangay Canumay East, Valenzuela City will receive food packs.  In coordination with Lingap Gabriela and CURE-COVID Network, relief packs will be distributed to needy residents of Tondo, Manila.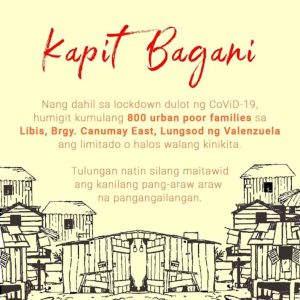 A community kitchen was also set upfor urban poor coastal communities of Barangay Sineguelasan and Barangay Talaba 2 in Bacoor City, Cavite.
FIP students launched a donation drive for the MASIPAG (Magsasaka at Siyentipiko para saPag-unlad ng Agrikultura) farmers of Real, Infanta and General Nakar in Quezon province.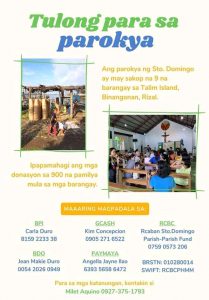 Tulong para sa Parokya is for the Parish of Sto. Domingo in Talim Island, Binangonan, Rizal composed of nine barangays. The parish initially distributed 900 food packs for the nine barangays.
A donation drive was launched for Barangay Gaya-gaya in San Jose del Monte, Bulacan, and for the Dumagat community in Sitio Sapang Munti, Ipo Watershed in Norzagaray, Bulacan.
Through Magsawep (a Mag-indi word meaning "assistance" or "helping each other"), the Ayta Mag-indi communities in Barangays Camias and Planas in Porac, Pampanga will receive relief packs.
LingkodKatribu is a call for donations for the Dumagats in Barangay Sta. Ines, Tanay, Rizal and Barangay Magsikap, General Nakar, Quezon; the Tumanduks in Barangay Lahug, Tapaz, Panay Island; and Aetas in Barangays Nabuclod, Mawacat and Camachile in Floridablanca, Pampanga.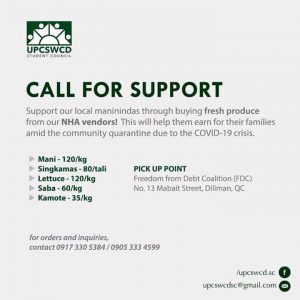 Caring for the frontliners and locals. In support of local "maninindas," the CSWCD Student Council encouraged people to buy fresh produce from National Housing Authority (NHA) vendors at the NHA compound along Elliptical Road in Quezon City who have limited mobility because of the ECQ. For orders and inquiries, contact (0917) 3305384 or (0905) 3334599.
The current suspension of public transportation has made it difficult for medical frontliners to get to hospitals to work. In response, the UP Bike Share project,under the COVID-19 response bike drive initiative, offered their bicycles to several medical institutions to be used by personnel as a temporary mode of transportation.
Under this agreement, the project lent out 92 bicycles to the Philippine Heart Center, Philippine Children's Medical Center, Philippine Orthopedic Center and St. Luke's Medical Center, Global City.
For full story and images, click here.
Health and wellness. Meanwhile, students of the UP Integrated School made greeting cards to boost the morale of both patients and frontliners alike and were posted at the UPIS Facebook page. The students' artworks were titled "Messages of Love and Hope for COVID-19 Patients and Frontliners."
"Padayon ND" of the College of Home Economics Department of Food Science and Nutrition (DFSN) was opened online on Apr. 6 for individuals seeking answers to questions on nutrition. Consultation schedule: Monday-Friday, 8a.m.-12nn; 1-5 p.m. and 7-10p.m. Questions sent through email on weekends will be answered the following Monday.
DFSN also had an infographic or IEC materials about health guides in time of COVID-19 shared in its Facebook page.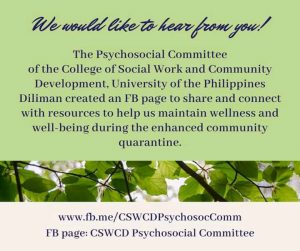 The CSWCD Psychosocial Committee created a Facebook page on Apr. 5 to share and connect with resources to help people's well-being during the ECQ.
 ACT AS ONE.  Meanwhile, the National Institute for Science and Mathematics Education Development (NISMED) has been tapped by ACT as One PH (Anti-COVID-19 Task Force) for its PEYUPS LABAN COVID Project where NISMED will be transformed into a Health Care Worker Temporary Dormitory where HCW from the Lung Center of the Philippines and other hospitals will be allowed to sleep and rest.
As the fight against COVID-19 continues, efforts to help the campus residents and all of humanity in coping with the pandemic must not waiver.  Victory is won over this disease when everyone fights together as one.
This material has been sourced from posts and information from UPD stakeholders. To be included in the next feature, email us at updio@up.edu.ph