(APR. 28)—UP Diliman's (UPD) unfaltering spirit soldiers on, supporting the country combat COVID-19, as the Enhanced Community Quarantine (ECQ) is extended to May 15 in high-risk areas and placed low-risk areas under General Community Quarantine starting May 1.
Infomats. To assist the public, especially children, to better understand the COVID-19 pandemic and provide tips on how to cope, the College of Education (CEd) produced information materials and posted these on their Facebook page.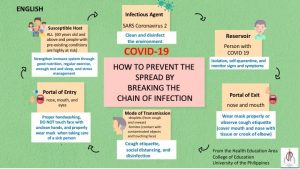 "Beat COVID-19," (bit.ly/fbupcedmothertonguecovid) an infographic on how to avoid the spread of the virus in various languages of the Philippines like Filipino, Kapampangan, Ilocano and Hiligaynon, aside from English, was posted on Mar. 18. The material was produced with the help of volunteer translators.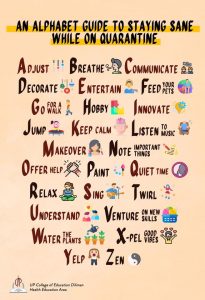 Tips on how to cope with the pandemic and the ECQ were posted in "An Alphabet Guide on Staying Sane While on Quarantine," (bit.ly/fbupcedalphabetquarantine) along with other suggestions on staying well on Mar. 28.
The College of Home Economics (CHE) did likewise, as its departments produced varied infographics to help the public deal with the challenges posed by the pandemic.
"Safe and Healthy Home Interior Spaces," a guide on how to manage interior spaces, was produced by the Department of Clothing, Textiles and Interior Design. The guide includes topics on: 1) Ensuring that home interior spaces are protected from the possible entry of the virus; 2) Managing interior spaces to safeguard mental health and/or prevent "cabin fever" and 3) Setting up the home interior environment for individuals who are considered suspected or probable COVID-19 infected cases. (https://www.facebook.com/UPCTID/)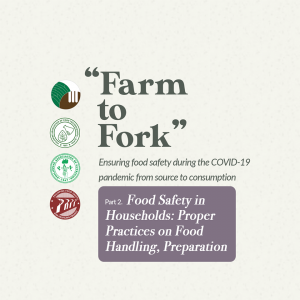 Infographics on the best practices of sourcing safe and quality food were produced by the Department of Food Science and Nutrition (DFSN). Based on the Food Safety Brief of the Philippine Safety Risk Profiling Project, the initiative was in partnership with the Philippine Association of Food Technologists–Alpha and the Philippine Association of Nutrition–Alpha Chapter. (https://www.facebook.com/DFSN-CHE-UP-Diliman-290717775039234/)
Received your barangay ration of sardines and want to take it to the next level? Then check out "What's in Your Kitchen?" (https://www.facebook.com/WhatsinyourKitchen). The page contains recipes with ingredients most people can find in their pantry, refrigerator or backyard garden. Produced by the Department of Home Economics Education and the Department of Hotel, Restaurant and Institution Management, the infographics provide the estimated budget, serving size and nutrition information. The departments also welcome contributions or suggestions from the general public.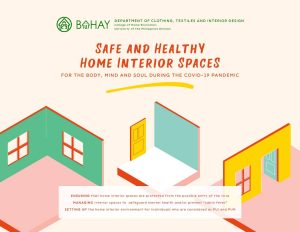 To help families with young children cope with the ECQ, the UP Child Development Center recommends activities and references in English, Tagalog and Surigaonon, while translations for other languages/dialects are ongoing. The Center also has an audiobook, "Five O'Clock: A Story about Family in the Time of COVID-19." (https://www.facebook.com/UPChildDevelopmentCenter/).
Infographics on home activities for children to continue learning were produced by the Family Life and Child Development Circle, a CHE-based student organization. (https://www.facebook.com/FamilyLifeAndChildDevelopmentCircle/).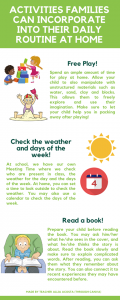 In the pipeline is College of Human Kinetics' (CHK) "SIPA-in COVID," infographics on the recommended daily physical activity work-outs and physical activity with a relative intensity for all ages. SIPA (short incidental physical activity) is an exercise routine with four to five minutes duration to be done every two hours all throughout the day, said CHK dean Prof. Francis Carlos B. Diaz. The infographics will be uploaded on CHK's social media platforms (Twitter: https://twitter.com/uphumankinetics and Facebook page: https://www.facebook.com/kinetikaUPCHK/).
AVPs.  "Bend but Don't Break: Stay Holistically Well While on Quarantine," (bit.ly/fbupcedholisticallywell) a 2-minute, 30-second video presentation, was posted by the CEd on its Facebook page on Apr. 1.
The UP Varsity Pep Squad dancers and drummers virtually cheered for the UP community and the UP Philippine General Hospital's (UP-PGH) health workers to boost their morale. Posted by coach Brent Andrew G. Viray on Facebook on Apr. 12, the video contained a breakdown of UP cheers usually performed at UAAP games and the PGH's call as the COVID-19 Center.  PGH director Dr. Gerardo Legaspi signaled the start of the cheer. (https://www.facebook.com/brent.viray/videos/4357167734295169/).
Creative works.  The UP College of Music (CMu) performed inspirational music about hope and courage online to comfort and encourage all and to pay tribute to frontliners and health workers who passed away due to COVID-19.
The Villancico Vocal Ensemble, the official performing arm of the Junior Philippine Conductors Association of the CMu, was the first to perform virtually for one of the members who lost a family member to COVID-19, CMu Dean LaVerne C. de la Peña said. The post went viral and was picked up by ABS-CBN. The network then invited the choir to perform remotely with singer-actress Regine Velasquez-Alcasid on "ASAP," the network's Sunday variety show, on Mar. 29 via the app Zoom.
Alumni and current members of the UP Concert Chorus (UPCC) and the UP Madrigal Singers (UP Madz) also shared performances in their respective social media pages (i.e. Facebook pages and YouTube channels).
Meanwhile, the UP Symphony Orchestra, together with the UPCC, UP Madz, UP Staff Chorale, Auit Vocal Ensemble and CMu faculty and students, virtually performed "Maghintay Lang, Kaluluwa at Diwa," Prof. Josefino Chino Toledo's translation of Jean Sibelius's "Finlandia," and uploaded it on their Facebook account on Apr. 19.  To watch the performance, click this link <https://www.facebook.com/upsymphonyorch/videos/2678550799042064/>.
CMu is presently collaborating with the UP Office of the Vice President for Public Affairs, TVUP (Internet television (webcast) network operated by UP) and the UP College of Mass Communication (CMC) to produce several COVID-19-related videos for the university.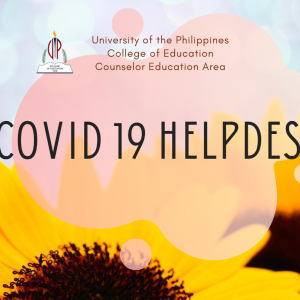 Counseling and consultation.  The CEd, through the Counselor Education Area, opened the COVID-19 Helpdesk (https://m.facebook.com/UP-College-of-Education-Counselor-Education-Area-Covid19-HelpDesk-100280208295174/) on Mar. 31 for those who are "feeling down or locked up."
The Psychosocial Support Program (PSP) of the UPD Ugnayan ng Pahinungod aims to disseminate information on and equip UPD students, faculty, staff and alumni with knowledge and skills on basic psychosocial support they can offer to their respective families, peers and communities. It also intends to train volunteers as a first layer of psychosocial support. This way, psychosocial specialists will be assisted and not be overworked especially at this time when an overwhelming number of people are seeking help. For those interested to be a PSP Pahinungod volunteer, sign up here: https://tinyurl.com/pspform2020.
The PSP is coordinated by Prof. Jowima Ang-Reyes, PhD of the College of Social Work and Community Development Department of Social Work and Prof. Michelle Ong, PhD of the College of Social Sciences and Philosophy (CSSP) Department of Psychology.
The program has three levels: information dissemination, capacity building and referral system. At the moment, the first level is operational while the other two levels are being coordinated with concerned individuals, agencies and institutions.
The referral system is intended for people with specific psychosocial needs that require professional help. A list of offices, institutions and organizations providing free psychosocial services will be created so that people with specific needs may contact or be referred to the nearest psychosocial services provider.
To assist employers and employees affected by the COVID-19 pandemic, the UP School of Labor and Industrial Relations (SOLAIR) established on Apr. 9 its Online Labor Consultation (OLaC), a closed Facebook group for consultation on employment and human relations (HR)-related issues and concerns experienced by workers as a result of the lockdown. Catering to SOLAIR students working in various industries, OLaC serves "as a platform for sharing good employment and HR policies and practices adopted by businesses and workers to address the impact of the health crisis." (Group URL: https://web.facebook.com/groups/upsolairolac)
SOLAIR faculty also shared their expertise through legal advice on DOLE's financial assistance and COVID-19 Adjustment Measures Program (CAMP); by speaking on HR Adjustments in COVID-19 Times for the People Management Association of the Philippines Webinar; contributing the article "People-Centered Mobilization Central in Containing COVID-19" in Business Mirror on Mar. 26; and offering advice and instruction to various sectors.
Testing stations.  A College of Architecture (CA) team led by lecturer Martin Rinen designed a portable swabbing or COVID-19 testing station enhanced with bio-safety features for suspected cases.
Similar to the drive-by booths used abroad, the station is about half the length of a cargo container that can be placed in an area like a barangay basketball court. A number of the testing booths have already been constructed in the Philippine General Hospital, the Philippine Lung Center and select areas in Cavite province. Depending on the test kits used in the station, the results can take anywhere from 24 to 48 hours.
Another team led by CA professor Cristopher Espina designed a mobile specimen collection unit (MSCU) that can "collect swab samples from barangays and forward them to the nearest laboratory for testing."
The MSCU consists of a single modified van or similarly-sized vehicle manned by a driver and two medical staff who will conduct the actual testing.
The design team said the MSCU "combines the strength of door-to-door testing (accessibility) and testing booths (efficiency). It also minimizes the number of healthcare workers required as one MSCU can cover several barangays." Blueprints for the vehicle were also presented to various medical institutions.
Structure designs.  Meanwhile, CA lecturer John Ryan Santos designed a central referral complex with networks of hospitals and isolation facilities where patients can be admitted and cared for. According to the college, the designs have been presented in public fora and offered to government institutions for their use.
The UPCA Environmental Landscapes Studio Laboratory, along with other research and extension program offices, are currently producing the 3-part webinar "Urban Agriculture and Micro-scaled Landscapes" that "aims at an integrated approach to food security, physical activity, mental focus, earth-based and ecology-based learning and promoting happiness in small spaces."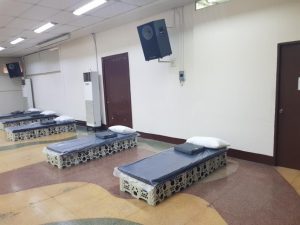 Facilities for COVID-19-related activities. CSSP committed the Palma Hall as an isolation area or more aptly, haven for suspected and probable cases of COVID-19 (https://www.facebook.com/CSSPCompLab/posts/2306468126322847).  On Apr. 19, the move was called "Kanlungang Palma sa Panahon ng Pandemya" (KAPPP) or Kanlungang Palma.
In the Apr. 23 memorandum of CSSP Dean Maria Bernadette L. Abrera, written in Filipino, Kanlungang Palma will serve as a quarantine facility for those suspected of having COVID-19 that live within the UPD community, the entire 493 hectares of the campus, and together with communities within its 100-meter radius.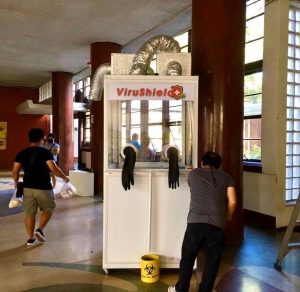 The University Health Service (UHS) led by its director, Dr. Jesusa Catabui, and through its Public Health Unit, headed by Dr. Darleth Romana-Bantiles, will supervise Kanlungang Palma. Presently, set up at Kanlungang Palma are 50 beds, which is equal to the number of patients that UHS can take care of.
According to Abrera's memo to CSSP, before and after its use as a quarantine facility, Palma Hall will undergo decontamination. The decontamination will be done by Sanitary Anti-Viral Entry Point (SAVEPOINT), a company that is capable of extensive decontamination and more importantly, strictly adheres to the policies the World Health Organization set. This is the same company that did decontamination for NISMED (National Institute for Science and Mathematics Education Development). The University will also hire professional janitors that are experienced in working in a hospital.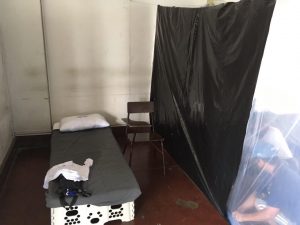 University or CSSP custodial workers will not work in Kanlungang Palma. They will only be involved in preparing the quarantine rooms. The professional janitors to be hired will take over in cleaning and maintenance as soon as Kanlungan Palma becomes operational. The collection and disposal of waste materials from Kanlungang Palma will also be taken care of by a different company and will not be a part of those collected by UP through the Campus Maintenance Office.
Only the Palma Hall lobby will be used as a receiving area to those who will enter the quarantine facility. The second floor will be the quarantine area with 50 beds. All the pavilions (1, 2, 3 and 4) and offices at Palma Hall will not be used as well as the students' "tambayan" areas at Palma Hall.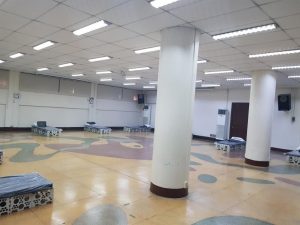 As of Apr. 27, Kanlungang Palma is still awaiting the Department of Health's comments on whether Kanlungang Palma met the standards DOH set for a quarantine facility, and subsequently the Department's approval.
For inquiries on Kanlungang Palma, contact Associate Dean Filomin C. Gutierrez, PhD through email at oadaea@kssp.upd.edu.ph
The SOLAIR Dorm is also ready to accommodate UP Health Service personnel who are off-campus residents. For inquiries, contact 8928-6396 or 8981-8500 loc. 4069, 4074, 4075.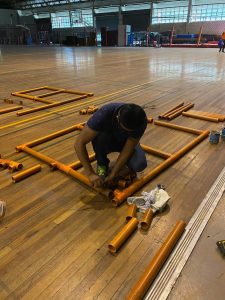 CHK allowed the use of its gym as the physical plant for the proto-type construction of sanitation tents (sanitents) by SaniTents Ph, a UPD-based crisis response project headed by UP engineers led by Augustus Patacsil and Richard Dean Gonzales. SaniTents are an open-source design for affordable and easy-to-build sanitation tents to minimize the risk and transmission of COVID-19. They are installed in public areas to disinfect through sterilization health workers, frontliners and employees who cannot stay at home.
More details on the SaniTents at CNN Philippines.
However, SaniTents FB page has an announcement discontinuing the production of disinfecting tents and directing their efforts towards handwashing stations in their Apr. 22 post at https://www.facebook.com/sanitentsph/.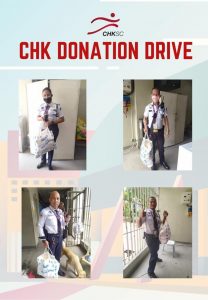 In addition, CHK's classrooms at the UP Vanguard building will be used as quarantine areas for UPD's special services brigade personnel who classified as persons under investigation/persons under monitoring (based on previous DOH categories).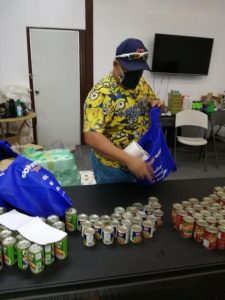 CHK also approved the use of the UP Men's Basketball Team coaches' war room as a storage area for the "GROCERY CARE: Lingap sa Frontliner" donation drive organized by several UPD faculty. The room will also serve as the repacking area for groceries to be distributed to medical frontliners in Quezon City hospitals.
Plan MANILA 2030.  The CA Tropical Design Studio Laboratory proposed to begin research and design explorations on how post-COVID-19 scenarios will affect campus planning, and management, design and utilization of buildings for education through Plan MANILA 2030.
To be conducted in collaboration with the UP Resilience Institute, the proposal seeks to implement an Urban Design and Green Code in two districts in the City of Manila that can serve as a model for disaster mitigation and resilience planning, said CA Dean Grace Ramos.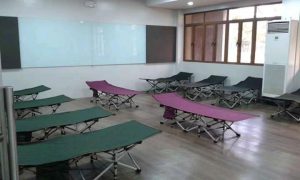 "Balancing the need to collaborate and to observe social distancing, optimizing use of education technology and maintaining healthy spaces amidst dense city settings are among the concerns around which investigations will be pursued," Ramos said.
Donations.  The CEd Student Council's "Handog: CESC Donation Drive" was launched Apr. 17 on Facebook to benefit the Grain Foundation for Persons With Disabilities and the indigent families of Floodway B, Barangay San Juan, Taytay, Rizal.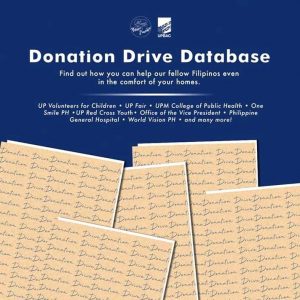 CESC requests cash donations to be sent to the following: John Denrie N. Jose through the Bank of the Philippine Islands (BPI) Direct Savings 4189-1980-57; or Eugene E. Solla, LandBank of the Philippines, SA 3077-1484-41.
A database with 10 donation drives was launched by the Business Administration Council through its Externals team via Facebook on Apr. 12. The campaign may be accessed by the Virata School of Business community members to help hospitals, frontliners, UPD student dormers and boarders, jeepney drivers and communities. The updated donation drives may be viewed through https://tinyurl.com/UPBAC2020DonationDriveTracker.
Meanwhile, members of the SOLAIR faculty donated the following: P4,000 to garbage collectors of UPD Hardin ng Rosas; a box of gloves and a box of assorted fruits to the UHS; cash and personal necessities (ex. soap, alcohol, tissue paper, etc.) to stranded construction workers of the new SOLAIR building; and cash to SOLAIR's five utility workers and three security guards.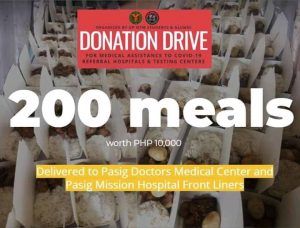 Two groups of Master in Technology Management (MTM) students launched donation drives to help the fight against COVID-19.
The first group raised P235,150 by Apr. 16. They initially provided 200 meals for frontliners at the Pasig Doctors Medical Center and Pasig Mission Hospital and 60 liters of 70 percent isopropyl alcohol to PGH. On Apr. 8, they donated reusable masks, surgical masks, meals, vitamins and alternative personal protective equipment (PPE) to referral hospitals and testing centers. The alternative PPE were designed by CHE faculty and MTM student Candy Maristela. The donation drive is now focused on supporting the production of more alternative PPE. The group is led by Berlyn Anne Decena, Jeremy Martinez Badong and Jap Anonuevo,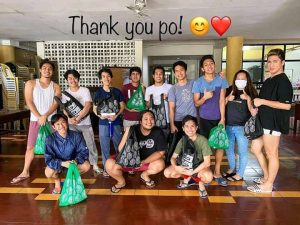 The second group, MTM Batch 2017, launched Sagip Kapwa Food Drive and raised P61,150 by Apr. 16.  It is now providing food packs to stranded UPD dormers and skeleton staff and is led by Rovi Moronia, Marsha Lee Delfinado, JC Torreda, Melanie Manaois-Molina, Cynthia Maitim-Bihis and Joy Nolasco.
For inquiries, contact Bani Balaguer (0998-5389369). Cash donations may be coursed through Jay Anne Patricia Abe (BDO 000301077797; GCash 09175724612; BPI 2599-2211-93; Paypal paypal.me/japabe) or Christian Arranz (LandBank SA 3077-1486-03). For donation tracking, the form is available at https://forms.gle/eRZ6bL6ctGCxseGK9.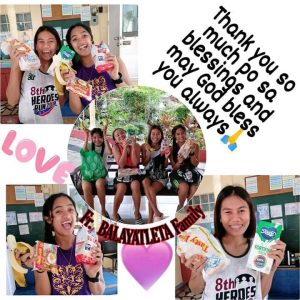 The CMC launched the "Bayanihan sa UP CMC," a cash donation drive, on Apr. 24 for the college's non-UP contractual employees, security personnel and janitorial staff affected by the ECQ.
Donors may deposit or transfer cash online through Ma. Ivy A. Claudio (Landbank SA 3076 0719 76 | GCASH 09278321745). Donors are requested to email the deposit slip/screenshot of payment to maclaudio@up.edu.ph.
The college also joined the fight against COVID-19 through fact-checking which was initiated and supervised by Department of Journalism Assoc. Prof. Yvonne T. Chua. For more details, read the article through this link: https://www.up.edu.ph/up-cmc-battles-covid-19-infodemic-through-fact-checking/.
Close to two months into ECQ, UPD gives more life to its mission to conquer COVID-19 through its famous chant: "Push on UP and fight!"
This material has been sourced from posts and information from UPD stakeholders. To be included in the next feature, email us at updio@up.edu.ph.