(MAY 19)—As some areas transitioned from enhanced community quarantine (ECQ) to modified ECQ or General Community Quarantine, UP Diliman (UPD) continues to share its expertise and help those who were greatly affected by the COVID-19 pandemic, living up to its mandate as a public service university.
Here is an update on the initiatives or projects of various UPD units, student organizations and an alumni group.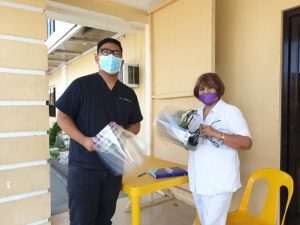 Face shield production. As of Apr. 27, UPD College of Engineering's "3D Printing Solutions for our Frontliners" has produced 2,375 face shield frames using 17 3D printers, assembled 1,854 complete face shields and distributed 1,654 of these to 31 hospitals in Metro Manila, Baguio, Pangasinan, Laguna, Batangas and Cavite.
The project also designed, 3D-printed and distributed ear saver pieces to reduce the strain on a user's ears when wearing the face shield.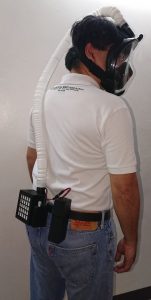 Prototype ventilator. The team behind "Prototype Adult Ventilator" conducted its first test on the prototype's touch screen controls on Apr. 23. The control panel displays readings like air pressure, mixing tank pressure, inhalation time and breaths per minute, and a setup screen to control alarms and settings for the mixing tank, which is where oxygen, air and humidity are controlled.
The team tested several methods for pressure relief but eventually settled on using a spring valve for its simplicity, reliability and ease of adjustment. The team is currently using a refurbished air compressor for the prototype but is also looking into using an oxygen tank.
With the positive initial test results from the lone prototype, a more permanent assembly will be made.
UV light for disinfection. The team behind "Disinfection of PPE [personal protective equipment] via UV Light" is currently testing two prototypes for efficiency of disinfection. Parallel tests will also be done at the Philippine General Hospital (PGH).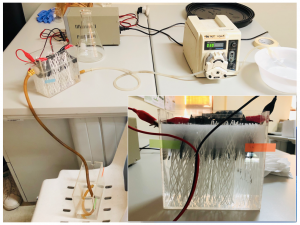 A third prototype changes the format of the chamber to fit six coveralls and hasten the time of exposure.
ChlorGen. The chemical engineers behind "ChlorGen: On-Site Hypochlorite Disinfectant Generation Via Brine Water Electrolysis" successfully produced some sodium hypochlorite from brine water. The team is still in the prototyping stage and will do further experiments to optimize the extraction of sodium hypochlorite from brine water.
Potential drug. The team behind "Identification of Potential Drug Candidates for the SARS-Cov-2 using Structure Based Drug Discovery" tested 1,000 natural compounds against the main protease of the SARS-CoV-2 virus. The three best natural compounds coming out of the search so far are found in apples (Malusdomestica), bell peppers (Capsicum annuum) and the common bean (Phaseolus vulgaris).  Further simulations are needed to test the compounds' stability. More researches are being conducted to identify additional compounds and to find what compounds or "ligand complexes" will be better alternatives because of their characteristics.
Staying fit. The UP College of Human Kinetics (CHK) launched "SIPA-in COVID, A UP CHK Initiative" on the Facebook containing infographics on the recommended daily physical activity work-outs and physical activity with a relative intensity for all ages on Apr. 26. SIPA (short incidental physical activity) is an exercise routine with four to five minutes duration to be done every two hours all throughout the day, said CHK dean Francis Carlos B. Diaz.
The infographics were also uploaded on CHK's social media platforms (Twitter: https://twitter.com/uphumankinetics and Facebook page: https://www.facebook.com/SIPAinCOVID/).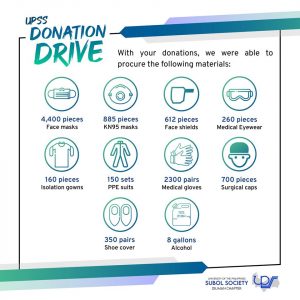 Donation drive. Nowhere To Go But UP (NTGBUP), with the support of donors, delivered over 60,000 meals to 68 hospitals around Metro Manila as of May 9. The UP sports alumni group also distributed meals and/or PPE to 85 hospitals/health facilities across the country.
In addition, NTGBUP provided 23 institutions (checkpoints, barangays, jails, orphanage, homeless shelters, dorms and parishes) with meals, toiletries and relief goods. The donation drive is continuing.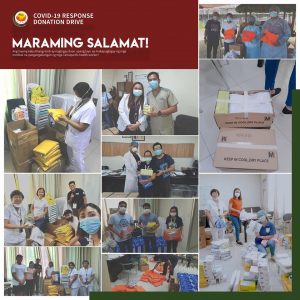 The UP College of Mass Communication raised P139,230.00 as of May 5 for the 46 frontliners and staff of the College. Donors can still donate to the College.
The UP Men's Judo Team (UPMJT) donated PPE to the East Avenue Medical Center and Taguig-Pateros District Hospital on May 4. Moreover, the team also continued raising funds for rice packs and PPE for frontliners as well as for UPD jeepney drivers.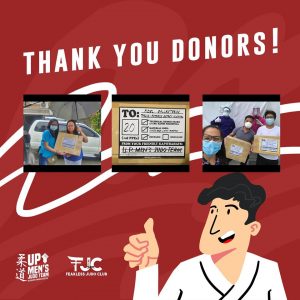 As of Apr. 25, UP Sandiwa, the official organization of UPD students from Tarlac, raised P401,831.00 in cash. The amount was used to procure 425 PPE suits, 7,500 face masks, 5,400 pairs of medical gloves, 100 face shields, 3,000 pieces of Vitamin C and 691 bottles (150ml) of alcohol. The donation drive is ongoing.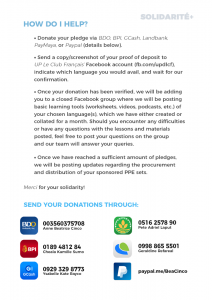 The donations were distributed to the following: Tarlac Provincial Hospital, Paniqui General Hospital, Concepcion District Hospital, Lapaz District Hospital, Jecsons Medical Center, Moncada District Hospital, Camiling District Hospital, San Jose District Hospital, Pura Rural Health Unit, Ramos General Hospital and Barangay Health Workers in Capas, Tarlac.
The Business Administration Council collected a total of P242,430 as of Apr. 23 and closed the fund drive. The amount was divided among the 13 non-UP staff members of the UP Virata School of Business.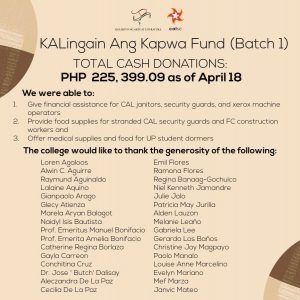 The College of Arts and Letters (CAL) "KALingainAngKapwa Fund" raised  P225,399.09 in cash as of Apr. 18.The amount was used to buy snacks, toiletries and medicine for dormers; supplies for stranded CAL security guards and Faculty Center construction workers, and financially assist 30 CAL personnel (janitors, security guards and photocopy operators).  Part of the funds was given to the University Food Service for dormers' food. The drive was launched on Apr. 6 and is ongoing.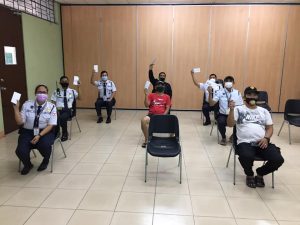 CAL is also soliciting medical assistance for the spouse of Felix Parinas, a Department of European Languages' AVR technician. Cash donations may be deposited or transferred to CAL dean Ma. Amihan B. Ramolete (BDO: 006520231060 and GCASH: 0917 677 5141), Joshua Chan (BPI: 3189-2877-75), or Ticket2Me  (bit.ly/KALingain).
Donors are requested to email an image of the deposit slip/screenshot of payment to cal_dean.updiliman@up.edu.ph for proper accounting and documentation. For more information and updates, visit CAL's Facebook Page at https://www.facebook.com/UPD.CAL/.
As of Apr. 16, UP Subol Society (Subol), a university-based organization of UPD students from the province of Pangasinan, raised P368,821.94 in cash.
On Apr. 18, the student organization used the amount to procure 4,400 face masks, 885 KN95 masks, 612 face shields, 260 medical eyewear, 160 isolation gowns, 150 PPE suits, 2,300 medical gloves, 700 surgical caps, 350 pairs of shoe cover and eight gallons of alcohol for the beneficiaries.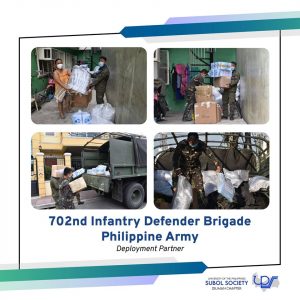 With the help of the 702nd Infantry Defender Brigade Philippine Army and Armed Forces of the Philippines Northern Luzon Command, Subol delivered the donations to beneficiaries in Pangasinan on Apr. 23 and 24. The Subol donation drive is ongoing.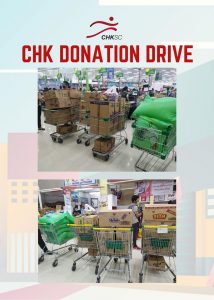 The UP CHK Student Council's (CHK-SC) donation drive launched Mar. 28 raised P62,100.00 on Apr. 15. Part of the amount was used to purchase the first batch of relief goods for CHK custodians. On Apr. 20, the student council prepared the second batch of donations. Beneficiaries may get their relief packs at the CHK gym as soon as they receive a text message from the CHK-SC.
Donors may still donate cash through bank transfers to Keona Lozada (BPI:  7646-1661-22), Joy Valerie Lopez (BDO: 000440553555), Ma. Angela Paula Villamil (Metrobank: 1123112324896) or Ma. Paula B Villamil (PNB: 5102669017710953). For more details and updates, visit the CHK-SC Facebook page at https://www.facebook.com/updchksc/ .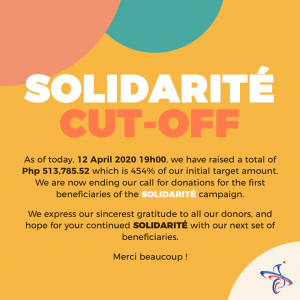 The UPD Le Club Français (UPDLCF) "Solidarité" (Solidarity) raised P513,785.52 on Apr. 12. For a minimum of P350.00, donors were given free one-month access to French language learning materials made and collated by the members and alumni of the Club. Other language materials offered are for German, Italian and Spanish. The donations were for the benefit of UPD jeepney drivers affected by the ECQ.
The cash donations also funded PPE of the medical staff of hospitals and health centers in Quezon City. UPDLCF ended their fundraising campaign on May 15 at 11:59 p.m.
The Asian Institute of Tourism Student Council (AIT-SC) raised P18,000 as of Apr. 10. The AIT-SC remitted the amount to the University Student Council's IskoOps.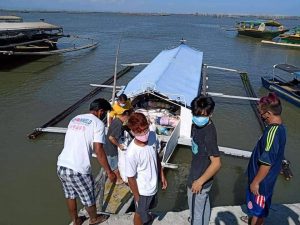 Helping partner communities. Students of the College of Social Work and Community Development's (CSWCD) Field Instruction Program launched donation drives for their partner communities and below are their updates. All fund drives are ongoing.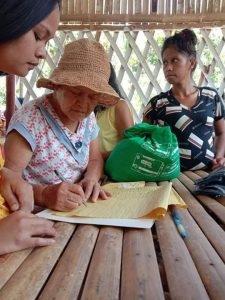 The donation drive for Dumagats in Sitio Sapang Munti, Ipo Watershed, Norzagaray, Bulacan collected P175,793.00 as of May 6. The amount was initially used to purchase 24 sacks of rice for 116 Dumagat families in March. Another relief operation was held in April.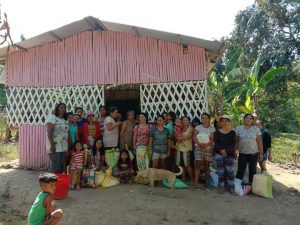 Currently, the drive has a remaining balance of P39,348.00. Donations can still be sent to Rowen Baldwin Bueno (PayMaya or GCash: 0998-437-4698), Diane Marie Carabeo (Metrobank: 1593159444695) or Jasna Nicolas (BPI: 0159-205-932).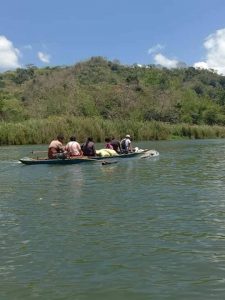 The Kapit Bagani project in Barangay Canumay East, Valenzuela City distributed relief packs to around 800 families on Apr. 8.
As of Apr. 4, P33,700.00 was raised for the Parish of Sto. Domingo in Talim Island, Binangonan, Rizal. The amount was used for boat rental, fuel expenses and for additional manpower, among others. With donations from other donors, the parish distributed relief packs to 1,775 families in April.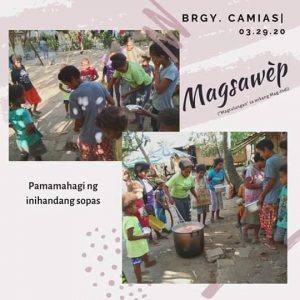 The community kitchen "Kusinang Bayan" for the urban poor coastal communities in Bacoor, Cavite raised P72,300.00 as of Apr. 3. The amount was used for food bags in Barangay Sineguelasan and Barangay Talaba II as well as supplies for each of the barangay's kitchen. The kitchens operated thrice a week, serving lunch to 400-600 households in the two barangays.
The Magsawep project of students and graduates of Master in Community Development raised P72,000.00 as of Apr. 1 for the Ayta Mag-indi communities in Barangays Camias and Planas in Porac, Pampanga.
---
Photo credit: