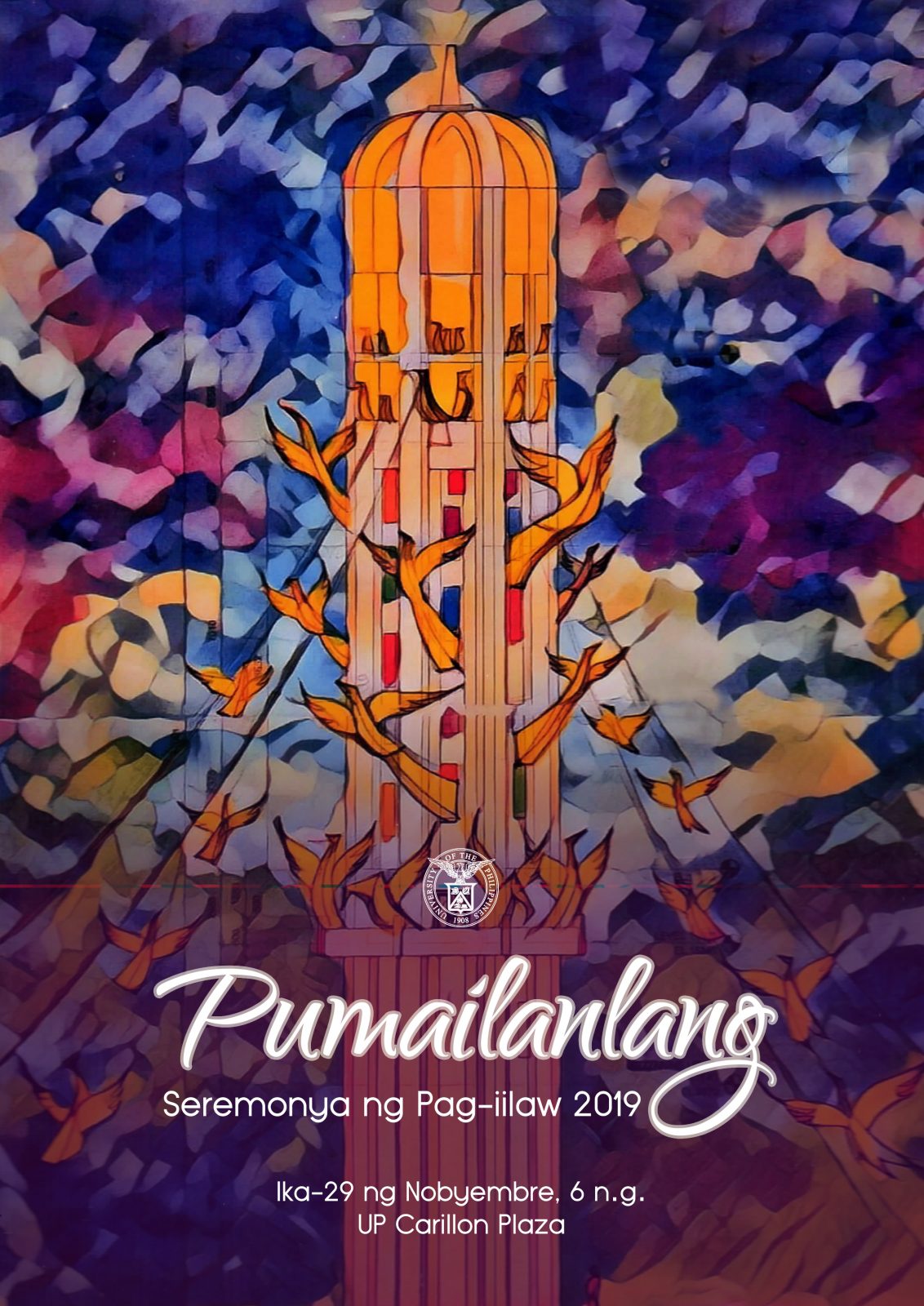 (NOV. 27)—Holiday celebrations in UP Diliman (UPD) will begin on Nov. 29, 5 p.m. not at the Oblation Plaza where it's traditionally held, but at the Carillon Plaza, amid a backdrop of soaring birds.
Entitled "Pag-iilaw Para sa Pasko," the Christmas lights of all the major buildings on campus are switched on for the first time. "Pumailanlang" is the theme of this year's celebrations.
This will feature musical, dance and spoken word performances from the UP College of Music (CM) Student Ensemble and some of UPD's most talented students and alumni. The ceremony will be held amid a Carillon Tower and Plaza decked out in avian-inspired decorations designed by Toym Imao.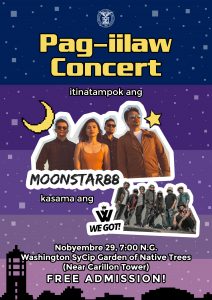 The ceremony will be followed by a free concert at the nearby Washington SyCip Garden of Native Trees featuring bands Moonstar 88 and We Got and a street party headed by the College of Human Kinetics to celebrate the achievements of the UP varsity athletic teams that participated in the first semester.
The Washington SyCip Garden of Native Trees will also serve as the stage for a two-Saturday open microphone extravaganza to be held on Nov. 30 and Dec. 7, 6-8 p.m.
Open to all members of the UPD community, each performer (individual, pair or group) will be given 30 minutes to dazzle the audience with their talents.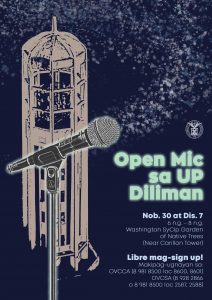 Interested parties may sign up for free with the Office of the Vice Chancellor for Community Affairs (8981-8500 local 8600, 8601; ovcca.updiliman@up.edu.ph) or the Office of the Vice Chancellor for Student Affairs (8928-2886 or 8981-8500 local 2587, 2588; ovcsa.upd@up.edu.ph).
On Dec. 12, 6 p.m., the CM is inviting the whole UPD community to a free concert entitled "Liwanag ng Pasko sa (Ka) Diliman" at the University Amphitheater.
The culminating event of the holidays is the annual Lantern Parade, to be held on Dec. 13 (Friday), 5 p.m. at the Academic Oval and the Quezon Hall Amphitheater.
At stake in the competition for the best lanterns are three major prizes and two honorable mention prizes with cash incentives of up to P50,000. The individual departments of Hall of Famer College of Fine Arts will be competing amongst themselves, with four equally substantial cash prizes up for grabs.
Entries will be judged according to its adherence to the theme, creative use of materials, presentation and visual effects, and its eco-friendliness.—Anna Regidor, images by Isha Bonus
UPD Lantern Parade 2019 Traffic Scheme
Other Articles: