(DEC. 5)—It was a night of music and lights last Nov. 29 as UP Diliman (UPD) Pag-iilaw sa Pasko 2019, the annual ceremony where all the Christmas lights on campus are lit up for the first time, was held at the UP Carillon Plaza.
The UP College of Music Student Ensemble (UPCMSE) composed of a 10-piece choir and a 10-piece orchestra under the baton of UP College of Music (UPCM) professor Katz Trangco served as the live accompaniment to the night's festivities.
As the guests arrived, they were greeted by the rhythmic sounds of "Daluy" by professor Jonas Baes performed by the UPCMSE using bamboo instruments.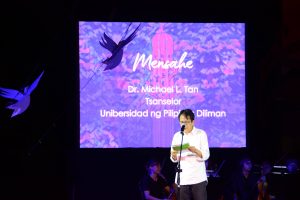 They were followed by messages from UP President Danilo L. Concepcion and UPD Chancellor Michael L. Tan, who took the occasion to remind those present of UPD's role as a sanctuary and bastion of academic freedom and free thinking.
"Huwag nating kalimutang ipinagdiriwang natin ang ika-70 taon ng paglipat ng UP mula sa Padre Faura patungo sa Diliman. Lakas ng loob lang ang puhunan natin. Marami ang nagsabi na walang mangyayari sa UP Diliman na iyan malayo at masukal. Nakita natin kung ano ang  nangyari sa UP Diliman.
Ang hiling ko ngayong gabi huwag nating talikuran ang diwa ng Diliman, huwag nating talikuran ang mahal nating bayan. Huwag nating talikuran ang liwanag," Tan said.
For the next act, UPD alumna Chase Salazar stepped into the spotlight to narrate the tale of Princess Singsing, who chose love over duty in "Ang Prinsesa ng mga Ibon" by Severino Reyes.
After a continuation of "Daluy" chanted by Trangco, Cris Go and Ervin Lumauag took to the stage to perform "Noong Unang Panahon" by Nonong Pedero and "Awit ng Pagsinta" by Ryan Cayabyab as arranged by UPCM professor Jai Saldejano.
The program kicked into high gear with an engaging performance piece entitled "Sayaw" with UPCM alumni Marveen Ely Lozano and Sarah Maria Samaniego performing a choreographic piece by Japhet Mari Cabling. After their performance, the onstage lights were switched off, covering the whole Carillon Plaza in darkness.
Then a single sarimanok puppet made of LED lights began to "fly" from behind the crowd and when it "landed" on the UP Carillon, the art installation "Santuwaryo" lit up like a beacon of light, along with the rest of the Christmas lights on campus.
Created by Toym Imao, "Santuwaryo" is an illuminated art installation in the shape of birds and wing-like shapes that surround the Carillon tower.
"Just like the mythical birds of Philippine lore, the University of the Philippines' mythos and narratives are intertwined with the country's collective memory of individuals who soared across challenging and treacherous landscapes, becoming beacons of hope and carriers of visions who embody the Filipino spirit," Imao said.
The audience was then treated to a live video of musician Allen Josel Malumay from inside the Carillon playing a short musical piece Saldajeno composed.
Then the lights were again switched on to reveal Go and Lumauag, who then launched to an energetic rendition of "Liwanag sa Dilim" by Rivermaya and "Noypi" by Bamboo.
Capping off the ceremony was a mini-concert featuring bands reggae band We Got opening for main act Moonstar 88, who are known for hit pinoy love anthems "Migraine" and "Torete."
See more of the Pag-iilaw at our photo gallery. —Anna Regidor, images by Leonardo Reyes, Isha Bonus and Jefferson Villacruz