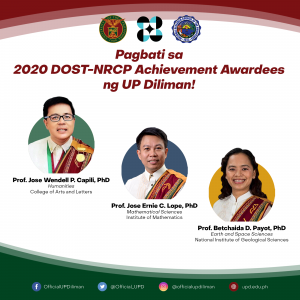 (FEB. 15)—
Three UP Diliman (UPD) faculty members, two from the College of Science (CS) and one from the College of Arts and Letters (CAL), recently received from the National Research Council of the Philippines (NRCP) together with the Department of Science and Technology (DOST) the NRCP Achievement Awards of 2020.
These are Prof. Jose Wendell P. Capili, PhD of CAL-Department of English and Comparative Literature (CAL-DECL), Prof. Jose Ernie C. Lope, PhD of CS-Institute of Mathematics (CS-IM) and Prof. Betchaida D. Payot, PhD of CS-National Institute of Geological Sciences (CS-NIGS).
According to the NRCP-DOST website, (https://nrcp.dost.gov.ph/thrusts-services/43-achievement-award) the NRCP Achievement Award is given to regular members in recognition of their outstanding contributions.  NRCP began conferring the Award in 1979.
Capili was recognized for his contributions to and achievements in the field Humanities, Lope in Mathematical Sciences and Payot in Earth and Space Sciences. 
Capili is Professor at CAL-DECL, UP Assistant Vice President for Public Affairs, and Officer-in Charge-Director of the UP System Media and Public Relations Office.  Author of seven books and over 300 articles in Asia, Europe, North America and Australia, Capili has awards from Carlos Palanca Memorial Awards, Cultural Center of the Philippines and National Book Awards for Literature.  He has a PhD Literature, Screen and Theatre Studies (The Australian National University), an MA Comparative Literature (UPD), an MPhil Social Anthropology (University of Cambridge), a Diploma Japanese Language, Culture and Affairs (University of Tokyo) and an AB Journalism (University of Santo Tomas).
Lope is Professor at CS-IM, UP Scientist I, and former UPD Vice Chancellor for Community Affairs.  An expert in differential equations and applied and computational mathematics, Lope placed first in the 2002 NAST – DuPont Talent Search for Young Scientists.  He has a PhD and a Master of Science from Sophia University in Tokyo and a Bachelor of Science, summa cum laude, from UPD.
Payot is Associate Professor at CS-NIGS and Member of the Board of Trustees of the Geological Society of the Philippines.  She is one of the 2020 National Academy of Science and Technology Outstanding Young Scientists (NAST-OYS).  An igneous petrologist and geochemist, Payot's research produced new petrographic and geochemical data that supported new models for a better understanding of the formation of igneous rocks, particularly to the understanding of the origin and formation of igneous rocks in different parts of the Philippines. She has a PhD Geology from the Kanazawa University in Japan, and an MS Geology and BS Geology from UPD.
They along with the other recipients will be conferred and recognized at the NRCP virtual Annual Scientific Conference and 88th General Membership Assembly on Wednesday, March 10, 8:30 a.m.  The Conference with the theme "Pagbangon at Pananaig: National Recovery and Rebuilding" will have Finance Secretary Carlos G. Dominguez III as keynote speaker and Academician and former UPD Chancellor Michael L. Tan as plenary speaker.
The online conference is free, but NRCP members are given priority.  Non-NRCP members will only be admitted if there are still slots available, or they may watch the scientific presentations through the official NRCP Facebook page, the Research Pod at https://fb.com/nrcpresearchpod.