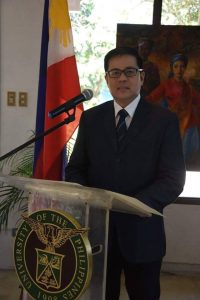 Educator. Writer. Researcher. Administrator.
Prof. Jose Wendell P. Capili, PhD was recently named recipient of the NRCP Achievement Awards 2020 in the field of Humanities by the Department of Science and Technology – National Research Council of the Philippines (DOST-NRCP).
He has published seven books and over 300 articles in Asia, Europe, North America and Australia.
His first book "A Madness of Birds" (poetry, UP Press, 1998) was highly regarded in the world of literature and academe.  Filipino critic Tito Quiling Jr. said, "Splattered across its pages are colors such as cerulean or auburns, and images of falling leaves… from seeing migratory birds returning to their proverbial places to moments illustrating one's love for his hometown are some of the pieces found in this collection of poems."
His latest book "Migrations and Mediations: The Emergence of Southeast Asian Diaspora Writers in Australia (1972-2007) was launched by the UP Press on May 26, 2017 and garnered the 36th Philippine National Book Award for Literary History/Literary Criticism from the Manila Critics Circle (MCC) and the National Book Development Board (NBDB). For National Artist for Literature Bienvenido Lumbera, the book is "… remarkable for its steady grasp of a unifying vision encompassing literary production by writers coming from disparate cultures and historical backgrounds, and establishing their significance as a factor in the construction of the contemporary cultural identity of Australia."
Capili's contributions as a faculty, artist and researcher received the following recognitions: the Carlos Palanca Memorial Award for Literature (Essay, 1996), Cultural Center of the Philippines Award for Literature (Poetry, 1993), UP International Publication Award (2001), UP Diliman Gawad Chanselor (1998), the UP System (UPS) Outstanding Student Artist Award (1989), the UP System Creative Writing Grant (2003-2004), the UP Carlos P. Romulo Professorial Chair (1998-1999, 2000-2001), UP Centennial Professorial Chair (2008-2011 and 2016-2017), and the One UP Professorial Chair for Teaching and Research (2016-2022), among others.
He also received scholarships, grants and fellowships from local and international academes, government units and agencies, foundations and organizations, such as the Arts NSW (renamed Create NSW)/Sydney Writers Festival (2007, 2008), British Council (2000, 2001), The Japanese Ministry of Education (Monbusho)/University of Tokyo (1993-1995), The University of Hawai'i at Hilo (2017, 2019), Universiti Kebangsaan Malaysia (UKM, 2012), Silliman University (1989, 2017), University of Kyoto (2012), UP (1990, 2004-2007) and ANU (2004-2007), among others in the fields of creative writing, literature, social anthropology and (Pacific and Asian) history.
His poems, reviews, creative/critical essays, newspaper articles, translations and academic papers were published in Australia, Austria, China, England, Hong Kong, India, Japan, Korea, Malaysia, the Philippines, Singapore, and the United States, including "Saligan, Sa Madaling Salita (UP Sentro ng Wikang Filipino, 2019), "The Achieve of, The Mastery: Filipino Poetry and Verse from English, mid-'90s to 2016" (UP Press, 2018), Heritage and History of the University of Santo Tomas (2012), Budhi (Ateneo de Manila University), Dadaanin (Anvil/De la Salle University), UP System and UPD publications, Environment and Literature (Tokyo, Japan), The Filipino Reporter (New York, USA) and Southeast Asian Review of English (Malaysia).
Capili served UPS and UPD as a faculty and administrator. As a faculty, he started as a CAL instructor (June 1988 – April 1993), then assistant professor (April 1993 – July 2005), associate professor (July 2005 – February 2011) and professor (Feb. 11 to present). As an administrator, he served as Program Development Associate to the UPD Chancellor (1997 – 2001), CAL Associate Dean for Administration and Development (2000 – 2004), CAL Associate Dean for Research, Creative Works and Publications (April 2007 – May 2007), CAL Associate Dean for Academic Affairs and Coordinator of Graduate Studies (June 2007 – June 2009), UPS Assistant Vice President (AVP) for Public Affairs and Director of UPS Information Office/UPSIO (May 2009 – February 2011), AVP for Public Affairs and Director of UPS Office of Alumni Relations/OAR (February 2011 – February 2017), AVP for Public Affairs (Communications, February 2017 – December 2017), Officer-in-Charge (OIC) of UPSIO, now known as UPS Media and Public Relations Office/MPRO (February 2017 – June 2017), AVP for Public Affairs and Director of OAR (January 2018 – January 2019), AVP for Public Affairs, Internal Communication and Cultural Programs (January 2019 – present) and Officer-in-Charge of Media and Public Relations Office (Jan. 18, 2021 – present).
A Professor 12 at the UP Diliman (UPD) College of Arts and Letters (CAL),he has a PhD in Literature, Screen and Theatre Studies from The Australian National University (2007); MPhil Social Anthropology (University of Cambridge, 1996); Diploma in Japanese Language, Culture and Affairs (University of Tokyo, 1995); MA Comparative Literature (UPD, 1993); and AB Journalism (University of Santo Tomas, 1988).
As a scholar, artist and researcher, his interests are comparative migration cultures and societies (Japan, Australia, Southeast Asia), creative writing studies, creative writing (creative nonfiction, poetry), comparative literature, Philippine Literature in English, fan culture, popular culture (Australia, East and Southeast Asia, United States). As a university administrator, his interests are public affairs (internal communication, media, public relations, alumni relations), development (linkages, fundraising, planning), academic affairs and administration. He can speak and write in Tagalog, Filipino, English, Japanese and Spanish.