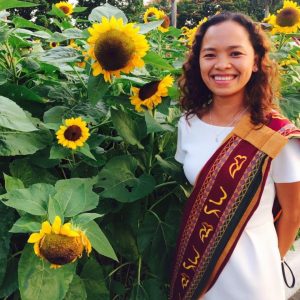 Prof. Betchaida D. Payot, PhD recently awarded by the National Research Council of the Philippines (NRCP) 2020 Achievement Awards. She is recognized in the field of Earth and Space Sciences.
An associate professor at the UP National Institute of Geological Science (NIGS), Payot specializes in igneous petrology and geochemistry.
She has authored and co-authored close to 40 researches published in international peer-reviewed journals. The National Academy of Science and Technology (NAST)-Philippines at its Facebook page describes Payot's researches as "scientific works that contributed to the understanding of the origin and formation of igneous rocks (ophioloites) in different parts of the Philippines. Her research produced new petrographic and geochemical data that supported new models for a better understanding of the formation of igneous rocks."
Payot is also recognized for her expertise in the operation of the only electron probe micro-analyzer (EPMA) in the Philippines which "advanced our knowledge of magmatic-metasomatic processes which actively operate beneath island arcs. The application of this technique to ophiolites in Palawan and in the Pujada peninsula in Davao provided new insights on the evolution of the oceanic lithosphere."
A UP Balik PhD grantee, Payot has served as project or program leader to several research projects.
Her research project "Growth of an island arc (GAIA): Tectonic consequences and human impacts" comprising Project 1 "Evolution of the Luzon Arc: From Igneous to Sedimentary Processes" and Project 2 "Tectonic Consequences of Subduction in Northern Luzon," will generate geologic data and reconstruct the tectonic and magmatic evolution of the northern segment of the Luzon Arc (Project 1), and focus on identifying active crustal deformational structures, and generate a working model to explain the mechanism of active deformation in northern Luzon (Project 2).
"The models and outputs that will be generated through this program will benefit communities, local government units, land use planners and policy makers in disaster preparedness, adaptation and mitigation efforts. The implementation of the 3-year research program started last January 2021," said Payot.
For her valuable and notable geological researches, Payot received awards and recognitions such as the 2020 NAST Outstanding Young Scientist Awards, the UPD Centennial Faculty Grant (2016-2020), One UP Faculty Grant for Teaching and Research (2019-2021), and the UP International Publication Award (2014-2015 and 2017-2019).
Payot earned her PhD in Geology from Kanazawa University, Japan in 2009, her MS and BS in Geology from UPD in 2006 and 2002, respectively. She has mentored five MS Geology students. Her professional affiliations include the Asia Oceania Geosciences Society, Japan Association of the Mineralogical Sciences, European Geological Union, NRCP, and the Geological Society of the Philippines.