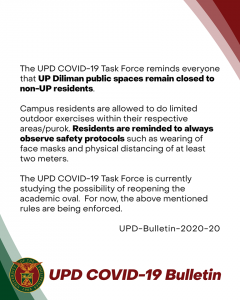 UPD-Bulletin-2020-20
The UPD COVID-19 Task Force reminds everyone that UP Diliman public spaces remain closed to non-UP residents.
Campus residents are allowed to do limited outdoor exercises within their respective areas/purok. Residents are reminded to always observe safety protocols such as wearing of face masks and physical distancing of at least two meters.
The UPD COVID-19 Task Force is currently studying the possibility of reopening the academic oval. For now, the above mentioned rules are being enforced.