An exhibition highlighting the science and technology achievements of UP Diliman (UPD) opened the first UPD Science, Technology & Society (STS) Month on Oct. 4 at the Palma Hall Lobby.
Entitled Agham para sa Bayan, the exhibit aims make visible to the public the S&T achievements of UPD and relate them to insights on human activity systems — how they are closely linked to and have been inspired by the human body and its cognitive processes – as well as advance new understanding of our physical world."
Among the research projects featured in the exhibit were the Diwata-1, the soon-to-be-launched Diwata-2, and the Fish-i Project.
Diwata 1 is the Philippines' first microsatellite developed by a team of scientists and engineers from UPD, the Department of Science and Technology – Advanced Science and Technology Institute (DOST-ASTI), Hokkaido University and Tohoku University. The satellite is designed to provide real-time images for disaster risk management and other applications such as improved weather detection and forecasts, detecting agricultural growth patterns, monitoring of forest cover, mining, protection of cultural and historical sites, and the territorial borders of the Philippines.
The Fish-i Project, on the other hand, is a semi-automated method for measuring reef fish species density and biomass. It is an interdisciplinary project under the UPD Department of Computer Science's Computer Vision and Machine Intelligence Laboratory, in collaboration with The Marine Science Institute. Both projects are funded by DOST. 
The exhibit, which runs until Oct. 11, also showcases poster presentations of various outstanding innovations and achievements from the UPD scientific community such as the Learning English Application for Pinoys (LEAP)—a standalone, computer-based training program with lessons and exercises to help users improve their English language skills;
Masaklaw na Panukat ng Loob or Mapa ng Loob—a personality inventory-based on the five factor model of personality traits measuring 22 Filipino traits or facets; and VISSER—a science kit that allows students to conduct 120 experiments in biology, chemistry, engineering, environmental science and physics.
Why celebrate STS Month?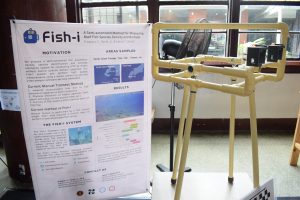 According to Vice Chancellor for Research and Development Fidel R. Nemenzo, STS Month is a celebration of the connection between the three disciplines—science, social science, and arts and humanities—which were once under the biggest College in UPD, the College of Arts and Sciences (CAS) and housed at the Palma Hall.  "Through STS Month we want to show that these disciplines, despite the break up into three colleges 35 years ago, actually connect in many ways. That is the reason why we hold it in Palma Hall." 
Nemenzo also said that S&T is a powerful force for the development of society, but it cannot be divorced from society itself. "It is created from cultural, social and political context and therefore while we celebrate the achievements of S&T this month, we also looked at its other dimensions—the social, cultural and ethical dimensions."
With a theme Bodies, Science and Philippine Society, the lined up activities "interrogate the Philippine body as an important apparatus for the understanding of inventions and innovations, biological determinism, historical and social memory studies, genetics, nutrition and health."
For the complete list of STS Month activities visit https://upd.edu.ph/wp-content/uploads/2018/10/UGNAYAN-Special-Issue-STS-Month.pdf.