(JULY 5) —UP Diliman's (UPD) eventful 106th General Commencement Exercises held on June 25 at the University Amphitheater was the talk of the town with 36 summa cum laude (SCL) graduates, a stirring valedictory speech by a Maranao student and the conferment of an honorary degree on a cabinet secretary.
Summa cum laude.  This year, 36 SCLs led the 4,610 graduates from UPD's 27 degree-granting units.  (For photos, click here.)
A Latin phrase meaning "with the greatest honors," the SCL is the university's highest academic distinction for graduates who earn a weighted average grade (WAG) of 1.20 or better.
The 36 top honors came from 10 degree-granting units from the University's four clusters: science and technology (S&T), social sciences and law (SS&L), management and economics (M&E), arts and letters (A&L).
Williard Joshua D. Jose, BS in Electronics and Communications Engineering (BS ECE), with a WAG of 1.058, led the top honors.
Following Jose was another BS ECE major, Rangel DG. Daroya (1.074). The third highest was Patricia S. Sy, Bachelor of Arts (BA) in Sociology from the College of Social Sciences and Philosophy (CSSP), with a grade of 1.089.
Others in the top 10 were: Victor Carlo G. Irene, 1.101 (BA Philosophy, CSSP), Stephanie Ann B. Lopez, 1.102 (BA Psychology/Psych, CSSP), Paollo Deo R. Reyes, 1.102 (BS Statistics/Stat, School of Statistics/SS), Martin Anthony M. Salud, 1.104 (BA European Languages, College of Arts and Letters/CAL), John Ian V. Baytamo, 1.115 (BS Mechanical Engineering, COE), John Alexander O. Soriano, 1.131 (BS Business Administration and Accountancy/BS BAA, Cesar E.A. Virata School of Business/VSB) and Jeynald Jeyromme L. Endaya, 1.133 (BS Computer Science/CS, COE).
Also in the top honors were Johntee T. Tantuco, 1.152 (BS Industrial Engineering/IE, COE), Quirby Angelo S. Alberto, 1.154 (BS IE, COE), Angelica Cielo B. Gozar, 1.157 (BA Psych, CSSP) and Arla Mae Nicole T. Salcedo, 1.159 (BA Psych, CSSP), Philip Christopher S. Cruz, 1.163, (BS Physics, College of Science/CS), Krizzia Elyse B. Mañago, 1.163 (BA Linguistics/Lingg, CSSP), Marco Angelo DP. Samonte, 1.166 (BS ECE, COE), Jose Monfred C. Sy, 1.166 (BA Comparative Literature, CAL), Clare Feliz S. Tan, 1.166 (BS CS, COE), Christian Cariño, 1.169, (BS Chemistry/Chem, CS), Kristine Larissa B. Yu, 1.169 (BS Chemistry/Chem, CS), Christine Darla A. Bautista, 1.171 (BS Business Administration/BS BA, VSB), Marco G. Del Valle, 1.173 (BS BA, VSB), Arman A. Ghodsinia, 1.173 (BS Molecular Biology and Biotechnology/MBB, CS), Jennifer B. Rucio, 1.173 (BS Tourism, Asian Institute of Tourism/AIT) and Jan Patrick C. Tan, 1.174 (BS MBB, CS).
Completing the roster of SCLs were: Ian Christian B. Fernandez, 1.177 (BS Computer Engineering, COE), Corinna Victoria C. Martinez, 1.177, (BS Psych, CSSP), Ryan Timothy D. Yu, 1.179 (BS MBB, CS), Katherine Adrielle R. Bersola, 1.180 (Bachelor of Sports Science, College of Human Kinetics/CHK), Marly Vea Clarisse L. Elli, 1.182 (BA Lingg, CSSP), Angelo Rafael E. Arcilla, 1.183 (BS Business Economics, School of Economics/SE), Mary Anne Balane, 1.183 (BA English Studies, CAL), Erica Camille U. Lau, 1.193 (BS BAA, VSB), Teod Carlo C. Cabili, 1.196 (BS Stat, SS), and Kamille Anne U. Areopagita, 1.197 (Bachelor of Fine Arts [Visual Communication], College of Fine Arts/CFA).
The S&T cluster had the most number of summa cum laude with 17 (COE: 9, CS: 6, SS: 2) followed by SS&L with eight from the lone representative CSSP, M&E with six (VSB: 4, AIT: 1, SE: 1) and A&L with five (CAL: 3, CHK: 1, CFA: 1).
AIT and CHK, respectively, have their first SCL among their graduates.
Of the 10 academic units represented, COE garnered the most number of SCL with nine, followed by CSSP (8), CS (6), VSB (4), CAL (3) and SS (2).  AIT, CHK, CFA and SE have one summa cum laude each.
In addition to the top honors, the graduating class had 337 magna cum laude and 1,016 cum laude.  Magna cum laude graduates have a WAG of up to 1.45 while cum laude up to 1.75.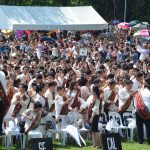 Total graduates.  As of Jun. 21, the candidates for graduation comprised 3,666 undergraduate degrees and 944 graduate degrees broken down as 58 in the doctoral, 739 masters and 147 diploma levels.
COE had the highest number of graduates at 936 (797 undergraduates/UG, 139 graduates/G).  CSSP had the highest number of graduates with Latin honors at 230 out of 395 graduates (365 UG, 30 G).  Meanwhile, VSB came second with 177 Latin honors from a total of 357 graduates (206 UG, 151 G), and CoE, third with 204 Latin honors.  VSB however, has the highest percentage of graduates with Latin honors at 86 percent.
Chancellor Michael L. Tan, who welcomed the graduates, parents, guests and university officials, reminisced about his own graduation 40 years ago and made a meaningful comparison between the past and present commencement exercises.
UPD graduation in retrospect. Tan said his graduation in 1977 was held during the summer while today, "because of the shift in our academic calendar, we are holding it right at the start of the rainy season, which created many logistical challenges, including worrying about whether the rains would spoil our sunflowers, which we didn't have in 1977.  Kahit halos araw-araw ang ulan, natuloy ang mga sunflowers, in full splendor; the sunflowers were as determined as you are to make today special."
He said they used the toga in 1977, which he described as a portable steam bath in the summer. "Fortunately, we shifted to our national attire and the sablay, which is so much more elegant, and Filipino," Tan said.
The Chancellor also talked about the significant difference between 1977 and 2017 which is the increase in the number of Latin honors.
"I do not believe this is inflationary and attribute it to the passing of terror professors, as well as getting students who are able to achieve much more, thanks to improvements in basic education and all the new technologies we have today," he said.
In his last comparison of 1977 and 2017, said "In 1977, we were four and a half years into martial law.  Our commencement exercise today happens a month into martial law in Mindanao, overlapping with Islam's sacred month of fasting and reflection.  Today's commencement happens on the eve of Eid al-Fitr, the ending of Ramadan, a time for celebration and hope, and a time to renew our commitment to building peace for our nation." (See full text of Chancellor's opening remarks here.)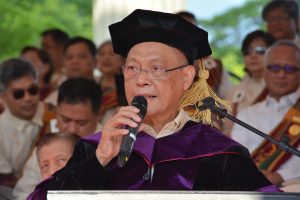 Commencement speaker's conferment.  The program proceeded with Commencement speaker Secretary of Budget and Management Benjamin E. Diokno's conferment.
UP conferred Diokno, a UPD Professor Emeritus from SE, a Doctor of Laws, honoris causa, at the commencement exercises.  The degree is the University's highest academic rank and honor.  According to the Commission on Higher Education, a Doctor of Laws, honoris causa, is awarded to public servants and lawyers who have contributed to international understanding, leadership and the rule of law. (Refer to Sec. Diokno's full speech here.)
Compassion and service.  Speaking on behalf of the graduating class was Ghodsinia, a BS MBB graduate from CS.
A few days before the graduation, Ghodsinia became a media sensation when it was known that he is a Maranao with roots from Marawi City.  His mother, Miriam Alonto Ali, hails from Marawi City while his father, Behrouz Ghodsinia, is an Iranian who adopted a Filipino citizenship.
Marawi City has been consistently making headlines since the Maute terrorists launched an attack on the city on May 23 prompting Philippine President Rodrigo R. Duterte to declare martial law in Mindanao.
In his speech, Ghodsinia emphasized the need for peace.
"Before you, I stand not merely, as a young Maranao to graduate Summa Cum Laude from this University. But before you I stand as an advocate of peace—I stand with you, my fellow Iskolars ng Bayan—as we express our solidarity to the Filipino people, and most especially to our brothers and sisters in Mindanao," he said.
He reminded his fellow graduates that compassion is deeply carved in the character of the Iskolar ng Bayan, "Tulad ng ating Oblation, nariyan ang tugon na ialay ang ating mga sarili—ang ating talino at talento—para sa ating mga kapwa Pilipino—lalo na ang mga kapwa natin na lugmok sa kahirapan o naiipit sa matinding kaguluhan."
Ghodsinia also expressed his grief over the lack of opportunities for most Filipinos due to poverty. But despite of all these hardships, he said "Here I am, standing in front of you today, as proof that members of minorities like us Maranaos can also do well, and contribute effectively to societal growth—if given the same opportunities and rights like many other Filipinos. Here I am, speaking to you as proof, that anyone—regardless of religion or ethnic ties—can excel if equal opportunities are available to all."
"We, members of the Filipino minority, are your brothers and sisters too—and on equal platform based on mutual respect—we can all work together towards a stronger, more united Philippines," he added. (Refer to full speech here.)
For the musical numbers, the guitar trio Triple Fret performed "Isang Bangka" by famous Pinoy rock band The Dawn while seasoned performers and powerhouse vocalists Bituin Escalante and Frenchie Dy regaled the crowd with the song "Bawat Daan" by popular singer-songwriter Ebe Dancel. Both songs were arranged by Jeffrey S. Malazo.
2017 Super Summa Photo Gallery