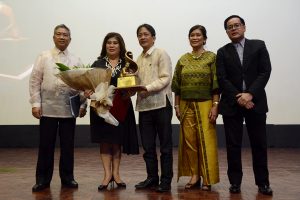 (SEPT. 4)— Multi-awarded broadcast journalist Maria Jessica A. Soho added another feather in her cap after being awarded the 2018 UP Gawad Plaridel.
The Gawad Plaridel, named after the Philippine hero Marcelo H. del Pilar's nom de plume, is the CMC's distinction for Filipino media practitioners who excelled in any of the media (print, radio, film and television) and have performed with the highest level of professional integrity in the interest of public service.
The UP College of Mass Communication (CMC) conferred the award to Soho in the Outstanding Journalist Category at the UP Film Center's Cine Adarna on Aug. 29.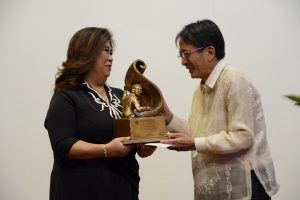 Citation. CMC commended Soho "For being the driving force behind the excellent investigative reporting in GMA Network through investigative programs like Brigada and for advancing in-depth reporting through news magazine programs like her top-rating Kapuso Mo, Jessica Soho."
She was cited "For bravely and systematically covering dangerous but very significant assignments such as the 1986 EDSA Revolt, the Mount Pinatubo eruption, the various coup d'etat attempts against the Corazon Aquino administration, and the super typhoon Yolanda as well as foreign assignments like the war in Afghanistan and Pakistan." 
In addition, Soho was recognized "For maintaining the highest standards of excellence in broadcasting, as evidenced by the local and international awards acclaiming her programs as superior investigative and news programs and herself as outstanding host and news presenter, including six Readers Digest Asia Most Trusted News Presenter awards and the first George Foster Peabody Award given to a Filipino."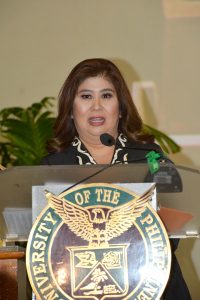 What's your story?  During the program, Soho delivered the lecture "The Challenge of Journalism in the Post-truth and Fake News Era."
In her more than 30 years in the industry, Soho said there is one question that is often asked in the newsroom, then and now, especially to all the reporters and news teams going to or returning from the field: "What's your story?" 
"The story, I cannot overemphasize that enough because that is what we are really here for: the reason for our being, if you will, and what we all should continue working hard for to get it right," she said.
"The story, many journalists have died in pursuit of it. Tyrants resort to killing hoping they kill the story, too. Leaders in the Philippines and even in the United States have fallen because of it. It sounds so basic and fundamental, but the story is very powerful. I've had my shares of fighting battles to defend. Some were won, some were lost. But, life goes on," Soho also said.
In addition, she said "The story can never be changed nor revised even if memories are short. What happened, happened, pagbali-baliktarin man natin ang mundo."
Prof. Jose Wendell Capili, PhD, UP System Assistant Vice President for Public Affairs; UP Diliman (UPD) Chancellor Michael L. Tan and CMC dean Prof. Elena E. Pernia, PhD awarded to Soho the Gawad Plaridel trophy designed by National Artist for Sculpture Napoleon V. Abueva. 
The citation was written by former CMC dean Prof. Rolando B. Tolentino and read at the ceremony by Prof. Nicanor G. Tiongson, PhD, UP Film Institute professor emeritus. 
Soho now joins the roster of Gawad Plaridel recipients Eugenia Duran-Apostol (2004, journalism), Vilma Santos (2005, film), Fidela "Tiya Dely" Magpayo (2006, radio), Cecilia "Cheche" L. Lazaro (2007, television), Pachico A. Seares (2008, community journalism), Kidlat Tahimik (2009, independent film), Eloisa "Lola Sela" Canlas (2011, radio), Florence "Rosa Rosal" Danon-Gayda (2012, television), Jose "Pete" Lacaba (2013, journalism), Nora "Nora Aunor" Villamayor (2014, transmedia), Ricardo "Ricky" Lee (2015, film), Francisca "Babes" Custodio (2016, radio) and Tina Monzon-Palma (broadcast-TV, 2017).