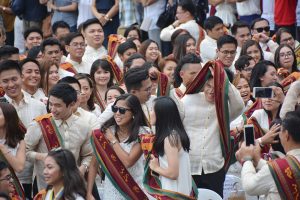 (JUNE 27)—Sunflowers, sunshine and cloudy skies greeted the 4,612 graduates who received their respective degrees at UP Diliman's 107th General Commencement Exercises at the University Amphitheater on June 24. 
Wearing their sablay, the academic garb of the University, the graduates, along with their families and friends, arrived as early as 5:30 a.m. and converged at the Oblation Plaza for the rites. While waiting, some took the opportunity to take pictures with the Oblation while others took a selfie or groufie with the sunflowers that bravely survived the occasional heavy rains over the past two weeks. The ceremony officially started a little past 7 a.m.
Summa cum laude. This year, 29 summa cum laude led the graduates from UPD's 27 degree-granting units.
A Latin phrase meaning "with the greatest honors," the summa cum laude is the University's highest distinction for graduates who earn a weighted average grade (WAG) of 1.20 or better.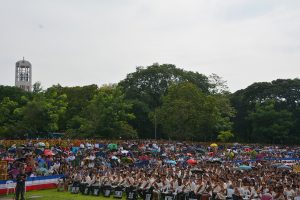 Ten of the top honors were from the College of Engineering (COE) while six were from the College of Social Sciences and Philosophy (CSSP).
Leading the top honors were COE's Ernest P. Delmo, Bachelor of Science in Chemical Engineering (BS ChE), with a WAG of 1.086, followed by CSSP's Reginald C. Coloma, Bachelor of Arts (History), 1.095.
Others in the top 10 were Alejandro Renzo H. Lim, BS Industrial Engineering, COE, 1.098; Peter Nicholas S. Onglao, BS ChE/COE, 1.108; Grazianne-Geneve V. Mendoza, Bachelor of Arts (Psychology/BA Psych), CSSP, 1.109; Raoul Carlo F. Angangco, B Music (Choral Conducting) of the College of Music, 1.118; Roi Anton R. Boribor, BS (Geography), CSSP, 1.126; Therese Nicole M. Reyes, B Fine Arts (Painting), College of Fine Arts, 1.128; Abigail Laureen C. Sy, BS ChE/COE, 1.145; and Joanne Lynsley T. Go, BS Business Administration and Accountancy, Virata School of Business (VSB), 1.154.
The next 10 were Sharleen Joy Y. Go, BS Computer Science, COE, 1.157; Kimberly Louise Y. Co, BS ChE/COE, 1.158; Mariquit DR Camba, B Elementary Education (Special Education), College of Education (CEd), 1.16; Andrea Denise L. Ong, BS Molecular Biology and Biotechnology, College of Science, 1.170; Diego Alberto B. Nepomuceno, BS Business Administration, VSB, 1.171; China Marie Giuliani F. Gabriel, BA Broadcast Communication, College of Mass Communication (CMC), 1.177; Mark Ryan Y. Tan, BS Psych/CSSP, 1.177; Andrea Jobelle D. Adan, BA Journalism, CMC, 1.178; Sean Patrick B. Grageda, B Sports Science, College of Human Kinetics, 1.180; and Dianna Therese N. Limpin, BS Psych/CSSP, 1.181.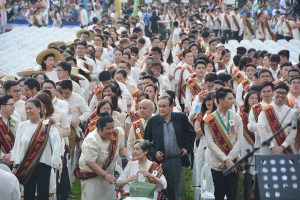 Rounding up the list are Alvin A. Carandang Jr., BS Civil Engineering (BS CE), COE, 1.182; Genesis Lance U. Orejas, BS ChE/COE 1.182;  Rogelio R. Nato Jr., B Secondary Education (Communication Arts – English), CEd, 1.188; Jude Paolo V. Bognot, BS Business Economics, School of Economics, 1.1907; Stephen Karl Y. Quizon, BA (Speech Communication), College of Arts and Letters (CAL), 1.193; Francis Jenner T. Bernales, BS CE/COE, 1.195; Charles Joshua M. Alba, BS Computer Engineering, COE, 1.196; Qristin Jeuel F. Regalado, BS Psych/CSSP, 1.199 and Yuriko L. Tsumura, BA (Art Studies: Interdisciplinary), CAL, 1.2.
The top honors' weighted averages were released by the Office of the University Registrar (OUR) on June 23.
Total graduates. Figures from the OUR also show that of the total graduates, 3,570 received a baccalaureate degree while 1,042 were conferred a graduate diploma, master's and doctoral degrees.
COE had the highest number of graduates at 986 comprising 820 undergraduates/UG and 166 graduates/G.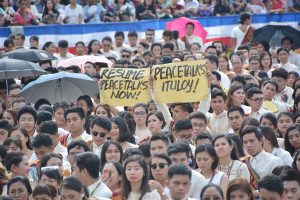 In addition to the top honors, 402 were recognized as magna cum laude and 1,004 cum laude, honors bestowed upon students who earned a WAG of 1.45 and 1.75 or better, respectively.
CSSP had the highest number of graduates with Latin honors at 223 out of 390 graduates (342 UG, 48 G). Meanwhile, COE came second with 221 Latin honors out of 986, and VSB with 190 from a total of 348 graduates (209 UG, 139 G). VSB had the highest percentage of graduates with Latin honors at 90.90 percent.
Chancellor Michael L. Tan welcomed the graduates, parents and other guests with a heartwarming message. He said it was indeed a beautiful morning because earlier, threat of heavy rains and thunderstorms almost prevented the outdoor graduation rites from happening. The weather forecast indicating a sunny morning for June 24 brought good news to everyone. 
Overcoming adversities. Tan said at the start of the Academic Year 2017-2018, UP, together with all state universities and colleges and several city colleges, implemented the tuition-free policy for undergraduates. UP Diliman "went a step further than the other schools, biting the bullet and not collecting fees of any kind. It was a bold move, and has meant much belt-tightening."
He also said "Here at UP Diliman, we are now tackling PWDs (people with disabilities) in its widest definition, to include the many students who face psychosocial problems. We worry in particular about clinical depression, but are encouraged that many who do have depression are graduating today, some even with Latin honors."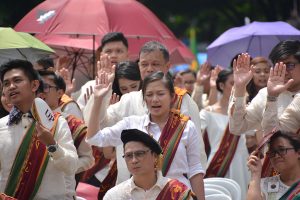 Moreover, he said "We also remember today the students who didn't quite make it, despite medical attention and medication, and we are determined to continue to develop as many psychosocial support initiatives as possible for our students, faculty and staff." (See full text of Chancellor Tan's remarks here.)
Commencement speaker's conferment.  The program proceeded with the conferment of an honorary Doctor of Laws degree to Senator Loren B. Legarda. 
The degree is the University's highest rank and honor and is awarded to public servants and lawyers who have contributed to international understanding, leadership and the rule of law. 
According to the Commission on Higher Education, a Doctor of Laws, honoris causa, is awarded to public servants and lawyers who have contributed to international understanding, leadership and the rule of law. (Refer to Sen. Legarda's full speech here.)
Defending truth, guarding hope and preserving memory. Speaking on behalf of the graduating class was Gabriel, a BA BroadComm from CMC, and talked about freedom, fake news and martial law. 
She asked her fellow graduates, "Noong ika-12 ng Hunyo, ipinagdiwang natin ang ating ika-120 taon ng kalayaan. Sa diwa ng ating malayang bayan, nais ko kayong tanungin: may dilag nga ba ang tula at awit sa paglayang minamahal? Tunay nga bang tayo'y Malaya?" 
On the issue between China and the Philippines, Gabriel said "Insofar as our freedom is concerned, we can be firm in our stance yet sensitive to the dynamics of global order. Whatever contention we might have can be worked out through diplomacy––hardcore, as it may need to be––but always keeping that delicate balance between an assertion and enjoyment of rights, and empathy based on a sense of global citizenship and common humanity."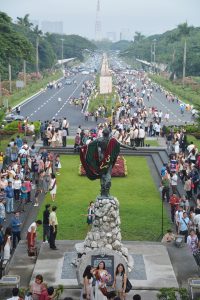 On Martial Law and historical revisionism, Gabriel said "In this age of alternative facts and fake news, we can all agree that media plays a huge role in either advancing or combatting revisionism."
"I look at media as a means to promote positive values, to deepen our appreciation for our own Philippine culture, and most of all, to both mirror and defend truth," she added.
Gabriel also said the Philippines is not yet free from the horrors of the past with history repeating itself such as the Martial Law in Mindanao; the hasty burial of the dictator, former President Ferdinand E. Marcos, at the Heroes Cemetery; extra judicial killings and other social injustices. 
She urged her fellow graduates to "overcome any battle and escape the darkness of our past through a shared vision and collective action." 
"The call of the times is for us to become truth-seekers, but I challenge each of us to go the extra mile by becoming a guardian of hope and memory," she added.
Lastly, Gabriel challenged her fellow graduates to "Let our enthusiasm to learn transform into enthusiasm to serve and to remember; together, let us create new memories for our liberated Pilipinas, stand for truth, and actualize our loving vision for the Filipino society. To do so is to make honor a prerequisite to excellence––all for our nation's sake." (Refer to China Gabriel's full speech here.)
For the musical numbers, the UP Concert Chorus and guitar trio Triple Fret performed "Awit ng Kabataan" by Pinoy rockstar Rico Blanco and the Rivermaya, and Froilan Canlas delighted the crowd with his pop rendition of the song "Tatsulok" by Rom Dongeto of the band Buklod. Both songs were arranged by Jeffrey S. Malazo.
Now a tradition in every UP graduation, towards the end of the program, student activists raised their fists and banners and protested against the commercialization of education, Socialized Tuition System, China-Duterte dictatorship, extra judicial killings and other political and social issues.
At the end of the program, the graduates and their families and friends took groufies and selfies with the canopy on the stage as backdrop. The stage was designed by popular sculptor and UPD alumnus Toym Imao which depict the graduation theme "Paglayang Minamahal."