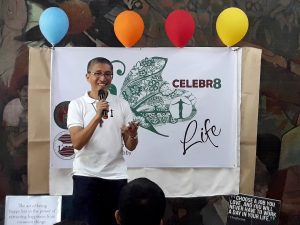 (SEPT. 27)—Students and staff paraded around the Academic Oval in the morning of Sept. 26 in "Celebrate Life 2018," a yearly event organized by the Office of the Vice Chancellor for Student Affairs (OVCSA) through the Office of Counseling and Guidance (OCG).  
Now on its 8th year, the event commemorates "those beset with mental health conditions, particularly those struggling with depression and suicidal ideations" in solidarity with the celebration of the National Suicide Awareness Month, the OCG said.
Among the reasons to celebrate life at UPD are: the enactment of Republic Act 11036 or Mental Health Act and the appointment of Dr. Dinah P. Nadera as part-time psychiatrist at the University Health Service (UHS), said Rolando Delos Reyes II, officer-in-charge and a guidance specialist at OCG.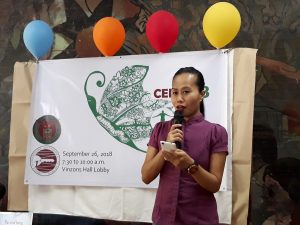 Nadera is a psychiatrist and International Health associate professor at the UP Open University. She is also the President of the Foundation for Advancing Wellness, Instruction and Talents, Inc. She served as a short term consultant at the World Health Organization (Philippines) from January 2013 to June 2015.
For consultation, Nadera's clinic hours at the UHS Public Health Office are: Monday to Tuesday from 8 a.m. to 12 nn; and Wednesday to Friday from 1 to 5 p.m. 
Two students also shared testimonies of how they coped with their personal struggles at UPD.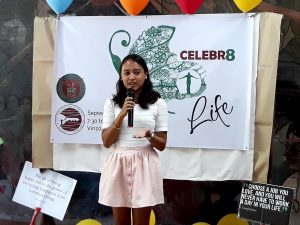 Arche Quijano, a graduate student from the National College of Public Administration and Governance, narrated how she achieved her dream of becoming a UP student and survive despite struggling with finances.
Paola Lavalle, a BS Tourism student and Asian Institute of Tourism Student Council representative, shared about her struggles and triumphs as a former student of UP Los Baños and a UPD transferee, and on how she finally accepted that there are things in life beyond her control.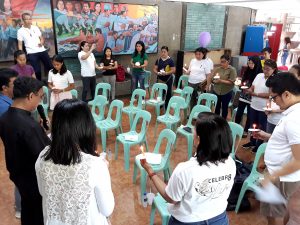 According to the OVCSA website, the OCG programs and services are open to all UP students free of charge and with a reasonable fee for non-UP individuals or groups. Regular counseling hours are from 8 a.m. to 6 p.m., Mondays through Fridays. Psychological testing and group activities are scheduled Mondays through Fridays during office hours and, upon special request, on Saturdays. Although an appointment for counseling is desirable, students with pressing concerns may walk in during office hours. Counseling sessions are confidential.
The event ended with a candle lighting ceremony where leaders of various faiths and beliefs prayed for the UPD community's health, safety and well-being.