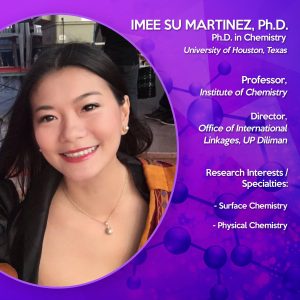 (MAR. 31)—"It is not right to judge women based on their looks, just because they wear make-up or dress in a certain manner, it doesn't mean they are not capable. Don't put women in boxes, we come in various shapes and form. It is our choice how we make ourselves relevant, and how we want to contribute to society. Women, if they are interested enough can achieve anything," remarked Prof. Imee Su-Martinez, PhD of the Institute of Chemistry (IC).
She is this week's UP Diliman (UPD) College of Science feature in celebration of International Women's Month.
Martinez is the UP Assistant Vice President for Academic Affairs and Director of the Office of International Linkages and former Director of UPD Office of International Linkages (2017 – 2019).
The UP Scientist I has interests on physical and surface chemistry and is the principal investigator of IC's Surface Chemistry Wet Laboratory, Surface Science and Spectroscopy and LASER Laboratory.
Martinez made the remark to dispel the notion that women cannot stand toe-to-toe with men in the male-dominated field of Science.
Perhaps also, Martinez was once at the receiving end of judging stares because of her looks.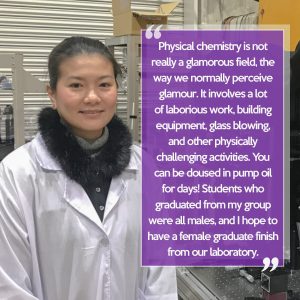 During her undergraduate days, Martinez used to freelance as a model. Her friends from the UPD College of Arts and Letters and those working in the modeling industry encouraged her to model.  She eventually joined the 2001 Binibining Pilipinas pageant where she was Candidate Number 20, poised and confident.
"This can be a sensitive issue to women's liberation, as pageants may lead to the objectification of women. However, pageants are also possible platforms for women to further their advocacies, it can be a very good resource that can be tapped to encourage participation from the general public — mine back then was environmental conservation and of course, world peace," explained Martinez.
One pageant was enough for Martinez, she left the glitz and glamour of pageantry to become more immersed with her advocacies. She first worked at the Department of Environmental and Natural Resources as Environmental Management Specialist, from 2001 until 2002. In 2003, she became instructor at IC where she rose from the ranks to become a full professor.
"I have always known that show business has a shelf life, the limelight doesn't last. I also missed the complexity of science and research, the challenges they present, and the more tangible rewards they can give to society," Martinez said.
What keeps her busy nowadays aside from her work in UPD as faculty and administrator are her posts as Member of the Scientific Advisory Board of the Organization for the Prohibition of Chemical Weapons, Member of the National Research Council of the Philippines, and Reviewer of the "Journal of Chemical and Engineering Data" by the American Chemical Society,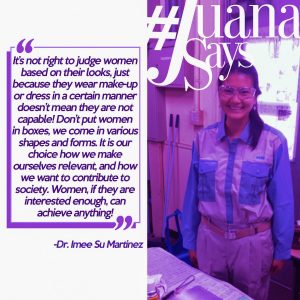 In addition are her projects that are mostly focused on climate change, green chemistry and environmentally relevant studies. Her current research projects are on chiral studies of molecules using non-linear spectroscopy, second harmonic imaging of sea cucumber mutable collagenous tissues, nanosafety and carbon capture using ionic liquids.
"Physical chemistry is not really a glamorous field, the way we normally perceive glamor, as it involves a lot of laborious work like machine work, building equipment, glass blowing, and other physically challenging activities. You can be doused in pump oil for days, Martinez said.
The Philippine Science High School alum pursued the Chemistry program at UPD as a DOST (Department of Science and Technology) scholar and graduated in 2000.
Martinez earned her PhD in Chemistry from the University of Houston in Texas, USA in 2010 under the Robert Welch Foundation Research Fellowship and was a Post-doctoral Fellow at the Department of Chemistry, Northwestern University-Evanston (2010 – 2011).
She is a recipient of the UP Centennial Award (2018-2020), UP International Publication Award (2017-2020), the 2020 JSPS KAPLAT Fellow, the 2019 One UP Award in Research and Extension, 2018 Antonio de Leon Award for Research in Chemistry, and the 2018 PHINMA Professorial Chair.
She wants to see more empowered and accomplished women in the sciences and hopefully, more female students would pursue physical chemistry as their specialization.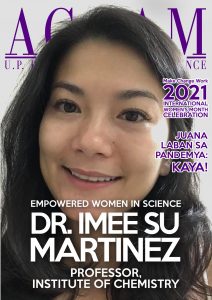 "Students who graduated from my group were all males, I hope to have a female graduate student finish from our laboratory," she said.
Martinez underscored the importance of a support group and a nurturing environment for women to flourish in the exciting and rewarding albeit difficult field of Science.
"Find a school or workplace that is supportive of women. Those that provide the essentials such as breastfeeding stations, day care centers, or women-centered programs," she said.  "Science is really a demanding mistress. One has to focus, as it requires attention to details, even to the nanoscale. For young girls planning to pursue this journey with little to no opportunities, please do not be discouraged. Look for opportunities that can help you achieve your goals. Remember that the only winner of the Nobel Prize in two science categories is a woman. We all know her." ― With report from UPD CS