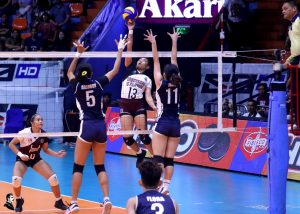 (March 18) — The UP Women's Volleyball Team (UPWVT) ended the first round of
the UAAP Season 81 Volleyball Tournament with a four-set win, 25-27, 25-14, 25-
12, 25-21, over the Adamson University Lady Falcons on Mar. 17 at the FilOil Arena
in San Juan City.
After losing the highly contested opening set, the Fighting Maroons regrouped and
improved their net-defense to completely dominate the Lady Falcons in the second
and third frames of the game to take a 2-1 set lead.
The Fighting Maroons continued its found rhythm and carried on its energy in the
fourth canto establishing an early lead, 16-8. UP was at match point, 24-17, when
the Lady Falcons made a counter run, saving four match points to cut the lead to
three, 24-21. A power tip by Maristela Layug in the ensuing rally sealed UP's win.
Tots Carlos and Isabel Molde each scored 14 points, while Layug and Justine Dorog
had 11 points and 9 points, respectively. Ayel Estrañero, who tallied 28 excellent
sets, 11 excellent digs and four points, was named the game's best player.
It was a morale-booster win for the Fighting Maroons after suffering two straight
losses at the hands of the Ateneo de Manila Lady Eagles and the rookie-laden
National University Lady Bulldogs. The win put UP in the fourth place with 4-3 win-
loss card coming into the second round of the tournament.
Game schedules for the second round will be announced by the UAAP this week.
—Bino Gamba, photo courtesy of Tinig ng Plaridel