The team of the UP Diliman Cesar E. A. Virata School of Business (VSB) bagged the championship of the 22nd Financial Executives Institute of the Philippines (FINEX) Inter-Collegiate Finance Competition (ICFC) on Nov. 25 at the Philippine Stock Exchange Tower in Bonifacio Global City, Taguig City.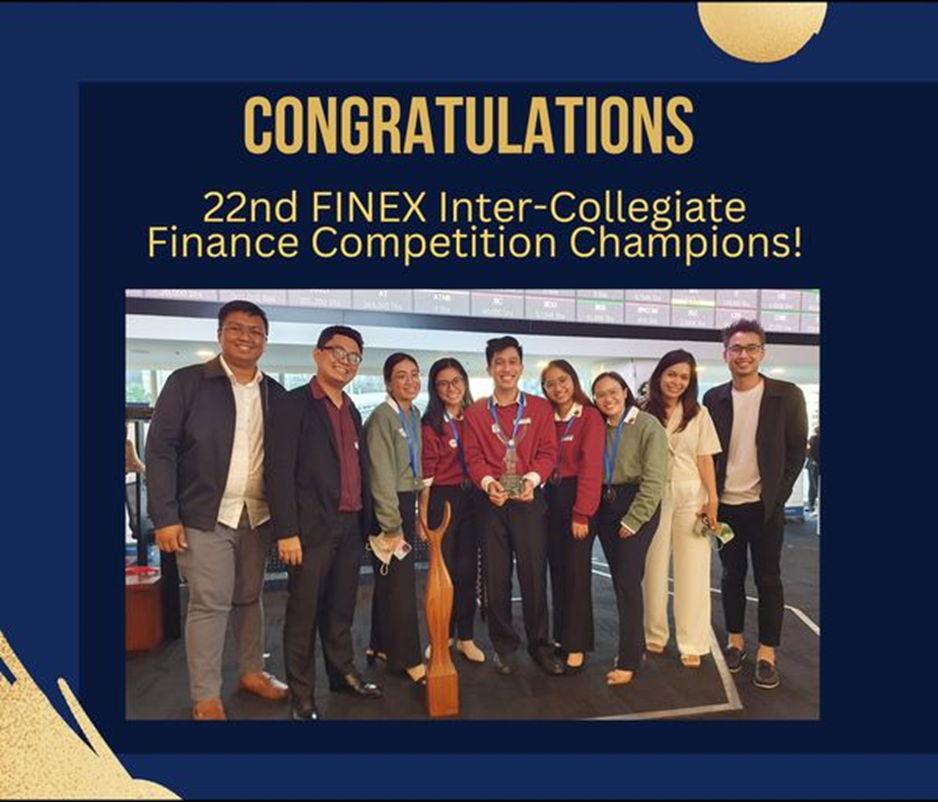 The VSB team is composed of business administration and accounting students Cassandra Marie R. Entico, Alaine Milka C. Gosyco, Jazlyn S. Liao, Jacob Andrew N. Ugsimar, and Julianne Nicole L. Vitug. John Lester H. Aratea, an instructor at the VSB Department of Accounting and Finance, was the team coach. Meanwhile, team mentors were assistant professors Diogenes C. Dy, Mikhael Anjelu Magana, and Josel Richa Ann D. Rivera; and instructor Remvert Bryan G. Placido, of the VSB Department of Accounting and Finance.
The team bested 19 other schools and universities in the Philippines in the championship round, after more than 50 schools and universities across the country participated in the elimination round held simultaneously in Pampanga, Baguio, Bacolod, Cebu, Davao and the National Capital Region on Oct. 28.
ICFC is an annual event organized by FINEX Philippines, in partnership with the JP Morgan Chase & Co., a leading global financial services firm and one of the largest banking institutions in the USA. The competition's question covered investments, financial accounting reporting, corporate finance, and portfolio management, among others.
According to the FINEX website, ICFC is the longest-running finance competition in the country; and it supports the development of financial literacy among college students. – With a report from the VSB