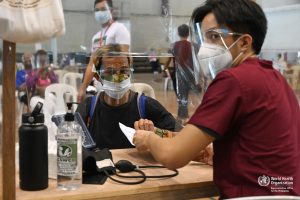 More than 650 individuals from the National Capital Region's (NCR) at-risk populations were vaccinated at the UP Diliman (UPD) College of Human Kinetics (CHK) gymnasium on Sept. 24 and 25.
Individuals of at-risk populations include the homeless, survivors of gender-based violence (GBV), severely marginalized constituents such as those belonging to the informal sectors, and people at risk of sexual exploitation and abuse.
This event was part of the World Health Organization Philippines' (WHO Philippines) campaign to address vaccine inequity among NCR's poor and vulnerable communities. According to a Facebook (FB) post of WHO Philippines, the campaign also addresses the "gender inequities in vaccine rollout."
Prof. Maria Dulce F. Natividad, PhD of the Asian Center and UPD COVID-19 Task Force explained the Task Force's involvement with the campaign in an email to Prof. Jose Carlo G. de Pano, PhD, officer-in-charge of the UPD Information Office.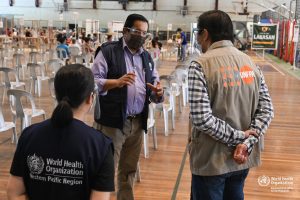 "We were involved because UPD COVID-19 Task Force was also part of the United Nations Population Fund's (UNFPA) initiative on vaccines and gender equity. A roundtable (discussion) was organized in April 2021, 'What's Gender Got to Do with Vaccines?'. We were a co-organizer then and this led to our partnership with the consortium on the project to vaccinate the homeless/street dwellers and survivors of gender-based violence from Manila and Quezon City," she said.
CHK dean, Francis Carlos B. Diaz, in reply to the WHO Philippines FB post, said "We were very happy to have helped out."
Risks and barriers. In the same FB post, WHO Philippines said advocacy groups supporting the vulnerable populations "identified risks and barriers that prevented them from getting vaccinated."
The "Prioritizing At-Risk Populations for COVID-19 Vaccine" event on Aug. 26 identified these barriers as time poverty, limited childcare options, limited financial resources, loss of income, misinformation, stigma and shame, significant barriers to registration such as lack of internet access, and significant barriers to getting to vaccination sites, such as transportation costs.
Meanwhile, some risk factors are: lack of resources for personal protection equipment (PPE); elevated levels of anxiety, depression, and trauma that compromise the immune systems of people experiencing homelessness and housing insecurity; and lack of social protection and exposure to occupational hazards without adequate safety nets among urban poor and women in the informal sector.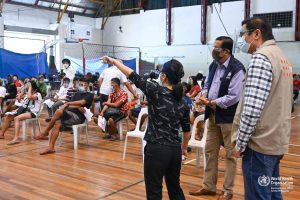 Solutions to risks and barriers. Advocacy groups recommended that to solve barriers and risks, and get more vulnerable people vaccinated, authorities should expand outreach, relax registration, increase access, and deepen the support for them.
The two-day vaccination sessions in UPD were implemented by relaxing documentation requirements and allowing advocacy groups to register them.
The event was organized by WHO Philippines with UNFPA Philippines, the UPD COVID-19 Task Force, Commission on Human Rights, Philippine Disaster Resilience Foundation, Coalition Against Trafficking In Women – Asia Pacific (CATW-AP), Kalinga Foundation, Kariton Coalition, and Australian Aid.
Natividad said the second dose of the vaccinees will be administered on Oct. 22 and 23.