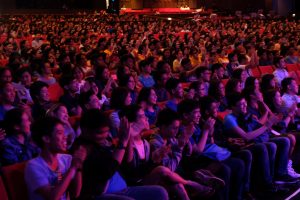 (AUG. 10)— More than 2,000 freshmen and graduate students received a grand welcome from the UP Diliman (UPD) officials and college deans at the University Welcome Assembly (UWA) on Aug. 7 at the University Theater.
UWA, formerly known as the Freshmen Welcome Assembly, is a yearly tradition organized by the Office of the Vice Chancellor for Student Affairs (OVCSA) to introduce freshmen (freshies) to administration officials and treat them to a showcase of best performances from UPD's homegrown talents.  This year, new graduate students were also invited to the event. 
From the Office of the University Registrar, UPD has a total of 2, 764 confirmed freshmen for Academic Year 2018-2019 as of Jun. 29. The College of Engineering (COE) has the highest number of freshmen at 880 followed by the College of Science (CS/433) and College of Social Sciences and Philosophy (CSSP/310).
Freshies and graduate students were greeted with impressive numbers from UPD's performing groups, warm introductions from the college deans, an inspirational message from UPD Chancellor Michael L. Tan and fearless speeches from the University Student Council chairperson and student activists. 
The event was staged in the morning and afternoon. It opened with the entrance of the college officials and officers of the UPD administration. This was followed by the singing of the National Anthem with the accompaniment of the UP ROTC Band under the baton of John Vincent E. Burgos (morning) and Chris Jowell F. Mangulabnan (afternoon).
Opening the program in high spirit, Kontemporaryong Gamelan Pilipino (Kontra-GaPi), the resident ethnic music and dance ensemble of the College of Arts and Letters (CAL), perked up the audience with their performance. Kontra-GaPi founder Prof. Pedro R. Abraham Jr. later taught the students a few chants. 
Tan warmly welcomed the new students with a 1-minute video about carps swimming upstream.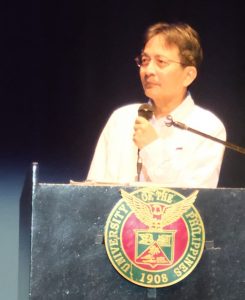 Tan explained that the Chinese has an expression called liyu tiao longmen which means carps jumping over dragon's gate. 
In the Chinese Mythology, "the Dragon Gate is located at the top of a waterfall cascading from a legendary mountain. Many carps swim upstream against the river's strong current, but few are capable or brave enough for the final leap over the waterfall. If a carp successfully makes the jump, it is transformed into a powerful dragon," according to the Chinese Dragon Study website. 
"This became a way of congratulating people who passed very difficult exams and I am extending it to UPCAT.  Kayong lahat ay parang mga karpa. You have overcome the most difficult exams dito sa Pilipinas, ang UPCAT," he said.
Tan said the freshies were the dragon batch since most of them were born in 2000 which is the Year of the Dragon according to the Chinese Calendar. He added, "Ang mga Hapon at mga Chinese ay naniniwala na ang mga karpa, those that have overcome great obstacles such as going upstream and flying up the waterfalls are transformed into dragons. So, dragons actually are transformed carps and the carps, nangahas sila. They dared to overcome adversity. You are all dragons in that sense of the word. You were bold, you were courageous and you have overcome adversity. We will challenge you furthermore at UP Diliman for the dragons, you are coming in with another upstream swimming."
Tan gave the new batch, who he also referred to as the "wired generation," tips to survive and enjoy college life at UPD such as: 1) stay wired, but more importantly, be socially connected; 2) build social capital (knowledge, skills, values and trust that they could get from social networks); and 3) look for their roots.  
The freshmen were later introduced to the UPD officials with great pride by their respective college deans. Like in the previous years, freshies from different colleges were either wearing color-coordinated shirts or cute head gears while some brought props like balloons, cardboard letters of their college's acronyms and banners. They also responded to their dean's introduction with their respective college cheers. 
Speaking on behalf of the freshmen was Jose Maria Gabriel Fadri. 
Fadri said he is hopeful that being in UP would give them freedom to really express themselves. 
Sharing what he learned from his former high school teacher, Fadri said studying in UP is a 
season of chances, choices and changes.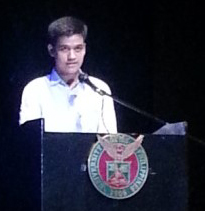 For chances, he said now is the time for him and his fellow freshies to develop themselves amid uncertainty. He said "Hanapin ang magpapasaya sa inyo! Subukan ninyo ring magkaroon ng social life matapos ng 12 taon ng paghihintay!"
He also reminded his fellow freshies "nawa'y sa pagtatapos natin dito, mas may alam na tayo, hindi lang tungkol sa UP, at sa pagsakay ng TOKI/IKOT, pagkain ng banana cue, fishball, at iba pa, kundi tungkol sa mundong ginagalawan natin, at paano mag-ambag sa ikauunlad nito."
University Student Council (USC) chair Jose Rafael Toribio later introduced the USC members and College Student Council. It was followed by a passionate speech from the student activists who went to the stage to air protests against several issues in the country, giving the freshies a glimpse of UP activism.
As an additional welcome treat for the freshies, the event also showcased spectacular performances by HallyUP, a student organization with passion for the Korean popular culture; UP Concert Chorus, UPD's internationally-competitive official performing group; Legato Visual Performing Arts Group; violinist Jonas Abadilla, a freshman from the College of Engineering (COE); UP Streetdance Club; and the UP Varsity Pep Squad.  
The morning session was attended by new students from the College of Architecture, CAL, Asian Institute of Tourism, Archaeological Studies Program, School of Economics, College of Education (CEd), COE, College of Fine Arts, National College of Public Administration and Governance, School of Library and Information Studies, School of Labor and Industrial Relations, School of Urban and Regional Planning, and Office of International Linkages for the international students.
The colleges scheduled for the afternoon session were the CS, CSSP, Asian Center, College of Law, Virata School of Business, College of Home Economics, School of Statistics, College of Social Work and Community Development, Institute of Islamic Studies, College of Human Kinetics, College of Mass Communication, College of Music and Technology Management Center.
The event was hosted by Dr. Vanessa Lusung-Oyzon of CEd and Marvin Ray Olaes, faculty at the CAL Department of Speech Communication and Theatre Arts.  
The program culminated with the singing of "UP Naming Mahal."