UP Diliman (UPD) has signed a memorandum of understanding (MOU) with The Krzysztof Penderecki Academy of Music in Krakow or AMKP through the UPD College of Music (CMu) on Nov. 8 at the Office of the Chancellor.
According to its website, the Polish academy in Krakow is a public higher education institution (HEI) offering undergraduate, graduate, and postgraduate programs within three faculties: composition, interpretation, and musical education; instrumental; and vocal and drama.
Through the MOU, both institutions agree to develop faculty, researcher, and student exchanges; collaborative research projects; lectures and symposia; academic information exchanges; and other forms of academic cooperation.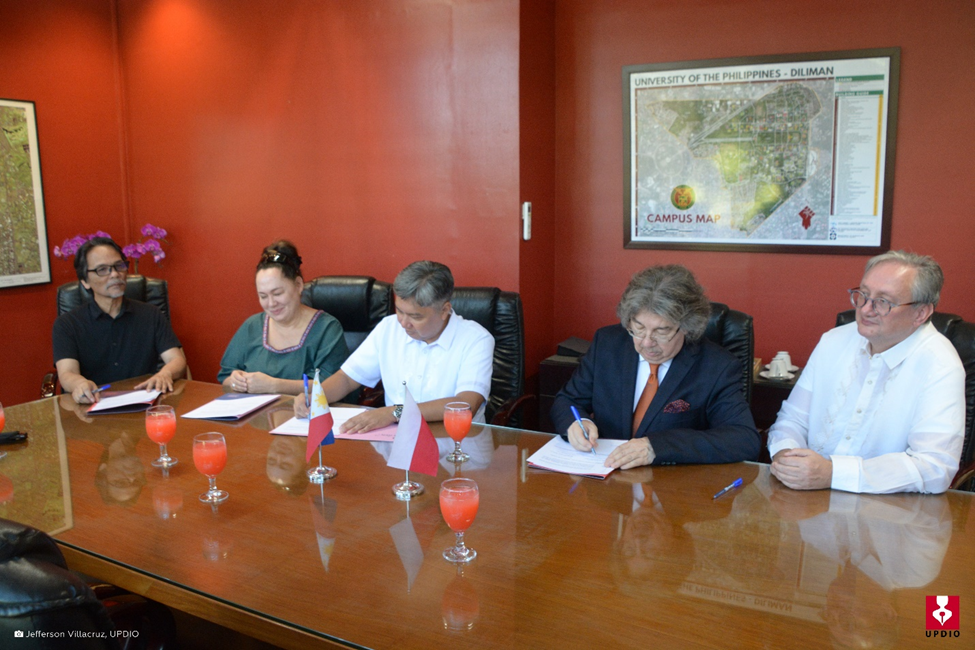 The MOU was signed by UPD Chancellor Edgardo Carlo L. Vistan II and AMKP Rector Wojchiech Widłak, with CMu Dean LaVerne C. de la Peña and AMKP Department of Cello and Double Bass Head Zdzisław Łapiński as witnesses.
At the MOU signing were Jarosław Szczepankiewicz, chargé d'affaires of the Embassy of Poland in the Philippines; Maria Pomianowska, PhD, professor at the AMKP Department of Cello and Double Bass; Ena Maria R. Aldecoa, chair of the CMu Department of Keyboard; Marta Nowaczyk-Łapińska, Łapiński's wife; and Justin Noel Alcantara and Noelle Camilla R. Rivera of the UPD Office of International Linkages.