(February 3)—UP Diliman Month 2016 opened with great fanfare on Feb. 1, 6 p.m. at the University Amphitheater with a ceremony inspired by a Filipino theatre tradition, the Bodabil.
"Panahon ng Luwalhati," the month-long festivities pay tribute to the lives and works of four National Artists: Manuel Conde (Film), Lamberto Avellana (Film and Theatre), Severino Montano (Theatre) and NVM Gonzalez (Literature). All of them were born in 1915.
The theme is derived from Gonzalez's short story, "A Season of Grace."
Bodabil sa Kampus. To usher in UPD Month, the Office of the Chancellor through the Office for Initiatives in Culture and the Arts (OICA), the UP Theatre Complex and the UP Diliman Information Office staged "Bodabil sa Kampus."
The ceremony which was open to the public featured performances from the UP DanceSport Society, UP Speech Communication Association (UP SPECA), UPD alumnae Phoebe Bitoon, Natasha Cabrera and Bituin Escalante.
All throughout the night the UP Jazz Ensemble under the baton of Prof. Rayben Maigue provided the energy and soundtracks with jazz music from the 1920s to the 1930s. Attendees were encouraged to come in their best 1920s/1930s attire.
Bodabil is an indigenized form of vaudeville, a type of variety entertainment popular in the United States and Canada up to the early 1930s featuring separate, unrelated acts such as singing, dancing, comedy, juggling and magic.
Bodabil was the theatre art form popular during the youth of Conde, Montano, Gonzalez and Avellano.
The heart of the program was UPD's recognition of the country's National Artists. Plaques of appreciation were given to 13 National Artists or relatives/representatives present at the ceremony.
According to the Official Gazette website, National Artists embody "the nation's highest ideals in humanism and aesthetic expression through the distinct achievements of individual citizens."
The National Commission for Culture and the Arts (NCCA) defines the Order of National Artists as "…the highest national recognition given to Filipino individuals who have made significant contributions to the development of Philippine arts; namely, Music, Dance, Theater, Visual Arts, Literature, Film, Broadcast Arts, and Architecture and Allied Arts."
Four living National Artists graced the event: Benedicto Cabrera (Visual Arts, conferred 2006), F. Sionil José (Literature, conferred 2001), Bienvenido Lumbera (Literature, conferred 2006) and Ramon Santos (Music, conferred 2014).
Napoleon Abueva (Sculpture), Cirilo Bautista (Literature), Alice Reyes (Dance) were represented by either relatives or friends.
Featured four. Avellana was represented by daughter Ivi Avellana-Cosio, son Lamberto Avellana Jr. and granddaughter Ina Avellana-Cosio.
Avellana (Feb. 12, 1915–Apr. 25, 1991), known as "The Boy Wonder of Philippine Movies," "was the first to use the motion picture camera to establish a point of view, a move that revolutionized the techniques of film narration," according to the NCCA. He received the Grand Prix at the Asian Film Festival in Hong Kong for his film "Anak Dalita" in 1957 and in 1954, was the first Filipino to have his film ("Kandelerong Pilak") shown at the Cannes International Film Festival.
Gonzalez was represented by his daughter Prof. Selma Gonzalez-Cortes and granddaughter Narita Cortes-delas Alas.
Gonzalez (Sep. 8, 1915–Nov. 28, 1999) was UP's International-Writer-In-Residence in 1988 and a member of the UP Creative Writing Center' Board of Advisers.  His major works include "The Winds of April," "Seven Hills Away" and "Children of the Ash-Covered Loam and Other Stories."  A UP faculty member for 18 years, Gonzalez was one of two people to teach at UP without holding a degree.  In 1987, UP conferred on him an honorary Doctor of Humane Letters degree.
Conde's plaque of appreciation was received by Dean Elena Pernia of the College of Mass Communication.
Conde (Oct. 9, 1915–Aug.11, 1985) was an actor, director and producer. He put up his own movie company, Manuel Conde Pictures in 1947 to direct and produce age-old Filipino stories that depict the distinct cultural history of the Philippines such as "Ibong Adarna" and "Prinsipe Tenoso" both in 1941.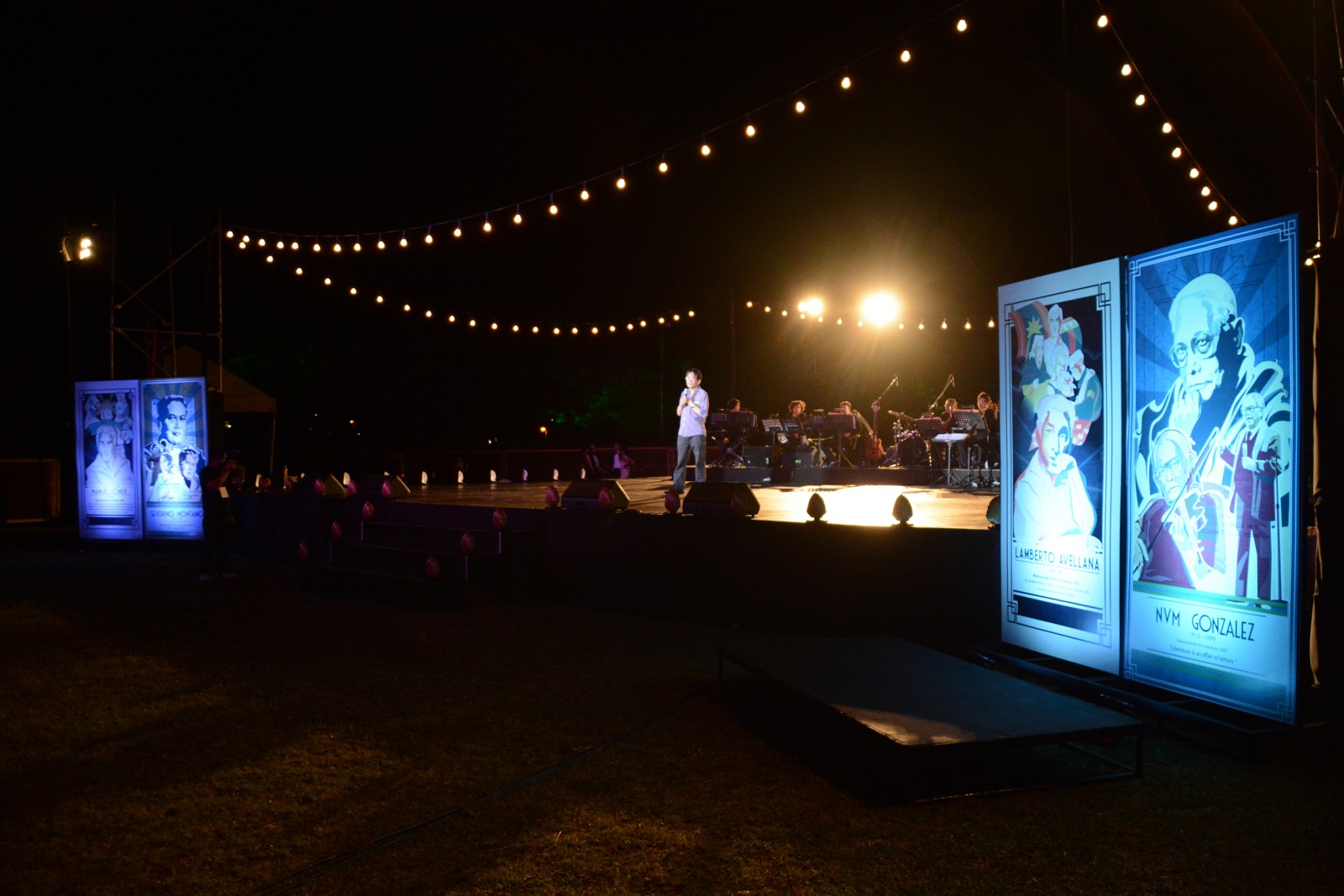 Montano's plaque was received by Dean Grace Aguiling-Dalisay of the College of Social Sciences and Philosophy.
Montano (Jan. 3, 1915–Dec. 12, 1980) was a playwright, actor and theater organizer. He organized Arena Theater in 1952 at the Philippine Normal College, institutionalizing "legitimate theater" in the Philippines. He also trained and directed the new generation of dramatists such as Rolando S. Tinio, Joonee Gamboa and Behn Cervantes.
At the end of the program Cabrera sang "Tayog ng Haraya," the UPD Month 2016 theme song, with music and lyrics by Krina Cayabyab and Prof. Jem Javier, respectively. Prof. José Estrella of the College of Arts and Letters was "Bodabil sa Kampus'" Artistic Director.
Throughout February, activities such as lectures, film screenings and theatre productions on the featured National Artists will be held in UPD. For more information, contact OICA at 928-1928 or through the UPD Month Facebook page at https://www.facebook.com/UPDilimanMonth or visit their website at http://www.oica.upd.edu.ph/four-national-artists-at-up-diliman-month/
To see video clips of the performances, click here.