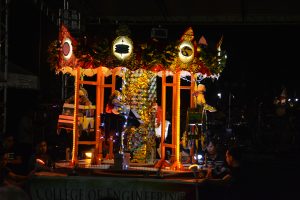 (DEC. 21)—It was a perfect day blessed with fair weather and a cool gentle breeze when UP Diliman (UPD) once again staged its most awaited Christmas event of the year, the UPD Lantern Parade.
As early as 4 p.m. on Dec. 15, students, faculty, staff, residents and spectators converged at the Oblation Plaza and Academic Oval to participate and/or witness the parade of big colorful floats ingeniously created by this year's participants. The parade officially started at 5 p.m.
Fifty-six groups participated this year, comprising degree-granting units, administration and support offices, student and religious organizations and the workers' union.
As usual, the four biggest contingents were from the College of Engineering (CoE), College of Fine Arts (CFA), College of Education and Office of the Vice Chancellor for Academic Affairs (OVCAA).
Compared to last year, the number of participants per contingent dwindled a little probably because most classes already ended a week before the Lantern Parade. Nonetheless, the UPD security office estimated more 2,000 people participated in the jovial parade.
The spectacle of creative lanterns depicted this year's theme, "UP Diliman: Paaralan, Palaruan" in Filipino culture and traditions and were all made from scraps and recycled materials.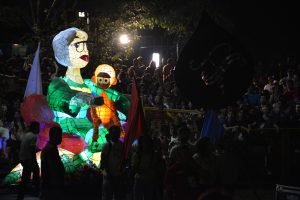 The theme was inspired by "Homo Ludens: A Study of the Play Element in Culture," a book written in 1938 by Dutch historian and philosopher Johan Huizinga, who used the term "homo ludens" to describe the nature of man and society to create "play" which in turn forms their culture. Play is for recreation, something which gives pleasure but its objective is not a joke. Plays have rules to maintain order but the participants or players are free to go overboard the established rules to bring changes in the game mechanics. Plays are free and liberating; people join plays not just to claim the reward but also to participate, be involved and intervene.
Chancellor Michael L. Tan, in memorandum MLT-17-196 on Oct. 20 stated "the University has a crucial role in the current situation where fate seems to be playing with the country. For the past weeks, several civil actions were launched to prevent the trampling of the people's inherent rights. There is a persistent call towards the fight to protect and preserve freedom. 'UP players' are trained and have the knowledge and skills necessary to overcome new conflicts and defend the right to life and to live."
Among the creations were College of Architecture's (CA) Juan dela Cruz sitting on throne in a make-believe castle; College of Arts and Letters' (CAL) tribute to Professor Emerita Amelia Lapeña-Bonifacio, founder of Teatrong Mulat ng Pilipinas, and the children's story on the monkey and the turtle; Asian Center's patintero, Asian Institute of Tourism's (AIT) giant kite (guryon), Cesar E. A. Virata School of Business' (VSB) Ferris wheel, College of Human Kinetics's  (CHK) stadium, School of Economics' (SE) building blocks shaping the future, College of Home Economics' Saranggola ni Pepe at Pilar, College of Engineering's (CoE) carousel depicting life at UPD, Sipa Manggis of the Institute of Islamic Studies (IIS), and the School of Statistics' (Stat) column chart reflecting the aspects of education, nutrition, health and children's rights.
The College of Education teamed up with the UP Integrated School and National Science and Mathematics Education Development and created a UP student wearing a sablay and helmet while riding a giant kite.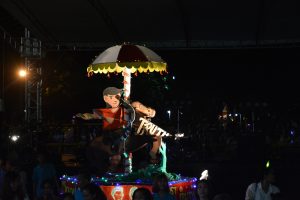 Other lanterns fearlessly expressed political statements such as the College of Law's baby holding the scales of justice; School of Library and Information Studies depiction of the darkness that looms over the playground of freedom and ideas; College of Mass Communication's (CMC) FakeNewsBuster; College of Music's (CMu) kites to represent children's rights; National College of Public Administration and Governance's tumbang preso which played with the idea of preso (prisoner) and kulungan (jail); College of Social Sciences and Philosophy's faceless police officer with a gun sitting on a gift box surrounded by children and adorned with ribbons with names of victims of the Duterte administration's war on drugs, and the College of Social Work and Community Development's Hustisya de Belen depicting the burning issue on human rights and violent war on drugs, among others.
Meanwhile, student organizations UP STAND-UP (Student Alliance for the Advancement of Democratic Rights), ADCORE, UP Mountaineers, Sigma Kappa Pi Fraternity, UP Babaylan and UP Astronomical Society; All UP Workers Union, School of Labor and Industrial Relations, School of Urban and Regional Planning, University Student Council, paraded politically-inspired lanterns.
Also seen at the parade were the UP ROTC Symphonic Band, Friends of Campus Animals members with their cute furry pet dogs, Diliman Emergency Response Team, the UP Alumni Association officials and staff riding a tranvia, UPD Extension Program in Pampanga and UP Diliman Extension Program in Olongapo with their giant colorful parol, UP Manila College of Medicine and their winning lantern, Parish of the Holy Sacrifice Campus Ministry, UPD Tennis Club and Barangay UP Campus.
The contingents such as the OVCAA, CHK, SE, AIT, CA, CoE, CMC, SLIS and VSB also prepared well-rehearsed song and dance routines. Participants such as the CL, CMu, SOLAIR, SURP and NCPAG brought their own marching bands. IIS demonstrated the traditional Muslim game Sipa Manggis.
The viral children' song "Baby Shark" from Pinkfong, a Korean education start-up company, was the most played song during the parade.
The highlight of the event was the CFA contingent led by its dean, Prof. Leonardo C. Rosete.
This year, 13 floats visualized the importance of human rights, particularly the children's right to life, health care, safety, education and information, among others.
A short program followed the parade.
UP President Danilo L. Concepcion, in his Christmas message, announced that UP employees will also receive P10,000 in accordance with the collective negotiation agreement between the administration and the workers' union.
He also said "Ito po ang ating Pamasko sa unang Pasko ng aking panunungkulan subalit sisikapin ko na ito ay madagdagan bago matapos ang susunod na taon."
At the University Amphitheater, a makeshift stage near the barricades and large LED televisions facing the audience were set up where the ConChords, Impossibros., Sunday Radio band, UP Concert Chorus and the UP Streetdance Club performed the intermission numbers.
The announcement of winners culminated the event. The best lanterns were judged based on adherence to the theme (20%), creative use of materials (30%) and presentation and visual effects (50%).
The judges were Prof. Jerwin F. Agpaoa, vice chancellor for student affairs and CSSP Department of Philosophy assistant professor; Shirley S. Arandia, Gawad Tsanselor para sa Natatanging Kawani awardee and administrative officer of the UPD Information Office; film director Sigrid Andrea Bernardo, Prof. Ma. Rita B. Gudiño, CFA assistant professor and UPCFA Ceramic Studio faculty coordinator and program director; Dr. Gene S. Navera, lecturer from the National University of Singapore Center for Language Communication, and JC Santos, actor and CAL alumnus.
This year, for the third time, CoE won the grand prize and also took home P30,000. CAL's lantern was awarded the second prize and P20,000 while CMC's FakeNewsBuster lantern won the third prize and P15,000.
In the competition among CFA classes, the Most Beautiful Lantern was awarded to the "Expression" while the second and third prizes went to "Health Care" and "Special Needs,"respectively.
Music and television personality Agot Isidro, along with actor and stylist Ricci Chan hosted the program. Both are UPD alumni.
A spectacular 3-minute fireworks display sponsored by the Beta Epsilon Fraternity capped the event.