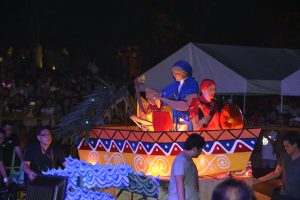 (JAN.4) — It was drizzling and the smell of wet grass and soil wafted through the air in the afternoon of Dec. 16 but the participants were in festive mood as they geared up for the most anticipated sem-ender/Christmas event of the year, the UP Diliman (UPD) Lantern Parade.
As early as 3 p.m., the boom from bamboo cannons echoed throughout the campus to signal the assembly for the parade. Excited crowds also began to converge at the Oblation Plaza and Academic Oval. At 5:30 p.m., the parade officially started.
Fifty-three groups participated this year, comprising degree-granting units, administration and support offices and student and religious organizations.
The four biggest contingents were from the College of Engineering (CoE), College of Fine Arts (CFA), College of Education and the Office of the Vice Chancellor for Academic Affairs (OVCAA).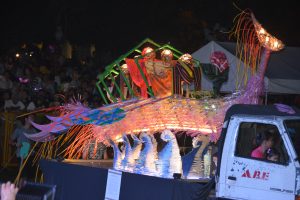 This year, the Lantern Parade carried the theme "Himig ng Diliman, Hagkan ang Gabi," expressing, the struggle and dissent of its community, a hymn that serves as a beacon of direction amidst the darkness, a familiar voice in the wilderness, a song with a melody that sparks hope amidst a State that may be out of tune.
The most anticipated event showcased yet another thrilling spectacle of huge, colorful lanterns and floats depicting the Filipino culture and tradition. Among the creations were the giant torch and open book lantern of the School of Urban and Regional Planning, Justitia: Ang Ina ng Katarungan lantern from the College of Law (CL), sarsuwela-inspired float of the College of Arts and Letters, kulintangan of the Asian Center, Layag ng Turismo of the Asian Institute of Tourism, and Bakunawa, a moon-eating dragon of ancient Philippine mythology, of the College of Engineering (CoE)—all made from scraps and recycled materials.
The UP Center for Women and Gender Studies (UP CWGS) together with UPD Gender Office, Office of Anti-Sexual Harassment, and UP Artists' Circle Sorority, paraded a float inspired by Mebuyen, a Manobo bathala.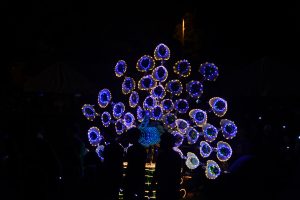 Other fascinating floats were the jeepney of the School of Library and Information Studies (SLIS), College of Social Sciences and Philosophy's version of the Palma Hall building, the multicolored tambol (drum) lantern of the College of Social Work and Community Development, College of Home Economics's makeshift balangay, School of Labor and Industrial Relations's bell lantern and School of Statistics's Christmas tree-inspired float.
Meanwhile, the College of Education (CEd) teamed up with UP Integrated School and National Science and Mathematics Education Development and created a captivating peacock lantern.
Student organizations UP SAMASA (Sandigan para sa Mag-aaral at Sambayanan) and UP STAND-UP (Student Alliance for the Advancement of Democratic Rights) together with All UP Workers Union, and the UP Diliman Extension Program in Pampanga (UPDEPP) and UP Diliman Extension Program in Olongapo (UPDEPO) created politically-inspired floats, while the College of Mass Communication (CMC) expressed 'cardboard justice, Marcos burial, and the role of media' through gigantic woman with a camera float.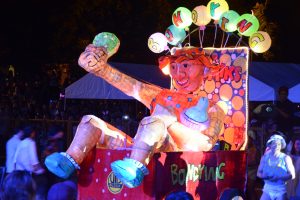 Majority of the participants also wrote statements on national issues on their placards such as "Marcos not a hero," "Stop EJK" and "Edukasyon ay Karapatan ng Mamamayan!"
The contingents such as the OVCAA, College of Human Kinetics, School of Economics, AIT, College of Architecture, Electrical and Electronics Engineering Institute, Institute of Islamic Studies, CMC, College of Science, SLIS and Cesar E.A. Virata School of Business also prepared well-rehearsed song and dance routines. Participants such as the College of Law, College of Music and National College for Public Administration and Governance even brought their own marching bands.
UP Manila College of Public Health and UP Open University also joined the parade.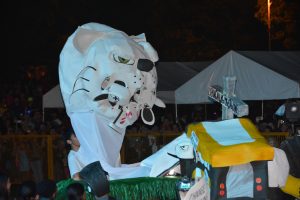 Also seen at the parade were a group of pet-owners and their well-groomed dogs, the UP Alumni Association officials and staff riding a tranvia, UP ROTC Symphonic Band, Diliman Emergency Response Team, UP Institute of Small Scale Industries contingent, and Barangay UP Campus. This was the 2nd year that pets were allowed to join the parade.
The highlight of the event was the College of Fine Arts (CFA) contingent led by its dean, Prof. Leonardo C. Rosete.
This year, CFA paid tribute to Larry Alcala, a well-known Filipino editorial cartoonist and illustrator and to Pinoy comics. CFA featured lanterns depicting characters from popular and classic Filipino comics in order of appearance, namely:  "Goryo and his Jeepney" (1958) by Ben Alcantara, "Pugad Baboy" (1988) by Apolonio "Pol" Medina Jr., "Asiong Aksaya" (1976-1984) by Larry Alcala, "Darna and Valentina" (1950s) by Mars Ravelo, "Kiko Machine" by Manix Abrera (2005), "Kubori Kikiam" (2002) by Michael David, "Ikabod" (1970s) by Nonoy Marcelo, "Kenkoy" (1929) by Tony Velasquez, "Bondying" (1951) by Mars Ravelo, "Zuma" (1976) by Jim Fernandez, "Zsazsa Zaturnnah" (2002) by Carlo Vergara and "Lastikman" (1964) by Mars Ravelo.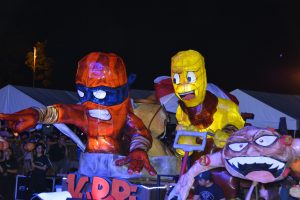 A short program followed shortly after the parade of the last contingent. UP President Alfredo E. Pascual and UPD Chancellor Michael L. Tan delivered their Christmas messages.
In his last message as UP's top official, Pascual said, "Sa susunod na parada, hindi na ako haharap na President Pascual sa inyo kundi Tito Fred na lang…Gayunpaman, gusto kong gamitin ang pagkakataong ito upang magpasalamat sa komunidad ng UP. Nawa'y ipagpatuloy ninyo ang mga makabuluhang pagbabago at mga programa para sa unibersidad at para sa bayan na sinimulan namin."
He also announced that aside from the cash incentives received by the UP employees in November, another P24,000 cash will be given before Christmas (P10,000 health and benefit increment, P4,500 year-end grocery allowance, P5,000 productivity enhancement incentive and P4,500 rice subsidy) and P25,000 to be given on Jan. 15, 2017.
Singing duo Ma. Rovelyn Bautista and Angeli Benipayo provided a special number and sang "Jingle Bell Rock" composed by J. Peirpont and David Willcocks.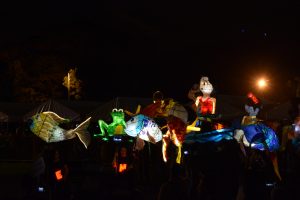 The announcement of winners culminated the event. The Best Lanterns were judged based on adherence to the theme (20%), creative use of materials (30%) and presentation and visual effects (50%).
The judges were CFA Professor Emeritus Nestor Vinluan, Prof. Toym Imao of CFA, Dr. Cecilia Dela Paz, curator of Bulwagan ng Dangal; and actress Rhian Ramos, lead character of the movie "Saving Sally" which is a Metro Manila Film Festival 2016 entry.
This year, CoE's bakunawa lantern won the grand prize and P30,000 in cash. CEd's peacock lantern was awarded the second prize and P20,000 while CHE's balangay float won the third prize and P15,000.
In the competition among CFA classes, the Most Beautiful Lantern was awarded to "Ikabod" while the second and third prizes were awarded to "Darna" and "Bondying" lanterns, respectively.
The event was hosted by Professors Oscar T. Serquiña Jr. of CAL and Anna Marie A. De Jesus of UPDEPP, and Kevin Brandon E. Saure, CSSP graduate student and UP Diliman Information Office institutional relations officer.
The program ended with fantastic fireworks display sponsored by the Beta Epsilon Fraternity.