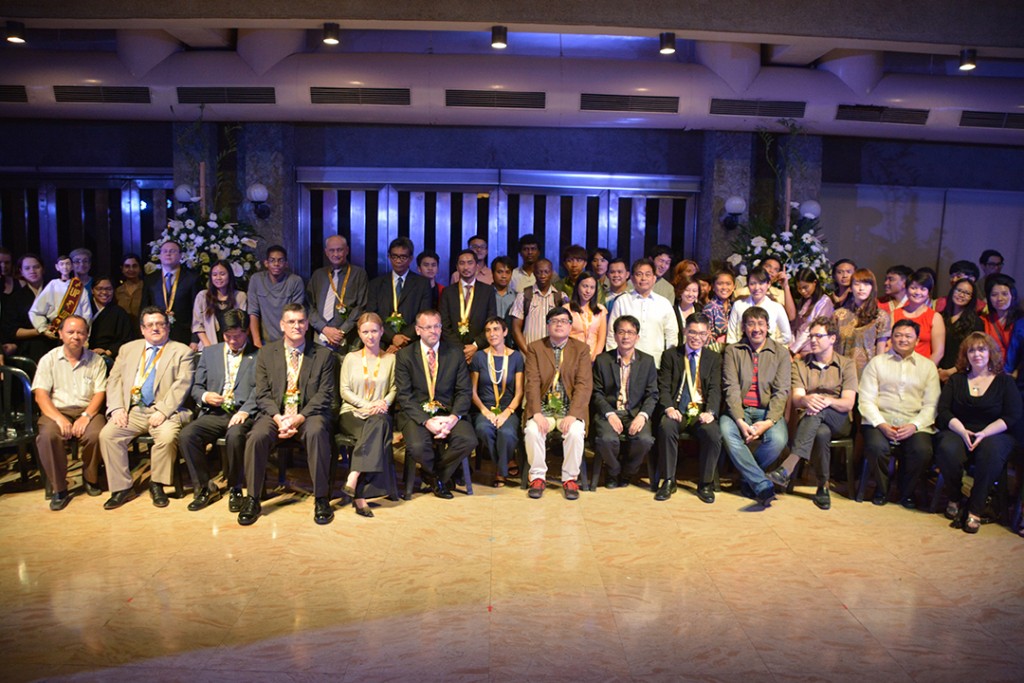 By Kevin Brandon E. Saure, images by Jefferson Villacruz
(MAY 11)—"The UP System is moving towards greater internationalization."
UP Diliman (UPD) Chancellor Michael L. Tan put in sharp focus the International Reception's theme of "Building bridges across the globe."
Held at The Forefront, University Theater on May 5, the Chancellor's International Reception was a night of fellowship and cultural exchange for UPD's international students. This year, visiting professors, researchers, ambassadors and diplomats were also invited.
The gathering was organized by the Office of the Vice Chancellor for Academic Affairs, the Office of Student Activities and the Office for Initiatives in Culture and the Arts.
International students who attended come from 19 countries namely Austria, Cameroon, Cambodia, China, Germany, Ghana, Indonesia, Japan, South Korea, Laos, Nigeria, Papua New Guinea, Sierra Leone, Sri Lanka, Taiwan, Thailand, Netherlands, United States of America and Zambia. Also present were the ambassadors and diplomats of Spain, France, Iran, Czech Republic, South Africa, Italy, Singapore, Indonesia, Malaysia, South Korea, Russia, Thailand and Poland.
As part of the program a student from Thailand played the khaen, a bamboo mouth organ of Lao origin, and a duo from Japan danced while doing traditional calligraphy.
UP students responded with the UP Filipiniana Dance group performing "Sayaw Ed Tapew na Bangko" and "Pandango sa Ilaw," the UP Center for International Studies Bunraku Ensemble performing Pista sa Nayon and the organizations UP Arirang, UP Tomo-Kai and HallyUP grooving to a Philippine-East Asian fusion of dances.
An international cavalcade showcasing the national costumes of several Asian countries was also staged.
Representing UP President Alfredo E. Pascual, Assistant Vice President for Public Affairs and Director of the Office of the Alumni Relations  Dr. Jose Wendell Capili led the ceremonial toast.
Capili encouraged "more exchanges [and] more engagements" with the international guests in the future. "We hope that there will be more international students entering the University of the Philippines [and] that more Filipino students will be sent to your respective countries," he said.