By Anna Regidor, images by Leonardo Reyes and Jefferson Villacruz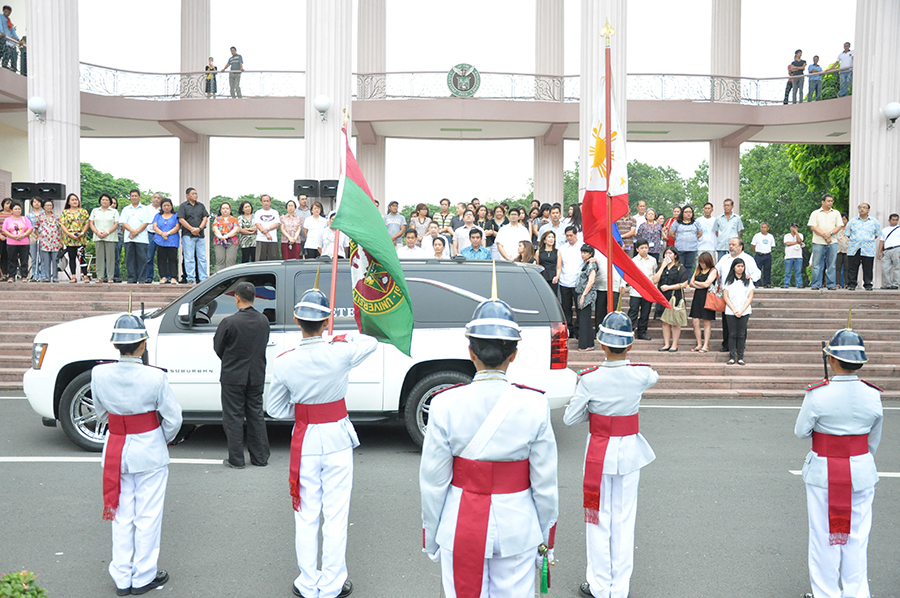 (JUN. 25)—The UP Diliman community bid a fond farewell to it's first chancellor, Dr. Ernesto G. Tabujara, the man who gave exemplary service to the University, steering it through the aftermath of the EDSA Revolution and towards the end of the 20th century.
Necrological service. A necrological service was held yesterday, 8 p.m. at the Matthew Chapel of St. Peter Memorial Chapels along Commonwealth Avenue, Quezon City with many of his former colleagues and students in attendance.
Among those who spoke were UPD Chancellor Michael L. Tan, UP System Vice President for Academic Affairs Dr. Gisela P. Concepcion representing UP President Alfredo E. Pascual, former Dean of the the College of Mass Communication Dr. Georgina R. Encanto, Institute of Civil Engineering's Dr. Alexis Philip A. Acacio and College of Engineering (CoE) professor Alfredo B. Juinio Jr. representing College of Engineering Dean Aura C. Matias.
Special numbers were presented by the UP Concert Chorus, who performed "The Lord's Prayer"  and "The Lord Bless You and Keep You" under the baton of Prof. Janet Sabas-Aracama.
Prof. Edna Marcil M. Martinez from the College of Music, playing the Viola performed "Amazing Grace – Be Still My Soul" and "Dandansoy," a Visayan Folk Song.
Speaking on behalf of the family, eldest son Ricardo Tabujara recounted his father's life and legacy from his time as a youth in Negros Occidental, to his years as a student both here and abroad, to his memories as one of the "pioneer generation," those faculty and students who made the historic exodus from UP's Padre Faura home to its new location in Diliman.
Last goodbye. And earlier today, 10:30 a.m., his remains were brought to UPD as part of the funeral procession, first at Quezon Hall where the flags of the UP System and the Philippines were flown at half mast.
At Quezon Hall the UP Staff Choral offered a rendition of the University Hymn while the UP Rayadillo led the honors.
Many UPD constituents came out of the buildings and offered flowers and condolences as the funeral procession proceeded around the Academic Oval, making stops at Palma Hall and Melchor Hall (CoE building).
Among those who participated were the CoE, the UP Tennis Club (of which Tabujara was a member) and the College of Music.
The procession then proceeded to Loyola Memorial Park in Marikina City, where he will be laid to rest.
Tabujara is a career professor  and celebrated structural engineer who became UPD chancellor from 1983 to 1990.