For the first time since the pandemic, UP Diliman's (UPD) Research, Extension, and Professional Staff (REPS) all came together, to discuss the UPD REPS Manual. The REPS Welfare Council (RWC) gave an orientation on the manual during the REPS Manual Caravan & Kumustahan, a series of consultations that opened on Sept. 5 at the Atencio-Libunao Hall with the REPS' extension cluster in attendance.
Vice Chancellor for Research and Development Carl Michael F. Odulio said the UPD REPS Manual was approved in 2022 by then-UP President Danilo L. Concepcion.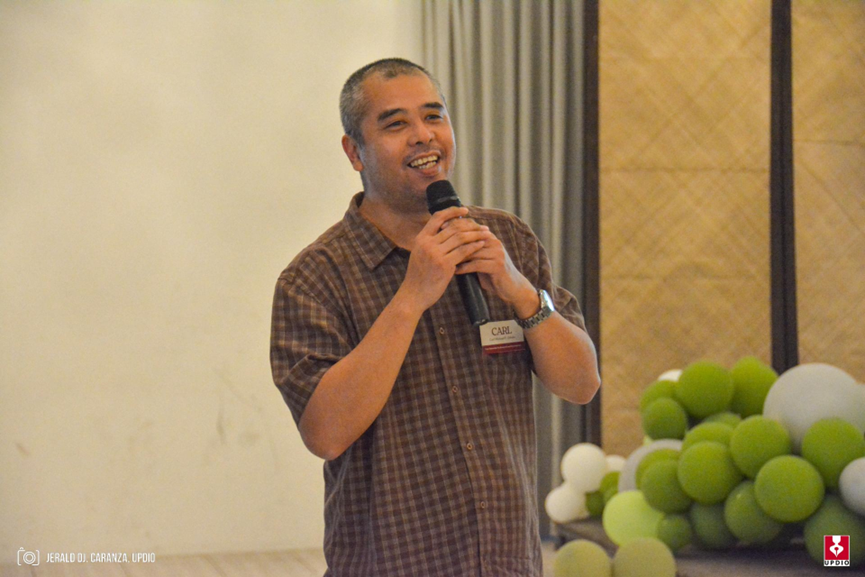 "This was approved during the pandemic, so we didn't have time to talk about it. That is why, we are going to spend some time today to discuss it," Odulio said.
The UPD REPS Manual is considered a live document. Updates or any changes in the policies are considered part of the manual. Revisions will be done every three years. The manual contains five chapters and can be accessed and downloaded from the UPD Office of the Vice Chancellor for Research and Development (OVCRD) website.
Paulyn A. Tusi, university extension specialist at the UPD Office of the Chancellor, discussed general facts about the manual and its objectives.
Meanwhile, Leizel Lectura, chief administrative officer of the Human Resource Development and Benefits Division of the UPD Human Resource Development Office (HRDO), gave an update on the approved amendments to the policies on full-time local study leave/local fellowship grants for non-teaching UP personnel. Issued by UP President Angelo A. Jimenez on July 28, the amendments aim to enhance the opportunities for professional and academic advancement of non-teaching personnel. They will take effect starting the first semester of the academic year 2023-2024.
Lectura also discussed the importance of compliance with the daily time record/certificate of service in relation to separation claim benefits and processing. Aside from study leave privileges, Lectura also talked about other learning and development opportunities for REPS such as participating in official capacity in conferences, seminars, short-term courses, and similar activities.
Lawyer Regine Cecilia P. Estillore, data protection officer at the UPD Protection Office provided a review of Republic Act 10173 or the Data Privacy Act in relation to the performance of duties and responsibilities as university REPS.
On the other hand, Sharon Maria S. Esposo-Betan, head librarian at the UPD College of Engineering Library tackled the policies and guidelines on the utilization of the REPS Development Fund (RDF).
She discussed the type of support REPS can avail under the RDF such as the research dissemination grant; support for participating in conferences, seminars, training courses, and workshops; support for tuition and other school fees such as thesis/dissertation aid; and the one-time incentive for finishing a degree.
Organized by the OVCRD and the RWC, the next REPS Manual Caravan & Kumustahan will be on Sept. 26 (professional staff cluster) and Oct. 17 (research cluster).