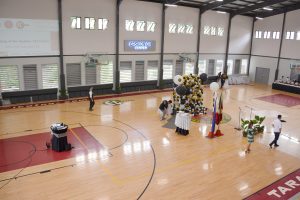 (OCT. 3)— After two groundbreaking ceremonies, the Epsilon Chi Center (ECC) at the Molave Residence Hall was finally inaugurated on Oct. 2. 
A legacy project of the Epsilon Chi Fraternity, Inc. (ECFI) to the university, the ECC will serve as a health, fitness and sports facility for the UP Diliman (UPD) faculty, staff and students. 
The first groundbreaking ceremony happened during Epsilon Chi's 50th founding anniversary on Oct. 2, 2014. Another groundbreaking ceremony was held in 2015 with ECFI signing a memorandum of agreement (MOA) with UPD through the chancellor.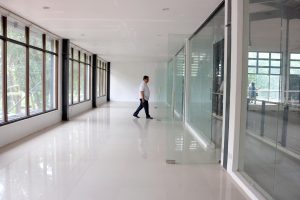 The ECC's construction of the 1,457 sq.m. facility commenced in 2016. It was designed by Architect Shamcey Supsup-Lee, UP College of Architecture alumna and Miss Universe 2011 3rd runner-up. 
"Going back to the funding, we had a plan from Arch. Shamsey and we asked three different quotations from three different contractors. The cheapest we got was P32 million at that time in 2014," Epsilon Chi's Radian Governor Eugene G. Ong said. 
Presently, ECFI has spent more than P32 million. Ong said "In October 2017, the structural aspect of the ECC had been done but because of upgrading, we put in the aircon, the louvers, offices, it is still ongoing."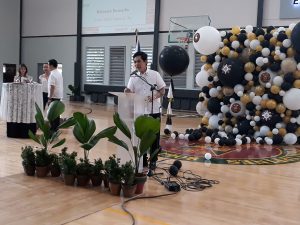 Prior to the MOA, the fraternity originally thought of building a 10-room extension for the Yakal Residence Hall since it is the closest to their heart because most of their members who were engineering students used to live there. 
However, Ong said upon the recommendation of Dr. Shirley V. Guevarra, Office of Student Housing director, the fraternity decided to channel their donation to build a sports facility at UPD.
A ribbon-cutting ceremony was officiated by UP President Danilo L. Concepcion, UPD Chancellor Michael L. Tan, Vice President for Development Elvira A. Zamora and ECFI members Dar H. Manarang, Manuel H. Torres and Fortunato T. dela Peña. The ECC marker was unveiled later by Concepcion, Ong and Tan.
A mass and blessing of the ECC was held with Father Cirilo Kabamalan, CJM as the officiating priest, followed by a short program.