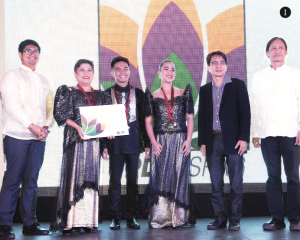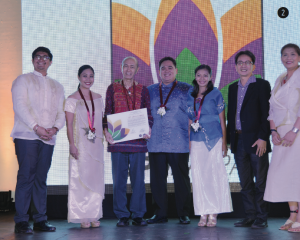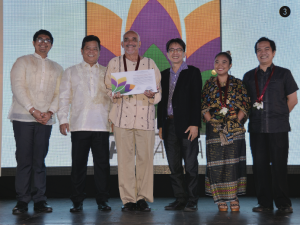 Seven performing arts groups were conferred the honorific title of "Official Student Performing Arts Groups of UP Diliman (UPD)" as 49 students were awarded scholarships at the launch of UPD HASPAG (UP Diliman Honorific Award for Student Performing Arts Group) and the revitalization of the UPD Performing Arts Scholarship Program (PASP), Aug. 26 at the Ang Bahay ng Alumni.
The groups UP Concert Chorus (UPCC), UP Dance Company (UPDC), UP Kontemporaryong Gamelan Pilipino (UP Kontra-GaPi), UP Repertory Company (UP Rep), UP Singing Ambassadors (UPSA), UP Streetdance Club (UPSDC) and UP Symphonic Band will hold the title and appointment for three years and receive an annual monetary award of P250,000 to be used for special projects and productions.
Dr. Sir Anril P. Tiatco, Officer-in-Charge of the UPD Office for Initiatives in Culture and the Arts (OICA), said HASPAG and PASP are the OICA Advisory Council's efforts to "further uplift the welfare of student artists and performing arts groups."
"These hardworking student artists and performing arts groups were chosen not only for their exceptional qualifications as performers but also for their notable contributions to the University's mission and vision of honor and excellence," Tiatco said.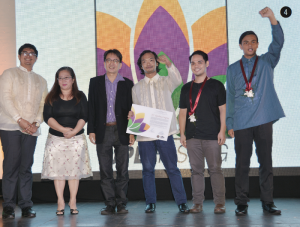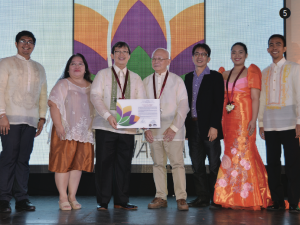 HASPAG.  The UPD HASPAG is an incentive program for student performing art groups in UPD.  The program bestows  on qualified groups the honorific title "Official Performing Arts Groups of UPD," after attaining endorsements of the OICA Advisory Council, the UPD Chancellor and the approval of the UP Board of Regents (BOR).
The program was approved by the BOR at its 1312th meeting on Oct. 20, 2015.  OICA, HASPAG's implementing office, stated the program "aims to support the creative energies of UPD artists, critics and cultural workers."
Further, HASPAG recognizes student performing arts groups role in the academic, cultural and artistic life of UPD.
The groups recognized have fulfilled the criteria of aesthetic innovation, contribution to the University's mission and vision of honor and excellence, and transmission of artistic knowledge.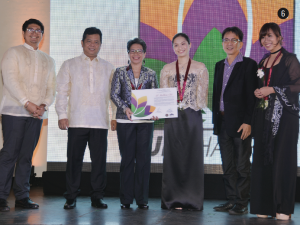 The groups nominated for the title were from theater, choir, folk and ethnic dance, contemporary dance, performance art, orchestra, ethnic music and music (keyboard, guitar, etc.).  College-based groups were accredited and recognized by the college dean through the college Office of Student Activities (OSA) while University-based groups by the Office of the Vice Chancellor for Student Affairs (OVCSA).  Members of the organization were bonafide UPD students (currently enrolled in at least 15 units of academic courses in a regular semester).  The group's artistic director and faculty adviser were practitioners of the performing arts with which the organization is identified.
PASP. Meanwhile, the PASP is a scholarship in the form of a tuition waiver awarded to deserving members of an OSPAG.  Recipients carry the honorific title UP Performing Arts Scholar.  PASP scholarship is good for one semester, renewable every semester until the last year of appointment of the recipient's organization as an OSPAG.
OICA-administered, PASP is awarded by the UPD Chancellor.  All members of an OSPAG may apply for the PASP through their faculty adviser.
Like HASPAG, PASP was approved by the BOR at its 1312th meeting.
The PASP scholars were from six of the seven OSPAG.  They are entitled to a full tuition waiver for the first semester of AY 2016-2017.
Seven of the scholars are from UPDC, two from UP Kontra-GaPi, five from UP Rep, nine from UPSA, 15 from UPSDC and 11 from UP Symphonic Band.  They are as follows: Audrey G. Austria, Isabel Enrica N. Eugenio, Jose Gabriel N. Eugenio, Honey Lynn T. Juntila, Marveen Ely M. Lozano, Leong Sil Rose Y. Panuelos, Aisha Josephine L. Polestico (UPDC); Karyl Anne A. Fabian, Kim Nicole B. Obel (Kontra-GaPi); Dominic C. Panaligan, John Isaac B. Punzalan, Veronica Rainne W. Setias, Lucia Ann M. Silva, Andreah Yvonne P. Recuya (UP Rep); Ysabelle Coelyn M. Bacila, Viannae Agnes D. Bagasbas, Eduard Andrei S. Borrega, Alexander Joseph Matthew F. Lazaro, Allyjah Viene L. Ogad, Andrew Brandon L. Ong, Pia Isabela C. Marcelino, Rosette D. Resurreccion, Daniella Anne V. Yambao (UPSA); Kyra Gabrielle A. Buenviaje, Joshua Poe V. Cadano, Marx Vincent A. Cobol, John Emmanuel A. Dayag, Maria Angelika S. Domingo, Alyssa Tatiana E. Escota, Chenoa Ysabel Marie Jorge, Eryka V. Lucas, Gyanne Therese I. Macabuhay, Riane Mitzi B. Manuel, Raphael Gabriel F. Oronce, Timmi Lois C. Pontillas, Joel Paolo C. Salvador, Hilary Holly C. Soriano, EduardoKim B. Vicente (UPSDC); and Patrick James D. Aguilar, John Vincent E. Burgos, Alexis M. Constantino, Danelle May S. Dionisio, Maricris B. Dionisio, Robert Lester T. Pascua, Jean Clarizz P. Petrasanta, Jose Lorenzo M. Reyna Jr., Aubrey M. Sacop, Eunice P. Tejedor and Lawrence R. Valenzuela (UP Symphonic Band).
For inquiries, contact OICA at 981-8500 local 2659 or http://www.oica.upd.edu.ph.