Five of the eight new National Artists (NA) have taught or were mentors at UP Diliman (UPD).
Declared by the Office of the President of the Republic of the Philippines through Proclamation No. 1390 on June 10, they are: Gemino H. Abad (literature), Fides Cuyugan-Asensio (music), Ricardo Lee (film and broadcast arts), Agnes D. Locsin (dance), and Antonio O. Mabesa (theater, posthumous).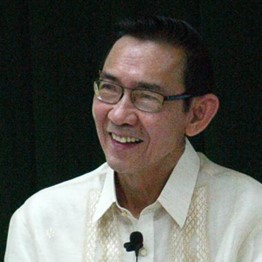 Abad. Poet, fictionist, and literary critic and historian, Abad has taught English, comparative literature, and creative writing at the UPD College of Arts and Letters (CAL).
UP conferred upon Abad the title of university professor emeritus of literature in 2004.
Abad was secretary of the University and of the Board of Regents (1977-1982), UP vice president for academic affairs (1987-1990) and director of the UP Creative Writing Center (1995-1998), now UP Institute of Creative Writing.
His body of works include anthologies of poetry and short stories that, according to his citation, "provide future generations with a comprehensive view of the landscape of Philippine poetry and fiction."
In 2009, Abad became the first Filipino to receive the coveted Premio Feronia in Rome, Italy under the foreign author category.
Abad's "Past Mountain Dreaming: New Essays" received the National Book Award from the Manila Critics Circle in 2015. He received the Gawad Pambansang Alagad ni Balagtas in 1996 from the Unyon ng mga Manunulat ng Pilipinas.
Abad co-founded the Philippine Literary Arts Council (PLAC) in 1981 which published "Caracoa," the poetry journal of PLAC.
To honor his invaluable contribution to the humanities, the Gemino H. Abad Awards for Poetry and Literary Criticism were established in 2015. The awards are managed by the CAL Department of English and Comparative Literature.
He earned his PhD (English) in 1970 and MA (English), with honors, in 1966, from the University of Chicago, USA, and his AB (English), magna cum laude, from UP in 1964.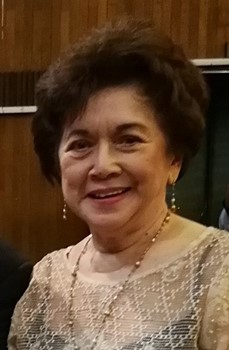 Cuyugan-Asensio. The achievements and works of Cuyugan-Asensio "in the field of opera contributed greatly to a Renaissance of classical musical theater in the country."
UP conferred upon Cuyugan-Asensio the title of professor emeritus of voice in 1997.
She taught at the UPD College of Music (CMu) Department of Voice, Music Theater, and Dance, where she was also the department chairperson from 1988 until her retirement in 1997.
In 1986, Cuyugan-Asensio formed the "Music Theater Foundation of the Philippines," a non-profit organization dedicated to promoting and staging musical theater, and giving scholarships to young classical performers.
A coloratura soprano, actress, librettist, lyricist, pedagogue, producer, and director, Cuyugan-Asensio began her prolific career through her operatic debut in 1955, singing as Adele in Johan Baptist Strauss II's "Die Fledermaus."
As a librettist, she collaborated with several Filipino composers and wrote several opera librettos, among them NA for Music Lucrecia Kasilag's "Larawan ng Kababaihan: Maskara at Mukha" (1981), NA for Music Francisco Feliciano's "La Loba Negra," and NA for Music Ryan Cayabyab's "Spoliarium."
Among her recent awards are the Gawad CCP para sa Sining Award (2015) and the PAMA-AS Gintong Award for the Musical Arts by the National Commission for Culture and the Arts (2005).
She earned her bachelor's degree in music, major in voice and minor in piano from the Philippine Women's University in 1951. Cuyugan-Asensio then received a scholarship from the Curtis Institute of Music in Pennsylvania where she earned an artist's diploma, major in voice in 1955.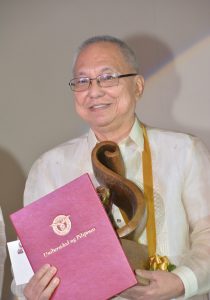 Lee. An outstanding screenwriter for film and television, journalist, playwright, and award-winning fictionist, Lee wrote iconic films that formed part of the "Second Golden Age of Philippine Cinema," the proclamation stated.
Lee taught scriptwriting at the UP Film Institute and has been conducting free scriptwriting workshops, which have helped the careers of hundreds of graduates and artists who now work for TV and film in both mainstream and independent media.
As a scriptwriter, he has written more than 150 film scripts since 1979, many of which were award-winning and screened in festivals abroad. Some of his well-known works are "Brutal" (1980; directed by Marilou Diaz-Abaya), "Salome" (1981; directed by Laurice Guillen), "Himala" (1982; Ishmael Bernal), "Karnal" (1983; Diaz-Abaya), "Macho Dancer" (1988; Lino Brocka), "Sa Kuko ng Agila" (1989; Augusto Buenaventura), "The Flor Contemplacion Story" (1995; Joel Lamangan), "Jose Rizal" (1988; Diaz-Abaya), and "Culion" (2019; Alvin Yapan).
He is the author of "Trip to Quiapo," a required textbook in many communication courses in the Philippines.
With his well-known works, Lee won several awards from Manunuri ng Pelikulang Pilipino (Gawad Urian), Philippines Free Press (Philippines Free Press Literary Awards), Carlos Palanca Foundation (Palanca Awards for Literature), Manila Critics Circle (National Book Awards), and Philippine Movie Press Club (Star Awards).
He earned several units in AB (English) from CAL.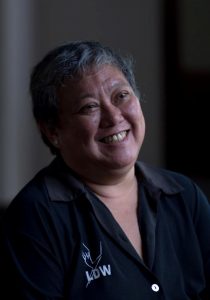 Locsin. Locsin's outstanding contributions in the field of dance spurred a "growing interest in neo-ethnic style among young artists."
Locsin was a senior lecturer at the CMu dance program from June 1985 to May 1992.
She gained international prominence with her spectacular neo-ethnic dance choreography. Among her award-winning works are the "La Revolucion" (1996) and the groundbreaking "Igorot" (1987).
Locsin has also received prestigious awards such as the Gawad CCP para sa Sining, Alfonso T. Ongpin Prize for Best Book on Arts for her book "Philippine Neo-ethnic Choreography: A Creative Process," and the first Gador Award from the Cultural Center of the Philippines (CCP).
She is the daughter of Carmen Dakudao Locsin who founded the now 75-year-old Locsin Dance Workshop in Davao City, and is now the Workshop's artistic director. She also served as artistic director of the Ballet Philippines from 1989 to 1999.
Locsin finished AB (English) at the Ateneo de Davao University and MA (dance) at the Ohio State University, USA.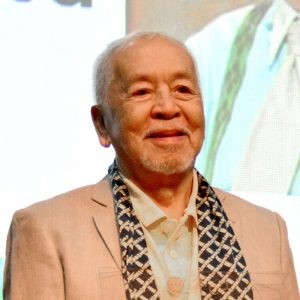 Mabesa. The outstanding outputs of Mabesa as a director, actor, and teacher greatly contributed to the "growth and diversity of Philippine theater."
Mabesa was conferred the title of professor emeritus in 2002.
He started teaching at the CAL Department of Speech Communication and Theatre Arts in 1975. He spearheaded the development of the theatre arts curriculum of UPD: BA, MA, and Certificate in theatre arts, (now associate in theatre arts).
Mabesa directed more than 170 productions here and abroad, and starred in over 130 films and 60 TV shows. He established the Dulaang UP (1976), the UP Playwrights Theatre (1986), and the Angeles University Foundation Repertory Company (2005).
Among his awards were the Ani ng Dangal of the National Commission for Culture and the Arts (NCCA) in 2021, Parangal sa Sandaan by the Society of Philippine Entertainment Editors, Best Actor award in the 52nd Worldfest-Houston International Film Festival (2019), and Best Actor in a Supporting Role at the Metro Manila Film Festival (2018).
Mabesa earned his master's degree in theater arts from the University of California (1965), his graduate studies in dramatic literature from the University of Minnesota (1968), and his second master's degree, specializing in special education, from the University of Delaware (1969). He earned his BS agriculture degree from UP Los Baños in 1956.
---
Aticle tumbnail photo: The Order of the National Artist medal. Photo from the NCCA website