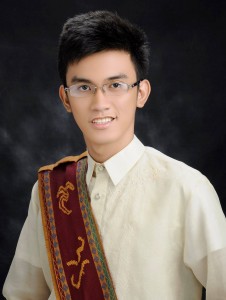 (JUN. 16)–UP Diliman (UPD) graduate Kim Robert C. de Leon notched the top spot in the June 2016 Environmental Planning Licensure Examination where 542 out of 1,010 examinees passed.
De Leon, who garnered a rating of 83.50 percent, finished with a BA Public Administration degree (magna cum laude) from the National College of Public Administration and Governance. Four other UPD graduates also made it to the top 10 – Maria Teresa S. Alambra (Top 2, 82.60%), Christian R. Buted (Top 3, 82.45%), Abigail P. Sunga (Top 8, 80.75%) and Ricardo Victor A. Velasco (Top 10, 80.50%).
The examination was administered last June 8 and 9 at Manila, Cagayan de Oro, Cebu, Davao, Legazpi, Lucena and Tacloban.
Among the 240 schools where the examinees came from, UPD has the most number of examinees (46 examinees; 45 passed or 97.83% passing rate), followed by UP Los Baños (29 examinees; 89.66% passing rate), University of Bohol (28 examinees; 53.57%) and University of Mindanao-Davao City (26 examinees; 42.31%).
For the complete result of the successful examinees, visit http://www.prc.gov.ph/uploaded/documents/ENVI0616se_e.pdf.