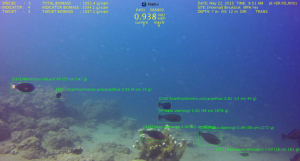 A technology to estimate fish size, population density and biomass developed by researchers of UP Diliman (UPD) won the National Grand Prize of the 2017 Alfredo M. Yao (AMY) Intellectual Property (IP) Awards – Professional Level, at the 43rd Philippine Business Conference Expo on Oct. 18 at the Manila Hotel.
FISHDROP (or Fish-i) is an invention by Prospero J. Naval, Jr., PhD and Laura T. David, PhD of the UPD Department of Computer Science and The Marine Science Institute, respectively. The technology offers automated fish census by reducing the need for manual counting by divers, allowing rapid health assessment of marine reef environments. The project was funded by the Department of Science and Technology.
FISHDROP was among the 13 finalists chosen from over 33 professional-level entries from different institutions in the Philippines. The demo and final judging was held last Oct. 3 at the Philippine Chamber of Commerce and Industry (PCCI) office in Taguig City before a panel of judges from PCCI, Intellectual Property Office of the Philippines (IPOPHL) and a private IP firm. The winners were announced the same day. An entry from the Philippine Rice Research Institute won the 2nd prize at the professional level, and entries from Bicol University won both prizes for the collegiate level.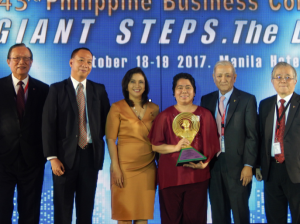 UPD entries have previously won the AMY IP Awards, in particular, a fish oral vaccine technology from various institutes of the College of Science in 2013 (Grand Winner) and a system for ionic contamination detection from a graduate student of the College of Engineering in 2015 (3rd Place).
The UPD Office of the Vice Chancellor for Research and Development (OVCRD) IP & Technology Transfer Unit, as the designated Innovation and Technology Support Office of the University, nominates UPD's entries to the competition every year from its pool of invention disclosures based on the following criteria: patentability, commercial potential, social impact and sustainability. OVCRD hopes that this would boost awareness and interest in IP and technology transfer in the University.
The AMY IP Awards is an annual competition launched in 2009 by the PCCI in cooperation with IPOPHL. The award aims to recognize Filipino-owned and developed inventions that contribute or have potential to contribute to economic development and social awareness.