By Anna Regidor, image by Leonardo A. Reyes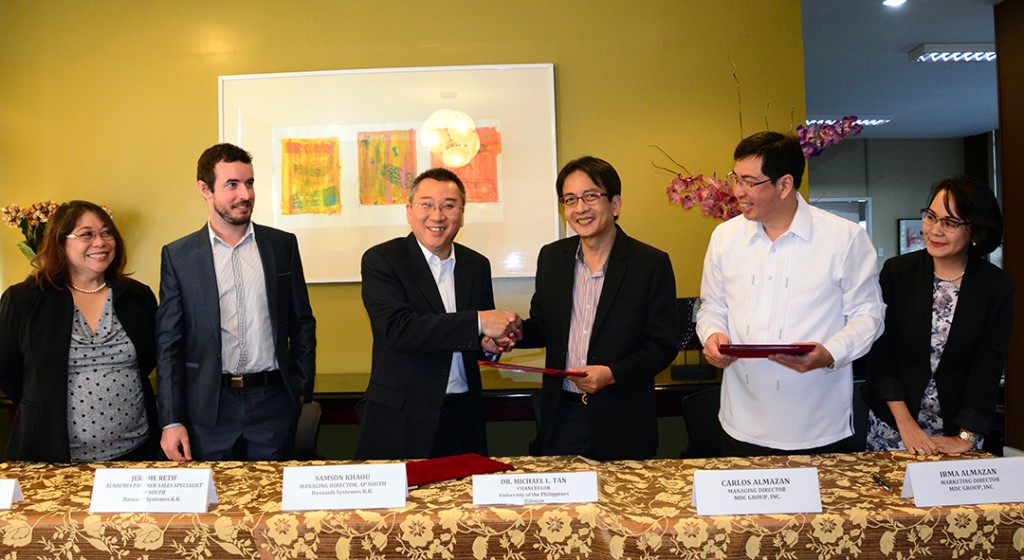 (MAR 6)— Engineering students will soon have access to 3D design tools for their industrial projects through a memorandum of understanding (MoU) signed between UPD and Dassault Systèmes (DS), and its partner MDCGroup, Inc. at Quezon Hall on Feb. 27.
In the agreement, DS will give UPD engineering students access to its 3DEXPERIENCE, a business experience platform that can create things like machinery in a virtual environment.
In addition, DS intends to collaborate in joint events, by providing workshops or speakers; information regarding new technologies on the 3Dexperience; and provide up-to-date teaching materials for educators and students.
College of Engineering Dean Aura C. Matias said, "there is always this gap between classroom learning and the realities in the workplace because of fast changing industrial demands. Through this partnership we hope to transform engineering education by integrating digital technologies that provide a virtual learning environment for real industrial projects. Students will become adept with the right skillsets and the relevant industry experience for the roles they will play in the real world."
At the signing were UPD Chancellor Michael L. Tan and Matias, DS AP South Managing Director Samson Khaou and MDCGroup, Inc. Managing Director Carlos Almazan.
Also present were MDCGroup, Inc. Marketing Director Irma C. Almazan and AP South Academia Partner Sales Specialist Jerome Retif.