The Department of Broadcast Communication (DBC) of the UP Diliman (UPD) College of Mass Communication (CMC) will hold a virtual conference marking 100 Years of Broadcasting in the Philippines (100 YBP) from Oct. 18 to 21.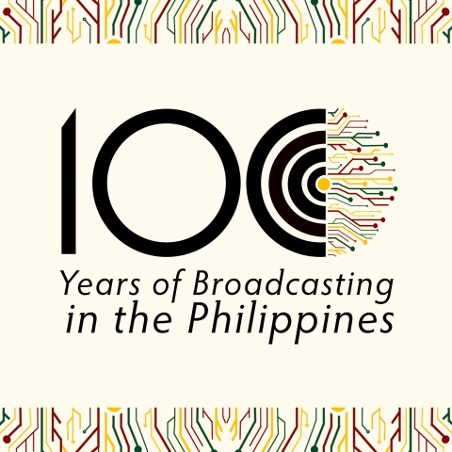 The conference highlights the DBC's year-long campaign of revaluating Philippine broadcast media as an industry and institution. Broadcast media was first introduced in the country by the Americans in 1922. It was eventually appropriated for Filipinos' own purposes across time.
Bannering the conference are keynote lectures by broadcast network executive and TV writer Jose Maria Bartolome (Oct. 18, 10:30 a.m.); journalist and news anchor Marga Ortigas (Oct. 19, 3:00 p.m.); and Waray radio stalwart Francisca "Babes" Custodio (Oct. 20, 10 a.m.). The lectures will tackle Filipino audience cultures, the future of transnational news and journalism, and Eastern Visayas radio, respectively. These will be livestreamed on the Facebook page of DZUP 1602 kHz, UPD's official radio arm.
Parallel lectures will be made exclusively available to conference participants. The parallel lectures will feature various aspects of broadcasting by academics, students, and practitioners from all around the country.
The 100 YBP kicked off last March 31 with the pilot episode on DZUP of Pag-uugat, Pagpapatuloy: Ang Epikong Dumaracol ng mga Tagbanua Kalamianen ng Hilagang Palawan. The episode was a set of never-before-heard recordings of the epic, foregrounding the importance of human memory and the voice in the evolution of broadcasting. The epic follows the adventures of the Tagbanua warrior and hero Dumaracol, who established and maintained his community amidst challenges and strife, and also narrates his life and love story.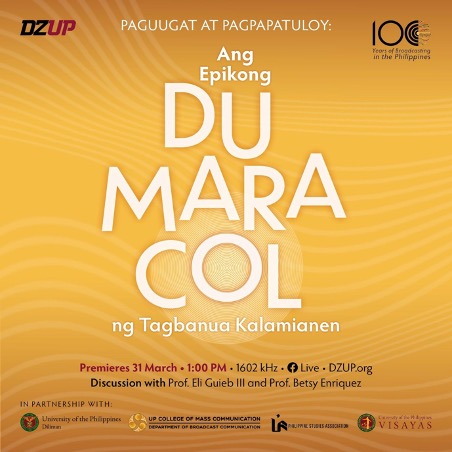 The 100 YBP was then formally launched in a virtual ceremony on June 22 and was aired on DZUP. The launch featured a free screening of the documentary, Wika, Awit, Radyo, at Pananakop, which underlined the role of the national language in the acculturation of the medium. Present at the launch were UP president Danilo Concepcion, UPD chancellor Fidel R. Nemenzo, UP Visayas chancellor Clement C. Camposano, and CMC dean Fernando dlC Paragas.
The DZUP ran four other 100 YBP-related programs: Ikaw ang Saysay ng Kasaysayan, Mga Panayam ni Betsy Enriquez, Gawad Plaridel (2004-2019), and BCQ: Broadcast in Quarantine.
Ikaw ang Saysay ng Kasaysayan is a program by Michael Charleston "Xiao" Chua, historian and DBC faculty. Mga Panayam ni Betsy Enriquez is a series of conversations with industry figures by Elizabeth L. Enriquez, PhD, DBC professor, the pioneering UPD Information Office director, and foremost media historian. Gawad Plaridel (2004-2019) is a documentary on the CMC Gawad Plaridel winners hosted by Nicanor G. Tiongson, PhD, CMC professor emeritus, former CMC dean and literary critic. BCQ: Broadcast in Quarantine, a talk show series on pandemic media practices.
100 YBP will feature more productions, including retrospectives of Diskarte; 5 and Up; Musika, Boses, at Naratibo ng Pilipino; Siday on DYVL; and Ang Drama ng Ating Buhay.
Diskarte is a Cultural Center of the Philippines radio program while 5 and Up is a 1990s youth news magazine program produced by Probe Productions, Inc. Musika, Boses, at Naratibo ng Pilipino is a set of three documentaries on Filipino rap music, session musicians, and music on radio during the American colonial period and World War II.
Meanwhile, Siday on DYVL is a documentary on the flourishing of the Waray literary form in a radio station in Leyte, and Ang Drama ng Ating Buhay is an interview documentary on the history of the soap opera in the Philippines.
For more information on the 100 YBP, contact the secretariat at 100ypb@up.edu.ph—With a report from the DBC