The Small-Scale  Mining (SSM) Industry comprises up to 75 percent of the country's gold production, and from 2007-2008, contributed P32 billion to the Gross Domestic Product.
Green mining. In 2009, a group of scientists and students from the UPD College of Engineering Department of Mining, Metallurgical and Materials Engineering (DMMME) managed to create a system which uses environment-friendly and non-hazardous methods of gold and/or copper extraction.
At present,  there  are  around  250,000  to  300,000  SSM  operators  working  in  some 30  of the  country's  80  provinces.
Together with the Department of Science and Technology (DOST)'s Philippine Council for Industry, Energy and Emerging Technology for Research and Development (PCIEERD), the UPD group begun building mineral processing pilot plants in four locations in the country where there are many SSM: Itogon in Benguet province, Jose Panganiban in Camarines Norte, Cabadbaran in Agusan del Norte and Nabunturan in Compostela Valley.
SSM refers to informal mining activities carried out using low technology or with minimal machinery, often relying on simple techniques (such as hand panning) and physical labor. It operates without legal mining titles or a valid contract with the title holder and has lack of safety measures, health care or environmental protection.
The primary method of gold extraction for Philippine SSM are amalgamation and cyanidation. Amalgamation uses mercury, a known neurotoxin, to collect free gold from the crushed ore while cyanidation uses toxic potassium cyanide to separate the gold from the ore.
The project, called UP-DOST Field-Testing of the Integrated Gold Copper Mineral Processing Plant in the Regions, aims to figure out the most efficient way of implementing and customizing the technology created to fit the needs of the community and the nature of the ore found in the area.
Each pilot plant has four major components, namely: a) quality control involving sampling and  characterization; b) beneficiation: size reduction and concentration; c) extraction/refining; and, d) tailings disposal and waste treatment.
The first stage of building a pilot plant consists of pre-deployment activities such as coordination with local community, gathering and testing ore samples from the area, conducting seminar/workshops to teach the local community how to use the facility and procuring equipment.
The second stage involves the start of construction, installing the equipment and making sure all safety precautions are taken.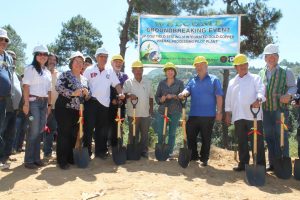 After some additional testing, the structure is finished in the third stage. The fourth stage involves figuring out where the output of the plant will be sold and monitoring its operations.
The last stage involves turning over operations of the plant to the partner organization. Each plant is partnered with a different type of organization: cooperatives/federation of SSM, the local government unit, SSMs that operate on their own and SSMs that operate alongside a large-scale mining company.
Each pilot plant is able to process five to 10 metric tons of ore per day with a recovery rate of 80 to 90 percent.
"Ang ibig sabihin ng recover if the ore has 10 grams of gold per metric ton, you can only recover 5 grams with the usual means. With the UP technology, you can push that up to eight to nine grams," said project leader and DMMME professor Dr. Herman Mendoza.
The first plant was inaugurated on March 10, 2017 in Itogon, Benguet and was turned over to the Benguet Federation of Small Scale Miners.
The extraction methods used in the project are the result of several years of research by the DMMME beginning in 2009 with the BetterMine Program of the Engineering Research and Development for Technology (ERDT), which created an efficient and environmentally friendly process of separating gold and/or copper concentrates.
It was followed by the Mineral Extraction with Responsibility and Sustainability (MinERS) Program. This resulted in the development of a non-hazardous way to extract gold from high-valued concentrates as well as integrated waste treatment and disposal systems.
Both programs are DOST initiatives in cooperation with the DMMME designed to develop clean and sustainable technology for the Small-Scale Mining Industry to separate and recover gold and other metal/mineral values effectively and efficiently from Philippine ores.
This resulted in a homegrown process that is both environmentally friendly and more efficient than the methods used by the SSMs.
"With our technology, we don't use harmful chemicals. In terms of recovery, mas mataas yung technology kaya sinasabi ko they can recover only around 40-50 here, yung bagong recovery ng technology can push that up to 80 or 90 percent because we recover what they cannot recover using less dangerous chemicals," Mendoza said.
It is also personal. Developing technology for SSMs is a lifelong pursuit for Mendoza, a native of Baguio.
"It's probably one reason I took mining engineering as a profession. When you're a mining engineering student, you only see the big scale mining companies. But in the process I met small scale miners. I went around the Philippines and I could see their problems," he said.
Mendoza noted the impossibility of removing small-scale mining as an industry, saying that for some small-scale mining families, it's the only way of life that they know.
"Kabuhayan yan e. Nagmimina sila because they want, at the end of the day, may kakainin sila. Diba may mga news na na-aksidente, natabunan because of mining. The whole family or may isang nag-survive, the next day may nagmimina na naman. Can you remove that as an industry? No. If you want to help them, don't remove the industry, you help them kung saan ka most pwedeng tumulong. For us engineers, [it's] technology," he said.
Mendoza describes the community's response to the new technology as cautiously optimistic because of its newness, but he hopes that the output and results of the pilot plants will speak for themselves.
All the other pilot plants are currently under construction and are expected to finish within this year.