By Benito V. Sanvictores Jr., image by Leonardo A. Reyes.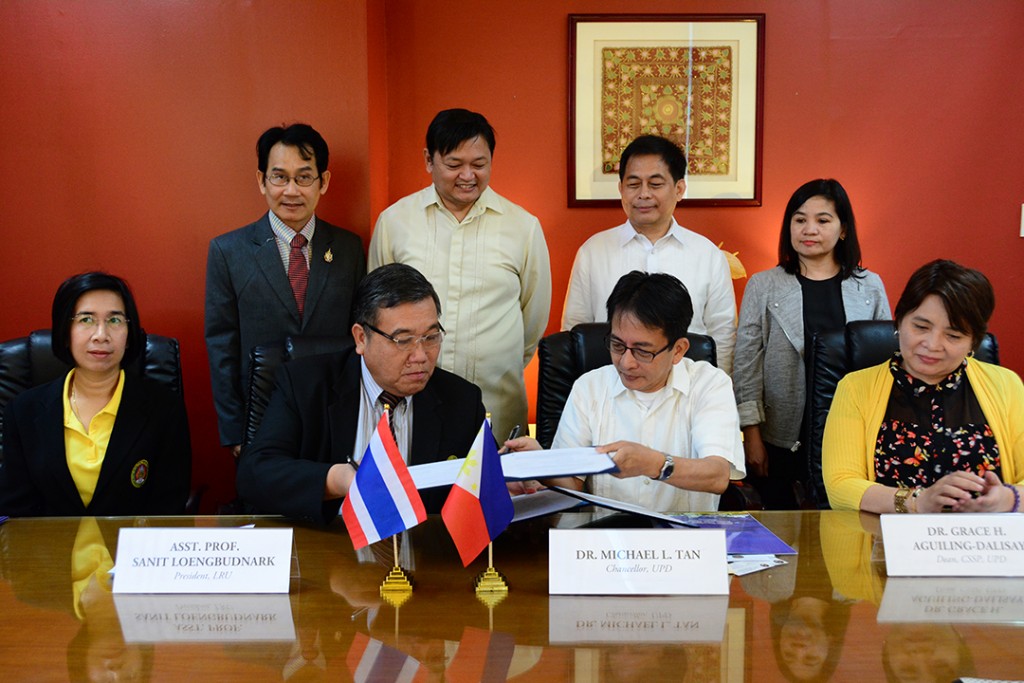 (FEB. 3) – The University of the Philippines Diliman (UPD) and Loei Rajabhat University, Thailand (LRU) entered into a 3-year memorandum of understanding (MOU) on Feb. 2 at the UPD Office of the Chancellor.
UPD and LRU agreed to develop activities in areas of mutual interest, on the basis of equality and reciprocity, such as exchange of faculty, researchers, administrative staff and students; collaborative research projects; lectures and symposia; exchange of academic information and materials; and other forms of cooperation.
The College of Social Sciences and Philosophy (CSSP) will serve as the host college and co-implementor of the MOU and the main communication channel with LRU.
The MOU was signed by UPD Chancellor Dr. Michael L. Tan and LRU President Sanit Loengbudnark.
Witnesses from UPD were Dr. Benito M. Pacheco, UPD Vice Chancellor for Academic Affairs; Dr. Nestor T. Castro, UPD Vice Chancellor for Community Affairs; Dr. Grace H. Aguiling-Dalisay, CSSP Dean; Dr. Ma. Theresa T. Payongayong, CSSP Associate Dean for Academic Affairs; and Dr. Grace C. Ramos, Program Development Associate for International Linkages of the Office of the Vice Chancellor for Academic Affairs.
From LRU, witnesses were Dr. Maturot Chalamat, LRU Vice President of Research and Development and Dr. Pongthep Bunrueng, Head of LRU Foreign Relations Office.
The MOU with LRU is the 153rd active partnership of UPD with universities worldwide, the 59th in Asia, and the fourth with a Thai university. Active partnerships are those agreements still in effect as of February 2015.