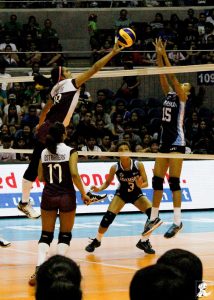 The UP Women's Volleyball Team had an impressive three straight-sets win over the Adamson Lady Falcons, 25-18, 25-11 and 25-18, in the University Athletic Association of the Philippines Season 79 women's volleyball tournament at the Smart-Araneta Coliseum on Feb. 5
The Lady Maroons' balanced attack and versatility was in full display throughout the game. Like a well-oiled machine, the Lady Maroons were properly reading situations and appropriately responding every time the Lady Falcons tried to rally back and recover from UP's big lead.
Middle blocker Kathy Bersola led the Lady Maroons with 11 points, six coming from service aces. Sophomore Diana Carlos also tossed in 11 points and last season's Rookie of the Year, Isa Molde contributed 10 points.
Arielle Estranero, with her new role as the chief playmaker, had 23 excellent sets on top of four points. Estranero played libero last season.
UP's next game against the UE Lady Warriors is on Feb. 11, 2 p.m. at the San Juan Arena.