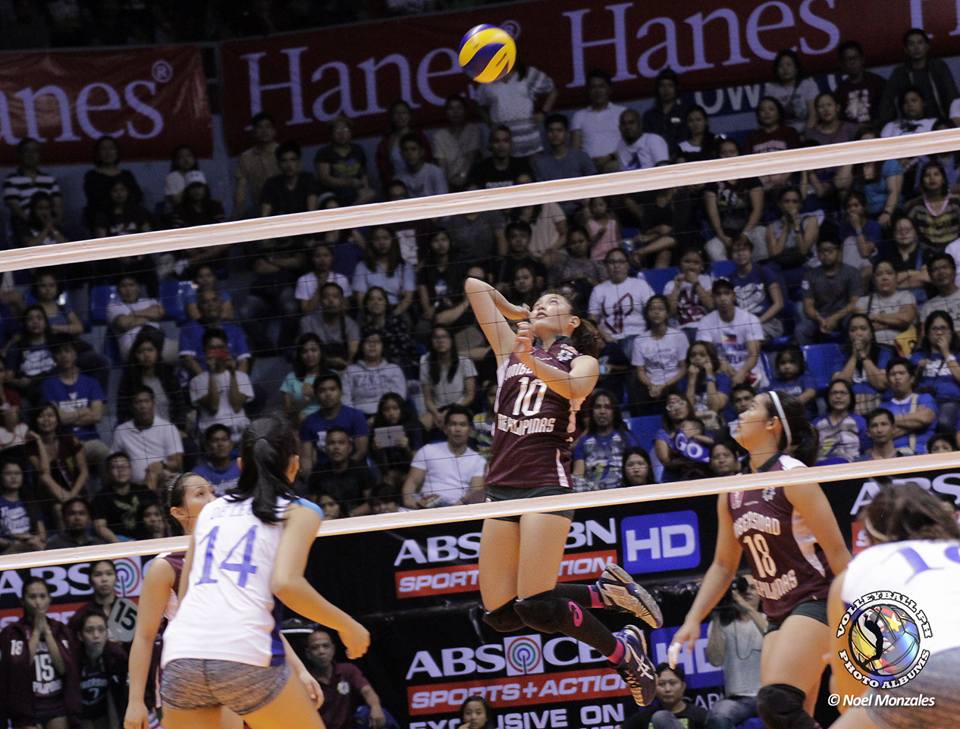 (MAR. 7)—The UP Women's Volleyball Team started the second round of the University Athletic Association of the Philippines Season 78 women's volleyball tournament with a huge win over the 2-time defending champion Ateneo de Manila University Lady Eagles, Mar. 6 at the FilOil Arena in San Juan City.
Dubbed as "The Battle of Katipunan," the Lady Maroons defeated the Lady Eagles in four thrilling sets, 19-25, 25-22, 25-17, 25-22.
UP had a slow start in the game, allowing the Lady Eagles to take the first set. In the second set, UP was more aggressive, building a comfortable lead at 18-10, but Ateneo fought back and got within one, 23-22. An error from the Lady Eagles and a kill by UP's Diana Carlos closed the second set for the Lady Maroons.
UP continued its aggressive game and took the third set in a more easy fashion. In the fourth set, the Lady Maroons sustained its grit and tenacity at the court, posting a 6-point lead, 24-18, on a service error by Alyssa Valdez. The Lady Eagles refused to give up and pulled within two, 24-22, on a series of errors committed by UP. In the ensuing play, Isabel Molde scored from off-the-block kill to seal the game for UP.
UP was led by rookie-sensation Molde with 15 points coming from 10 attacks, four service aces and one block. Three other Lady Maroons also contributed in double digits; Carlos and Nicole Tiamzon had 12 points each, while Kathy Bersola chipped in 10 points.
The win was the third in a row for UP, placing them in solo third spot in the team standings with a 5-3 record.
The Lady Maroons' next game is against the Adamson Lady Falcons, Mar. 12, 2 p.m., also at FilOil Arena.
UP Fight!