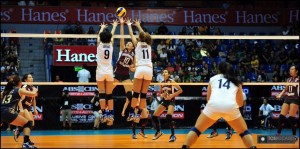 (MAR. 3)—The UP Volleyball Teams ended the first round of the University Athletic Association of the Philippines (UAAP) Season 78 volleyball tournament with victories over their respective opponents.
Riding high from their win against the University of Santo Tomas last Feb. 28, the UP Women's Volleyball Team demolished the National University (NU) Lady Bulldogs in 3-straight sets 25-19, 25-21, 25-20 at the FilOil Arena in San Juan on Mar. 2.
The Lady Maroons dominated the Lady Bulldogs early in the game, building a 21-13 lead. A service error by Jorelle Singh of NU sealed the first set for UP. The second and third set was an all show for the Lady Maroons as they dealt the Lady Bulldogs its fourth loss of the season.
Rookie Isabel Molde paced UP with 13 points coming from 12 attacks and one block. Veteran Nicole Tiamzon, who sealed the game for the Lady Maroons with a service ace in the third set, also contributed 13 points. The win put the Lady Maroons in third spot with a 4-3 record.
Meanwhile, the UP Men's Volleyball Team also ended the first round of the elimination on a positive note by beating the University of East Warriors in five grueling sets last Feb. 28.
Team Captain Alfred Valbuena led the Maroons with 23 points, while Wendel Miguel and rookie John Millete contributed 19 and 13 points, respectively.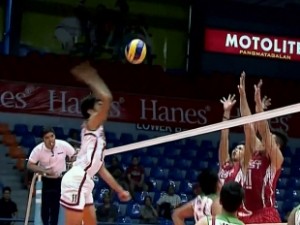 The UP Men's Team currently ranked fifth with a 4-3 record.
The Lady Maroons' next game is against Ateneo de Manila University on Mar. 6, 3:30 p.m. at the FilOil Arena, while the Men's team will face De La Salle University on Mar. 5, 8 a.m. also the FilOil Arena.
UP Fight!