The UP Baseball Team overwhelmed the University of Santo Tomas (UST) Baseball Team with a score of 11-3 on March 26 at the UP Diliman (UPD) Baseball Field, giving them a 4-1 win-loss record and ending the round ranked first.
The UP Fighting Maroons steadily gained their advantage in the early innings, scoring three points each in the third and fifth inning. By the seventh inning, Ian Mercado's home run with two runners batted in (RBIs) secured a nine-point lead for the team.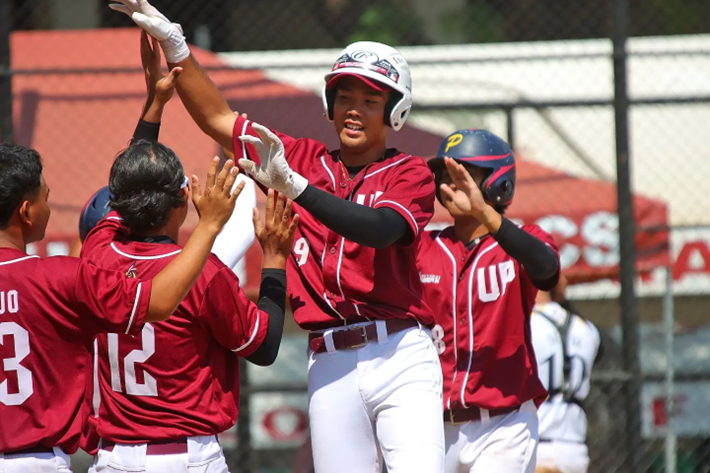 Despite UST's efforts to lower the deficit, UP pitcher Allen Mercado allowed only one run in the first six innings. He was then switched out with UP's Axl Vispo, who closed the game with two runs from the opposing team.
Their performance in the last game was consistent with the start of the season, when they defeated defending champion De La Salle University (DLSU), 11-7, on March 12. Though tied at six all in the third inning, the UP Fighting Maroons scored five points in the sixth inning and maintained their edge from that point on.
The opening game was followed by a close match against Adamson University on March 15, with a final score of 6-5. UP only gained the advantage in the tenth inning, when a hit by Luciano Asuncion allowed Mark Liwanagan to run home.
Their win streak continued after beating Ateneo de Manila University (ADMU) on March 19 in a game that ended 6-3. UP's solid defense ensured their win even with the opponent having 10 hits in nine innings. Unfortunately, in the top of the ninth inning, Asuncion ran home and collided with ADMU's catcher Joaquin Casanova who had to be stretchered off. This resulted in Asuncion being ejected from the game and banned from playing in the next.
UP Fighting Maroons then battled National University who took away UP's initial five-point lead as they scored consistently in the fifth and sixth inning. This led to UP suffering their first defeat of the season with a score of 8-5 on March 22.
They quickly bounced back days later to deliver one final win against UST to close the first round.
Following the UP vs UST game on Sunday, DLSU defeated ADMU, 21-8, making their record tie with UP. While still a long way from the championship, the UP Baseball Team's current performance is one of the best in recent years and gives them an edge going into the second round. The games continued on March 29, opening with a UP vs UST rematch.