By Haidee C. Pineda, image by Leonardo A. Reyes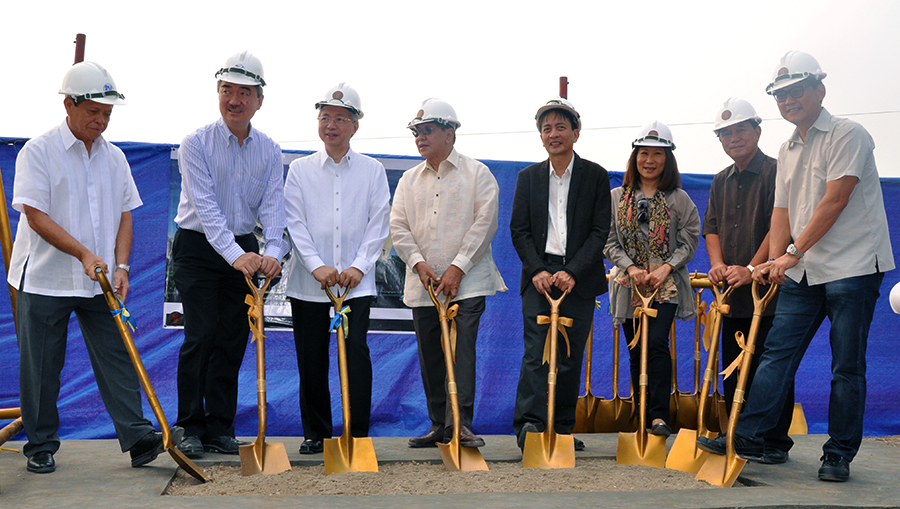 (JUN. 10)— UP will be at The Fort next year.
"By next year, the UP Professional Schools will make its presence felt at The Fort! This should not only excite us, but also make us proud," says UP President Alfredo E. Pascual last May 28 at the groundbreaking ceremony of the school's future building at the Bonifacio Global City (BGC).
The ceremony also marked the start of construction of the UP Professional Schools' 9-story building through funds amounting to P400 million donated by the SM Investments Corp. (SMIC) and SM Prime Holdings, Inc. (SMPHI).
In an agreement with UP signed on February 24, SMIC and SMPHI have also committed to supervise the construction and delivery of the building and all its facilities. These include classrooms, function rooms, a multi-purpose hall, auditorium, libraries, a computer laboratory, faculty and student lounges, cafeteria, coffee shop, two basement parking floors and administration facilities.
The building was designed by WV Cosculluela & Associates (WVCA) as reviewed and approved by the committee from the UP System, immediate end-users and SM.
The UP Professional Schools' 4,300-square meter lot in BGC was donated by the Bases Conversion and Development Authority (BCDA) in July 2011. This will accommodate the UP Diliman units, namely, the College of Architecture, College of Engineering (CoE), College of Law, Cesar E.A. Virata School of Business (VSB) and School of Statistics (SS). The UP Open University is also included.
Pascual said, "The new campus we are establishing here will bring the UP brand of education to the BGC and its surrounding areas. The UP Professional Schools in this campus will make it easy for those living and/or working in and around Taguig City to pursue high quality professional degrees in law, business administration, engineering, and statistics from UP—a university that is committed to shaping minds that shape the nation."
A time capsule containing copies of the UP Newsletter, brochure, signed agreement, P100 bills with the UP logo, the Sablay and materials from SM were buried in the construction site. The ritual was led by Pascual and SMIC President Hans Sy.
Among the guests were former Senator and UP President Edgardo J. Angara, SM officials Teena Tan Cabbab, Lydia Echauz, Argel Enalpe, Atty. Ianne Guerrero, Elena Horn, Sarah Mendoza, Johanna Rupisan, Perkin So, Betty Sy and Carlos Vilchez; WVCA officials Gary Cosculluela, Gil Cosculluela and William V. Cosculluela; Cora Alvina, Marian Pastor Roces and Judy Freya Sibayan of TAO Inc., Engr. Dennis Abcede of D.A.A. BCEDE & Associates, Engr. Egay Cruz of ECCruz Corp., Brian Tan,  and National University officials RJ H. Ermita and Teddy Ocampo.
For UP, among those present were UPD Chancellor Michael L. Tan, Vice President (VP) for Development Elvira Zamora, VP for Academic Affairs Gisela P. Concepcion, VP for Administration Maragtas S.V. Amante, Assistant VP for Development Cristopher P. Espina, Dr. Lourdes M. Portus, UPD Information Office Director Sir Anril P. Tiatco, SS Dean Erniel Barrios, VSB Dean Ben Paul B. Gutierrez and CoE Dean Aura Matias.
AVP for Public Affairs Jose Wendell P. Capili served as master of ceremonies of the event.