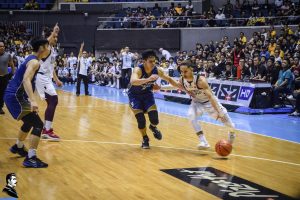 The UP Men's Basketball Team escaped another close game as they fend off a wild rally by the gritty National University (NU)Bulldogs, 89-88, at the Season 81 of the UAAP at the Smart Araneta Coliseum, on October 7.
The game started on a frenetic pace with both teams going back and forth. But the Bulldogs' turnovers would put them in a hole, allowing UP to erect a 15-point lead at the 6:42 mark of the second quarter. NU would then counter with a 14-3 burst in the next three minutes to cut the lead to four, 38-34. However, Juan Gomez De Llaño and Bright Akhuetie joined forces to give the Fighting Maroons a 7-point cushion going into the halftime break.
The Bulldogs struggled at the start of third quarter, scoring only 7 points in the first 7 minutes compared to UP's 18. It was there that the Fighting Maroons established their largest advantage, 65-47. NU's third-stringer guard JV Gallego would then come alive for the Bulldogs scoring three straight baskets to anchor their team's push to end the third canto cutting down UP's lead to 8, 70-62.
Come the final quarter, the Maroons picked up the slack and re-established a double-digit lead 85-75 with Juan, brother Javi and Akhuetie, and skipper Paul Desiderio all pitching in.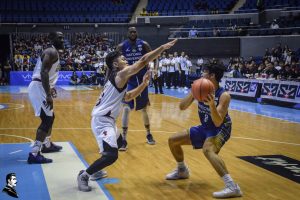 The Bulldogs, however, would not be denied as they slowly clawed their way back to a one-possession ball game, 89-86, courtesy off a Dave Ildefonso trey. Ildefonso would then foul Jun Manzo on the ensuing possession. Manzo buffed both charities and the ball finds its way into Gallego's hands. Gallego handed it to Dave who found older brother Shaun underneath for the lay-in, bringing NU to just a point with still 10.4 seconds remaining. 
In th ensuing play, Gallego immediately fouled Javi. The elder Gomez De Llaño missed both free throws and the rebound was collared by Gallego who went all the way but passed it off to Dave Ildefonso as time expired.
Spitfire Juan still ended up with 20 points despite struggling from the line, while older brother Javi and big man Akhuetie wound up with career numbers, 19 and 21 points, respectively. Akhuetie also collared 20 boards.
Dave Ildefonso also put up a career game with 20 points to go with 6 rebounds and 6 assists while Gallego and surprise starter Joshua Sinclair finished with 13 apiece.
The Maroons take on the University of Sto. Tomas Growling Tigers on Oct.10, 2 p.m. at the Mall of Asia Arena in Pasay.