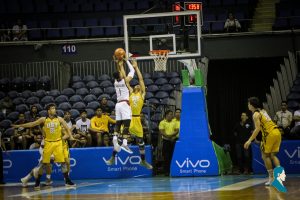 The University of the Philippines Men's Basketball Team opened their second round campaign in the University Athletic Association of the Philippines Season 80 with a victory as they upended the very pesky University of Sto. Tomas (UST) Growling Tigers in the endgame, 71-69, on Oct. 11 at the Smart Araneta Coliseum.
UP erected its biggest lead of the ball game, 66-55, to usher in fourth quarter festivities courtesy of a Jun Manzo floater. The Diliman-based squad, however, would go on a dry spell, its only basket coming from Ibrahim Outtara, which paved the way for the España ballers to pull within 4 on a Vaugh Soriano triple, 68-64.
With the Fighting Maroons ahead by just 6 points heading into the final minute, UST's Marvin Romero finds himself in unchartered territory to score on a reverse lay up cutting the deficit to 4. After a Paul Desiderio miss on the other end, the Tigers located gunner Marvin Lee who unconsciously drains a clutch 3 pointer, making it just a 1-point game with 11.1 seconds to go. In the ensuing play, Manzo was fouled by Lee. Manzo then splits his charities and Steve Akomo collars the rebound and hurriedly gives it to Lee. Fortunately for the Maroons, Lee's 3-pointer at the top of the key went in and out.
Jan Jan Jaboneta, who started for the Maroons for the first time this season, played his best game of the tournament yet, leading UP with 12 markers on a perfect 4-4 clip from rainbow territory, while Manzo and Desiderio had 11 and 10, respectively.
The Maroons improved to 4-4 while the Tigers stay winless in 8 games.