The UP Men's Basketball Team keeps their UAAP Season 81 hopes alive, connecting on a well-drawn sideline inbound play to escape the Adamson University (AdU) Soaring Falcons, 73-71, Nov. 24 at the Mall of Asia Arena in Pasay City behind a crowd of 14,657.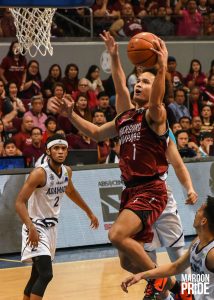 The Fighting Maroons led by as much as 13 points going into the final frame but the second-seeded Soaring Falcons would not back down. Papi Sarr anchored the AdU's offensive to start the fourth quarter, muscling his way inside to score 7 points before Simon Camacho, Sean Manganti and Jerick Ahanmisi took over to take the lead back at the 4:23 mark. Both teams would trade baskets in the ensuing possessions. The teams' respective captains Manganti and Paul Desiderio made clutch baskets in that frenzy of an exchange. But Manganti would get the better of it, pushing his team ahead by 4 points off a crucial UP turnover, still 2:20 left in the match.
UP got themselves back in contention, tying the game at 69, courtesy of two charities by Juan Gomez De Llano, with 49.8 ticks remaining on the game clock. In the succeeding possession, Ahanmisi missed a pull-up jumper just inside the arc which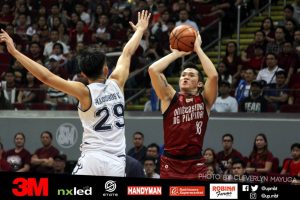 gave the Fighting Maroons another chance at an offensive. Desiderio commanded the rock and coldly sank a stepback jumper over the stretched arms of Jerom Lastimosa to give UP the lead 71-69, game clock reading 5.5 seconds. In the ensuing play, a crucial foul was whistled against Janjan Jaboneta on a Manganti baseline drive. The AdU senior coolly sank both freebies to tie the ball game, 71 apiece, for the sixth and final time.  With 3.7 seconds left, Gomez De Llano found a wide open Bright Akuhetie underneath the basket for the easy deuce.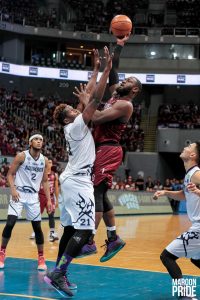 Desiderio, who was scoreless the entire first half, shared scoring honors for the Diliman-based squad with Gomez De Llano, putting up 19 each. The Maroons, who are looking for their first finals berth since 1986, also got solid contributions from the older Gomez De Llano, Javi and starting point guard Jun Manzo, who both put up 9 markers. Akuhetie, only scored 6 points, including the team's most important basket but was a behemoth all game on the glass, collaring 14 boards. Sarr led the San Marcelino dribblers with a near double-double performance, 22 points and 9 rebounds. Manganti contributed 15 points., while Adamson's leading scorer, Ahanmisi, struggled all game finishing with only 9 markers.
UP and AdU will battle it out again on Wednesday, Nov. 28, 3:30 p.m. at the Araneta Coliseum, Cubao, Quezon City. The winner of this match will earn the right to face the defending champions Ateneo de Manila University Blue Eagles in the Finals.