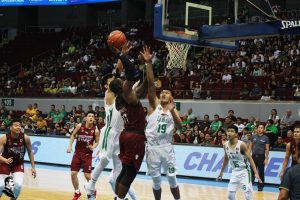 The University of the Philippines (UP) Fighting Maroons held on in the end game to snap their three game losing skid by escaping the De La Salle University (DLSU) Green Archers, 67-61 at the Mall of Asia Arena in Pasay, on September 30.
The Maroons avoided another end game collapse after the Green Archers came to within 1, 61-60, with 2:29 left in the game courtesy of a tip in by Justin Baltazar. Fortunately for Maroons Juan Gomez De Liano answered with a daredevil drive to the hoop to give UP a three-point cushion. Both teams would then go on a dry spell until the 44.3 mark when Bright Akhuetie finds an open Juan Gomez De Liano for the easy lay-in to make it a two-possession ball game, 65-60. Baltazar misses a contested jumper on the other end which doomed DLSU's chances. Jun Manzo seals the deal with two charities to end the game.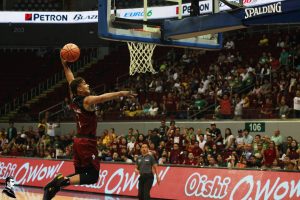 UP led by as many as 14 but the Archers went on a 13-0 blitz inside the final five minutes but could just not buy a basket in the succeeding possessions.
Both teams shot atrociously, shooting only under 40% from the field.
Gomez De Liano finished with 17 points while dishing out 6 assists and collecting 3 boards. Akhuetie capped off another monster game by taking scoring honors with 19 and also hauling down the same number of rebounds.
Baltazar wound up with 13 in a losing cause to lead DLSU, who also got 12 apiece from Aljun Melecio and Santi Santillan.