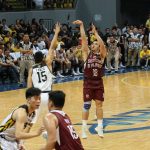 The UP Fighting Maroons Men's Basketball Team kicked off their campaign in Season 80 of the University Athletic Association of the Philippines (UAAP) on a winning note, barely escaping the University of Santo Tomas (UST) Growling Tigers, 74-73, at the Mall of Asia Arena in Pasay.
With the game on the line and UST leading by two points, 73-71, the Fighting Maroons wrested their hopes on its best player, Paul Desiderio, who repaid the Maroon faithful by drilling the go-ahead 3 pointer off a Jun Manzo assist to give UP the victory. The Tigers still had 1.1 seconds to try and steal the game away from the Maroons but Jeepy Faundo's 3-point attempt at the buzzer bounced off the iron.
UP led as much as 12 points and were ahead by 9 at the half after shaking off the jitters at the start of the game. UST, however, wouldn't go down without a fight as they caught UP flat, outscoring the Fighting Maroons 11-5 in the first 5 minutes of the second half. Two slam dunks by UST import Steve Akomo and aggressive efforts by forward Vaughn Soriano tied the game at 49 with 2:52 remaining in the 3rd canto.
The game was deadlocked at 57 apiece entering the final frame as both teams engaged in a nip and tuck affair. With 3:19 left of the game, UP's big man Ibrahim Outtara's inside incursion drew Akomo's fifth foul and helped put the Maroons up by 4 points.  Jordan Sta. Ana and Soriano then answered back with consecutive drives to the basket to put the Tigers up by 2, 70-68. A daredevil drive by Desiderio tied the game anew at 70. A wild chase for the loose ball ensued after Desiderio missed free throw. The ball ended up in the hands of Noah Webb who was fouled by Faundo. Webb split his freebies to give UP a slim edge, 70-71, with 32.6 ticks to go. A Faundo split on the ensuing possession tied the game anew at 71. The Maroons had a chance to take the lead at this point but Manzo missed the go-ahead layup. Gelo Vito would then foul UST's playmaker Marvin Lee. The veteran guard converted both his charities before Desiderio saved the day for the Fighting Maroons in the dying seconds.
Desiderio led UP's balanced attack with 17 points and 9 rebounds. Vito scored 9 points while Webb and rookie Juan Gomez De Liano had 7 apiece. Lee led UST's cause with 20.
UP's next game, against the Ateneo de Manila University, is on Sept. 13, 4 p.m. at the Araneta Coliseum.