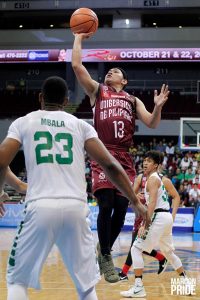 The UP Fighting Maroons Men's Basketball Team carried over a resilient first half into the second to beat the erstwhile unbeaten De La Salle Green Archers, 98-87, in the University Athletic Association of the Philippines (UAAP) Season 80 at the Mall of Asia Arena in Pasay last Sept. 23.
The Fighting Maroons had a slow start and was trailing by 9 points at the end of the first quarter. UP then bucked the flat start outscoring the Green Archers, 29-16 in the second quarter to finish the opening half up by four, 47-43.
Both teams engaged in a furious exchange come third quarter, but the Maroons were just too much to handle in the final salvo of the match. Janjan Jaboneta and Paolo Romero stepped in and played quality minutes to augment the brilliant performances of UP's riding in tandem, Jun Manzo and Paul Desiderio.
Manzo finished with 17 points and 4 assists, while King Maroon Desiderio scored a career-best of 30 points on top of 6 boards and 5 assists.
Rob Ricafort finally played his first UAAP game for UP, coming in at the 7:48 mark of the second quarter. He also scored on a lay up off an awkward tap from a slipping Desiderio to close the first half and record his first official UAAP basket.