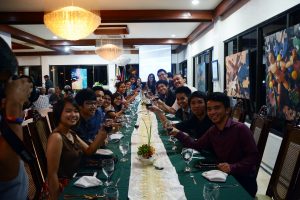 (SEPT. 24)—The University Computer Center (UCC), the office that connects UP Diliman to the World Wide Web celebrated its 50th anniversary last Sept. 15 at the Executive House.
The UCC was established on Sept. 15, 1966—19 years before UP Diliman was formally established—to provide high-speed computer services for the use of the University faculty, administration and studentry in academic research, administration and instruction. It became operational in April 1968 with Prof. José Maria de Castro as its first director.
The Center, now headed by Dr. Manuel C. Ramos, currently has 17 employees divided between the administrative unit and the network systems and operation unit. It was transferred from the UP System to UPD in 2001.
Some of its services are the maintenance and expansion of campus backbone networking through the Diliman Network (DilNet) Helpdesk; DilNet account creation and maintenance; providing high-speed local area network (LAN) and wide area network (WAN) services to UPD units; providing web and email hosting services; hosting UPD's servers; and developing in-house information systems such as the UPD Webmail, the University Time Service and the UPD Voice-over Internet Protocol (VoIP) Directory.
Past and present employees, directors as well as other stakeholders were invited to the event to celebrate with the current staff and student assistants, including former UCC Director Luis Alarilla.
On display was a timeline and photo exhibit showing the development of the UCC throughout the years, consisting of old photos of past employees and samples of the various equipment used.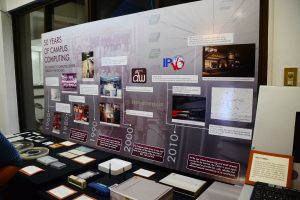 There was a 2,400-foot roll of magnetic tape that holds 140 megabytes of information which the Center used in the 1980s to manage UPD's data needs.
One of the milestones was in 2011 when the UCC rolled out full Internet Protocol version 6 (IPv6) throughout the campus — one of the first in the Philippines.
According to non-government organization The Internet Society, "IPv6 is the next generation Internet Protocol (IP) address standard intended to supplement and eventually replace IPv4, the protocol most Internet services use today."
Both UP President Alfredo E. Pascual and UP Diliman Chancellor Michael L. Tan congratulated the staff for their years of service, with Tan urging the UCC staff to look for new and innovative ways of using technology in teaching.
"After all is said and done about the wonders of technology, I hope we will not forget that computers and IT, their work comes in bringing people together. It's not just about data, it's about people being able to work together. Some of the programs we hope to develop in the very near future will involve making the technologies more accessible to our students, faculty and staff," he said.
The night also featured performances by the University of the Philippines String Chamber Orchestra.